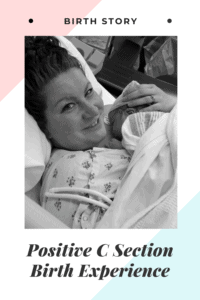 I had both of my boys via cesarean section, but here's the story of why my second experience was much different and why I'm so thankful for a positive c section birth experience.
Monday morning… April 15th, 2013. I had a good night's sleep, and I was freshly showered and was wearing makeup. I was happy, pain-free, and excited.
It was time for cesarean section #2 to deliver baby boy #2!
Baby boy #1 arrived via c section after 3 days of a failed induction. It was not an experience that I wanted to recreate. And at 41 weeks with no signs of anything happening, I chose a c section over an induction.
---
This article is written by Shari Medini
For more on this topic, check out the full Pregnancy Through Postpartum collection
Continue reading this article below, or click play to listen to this article being read to you!
Note: You can also read the full birth story for my first son here: An Induction Birth Story
---
A Planned Cesarean Section Birth
I sat in the hospital bed in my glamorous hospital gown with my husband by my side. We brought in numerous hospital bags, gadgets, and gifts (for big brother to be). I was feeling calmer than my husband. The experience was already better than the last, and I was grateful for that.
The nurses and anesthesiologist asked me numerous questions about my preferences and explained the procedures. They asked if I wanted to know what was happening as it was happening, or if I preferred to be distracted (I wanted to know it all). The team asked if I want to hold baby right away when he came out (of course I did)! They asked if I planned to breastfeed (yes, I did). And I really appreciated that they asked if there was anything particularly difficult about my first c section.
This meant a lot to me that they would ask this, and that they cared about making this a better experience for me. I told them that I was horribly nauseous the whole time during my c section with my first son. My first words when my husband showed him to me were, 'he's beautiful, but I don't want to throw up on him.'
The anesthesiologist assured me that that was easy to keep under control. He promised that he would be right there. All I had to do was signal to him, and he would give me anti-nausea medication through my IV.
Previous Hopes for a VBAC
After that the doctor came in. He knew that I had been hoping for a VBAC, but he also knew that a c section seemed like the best option at this point. Instead of coming in and rushing me into the operating room, he came in, sat down, and asked how I was feeling about everything. He said that he understood that it wasn't optimal, and he wanted to make sure that I was still feeling good about my decision.
This simple statement made a world of difference to me. I appreciated so much that he was acknowledging that I, the mother, had a say in this decision. It only confirmed further that we were doing the right thing.
---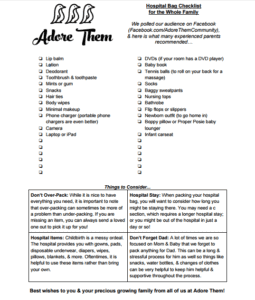 Submit your email to receive instant access to this FREE printable!
---
Calmly Giving Birth with a Clear Head
I loved that I got to head to the operating room with a clear, alert mind. I have never been too bothered by surgery, hospitals, modern medicine, etc; which I guess is a very good thing when you are going to be awake while they pull a human being out of your stomach.
I was surrounded by kind and confident professionals. I was also familiar with the procedures of a c section, which helped as well. My husband was by my side, camera in hand. I was numb from the chest down. The anesthesiologist was attentive and ready for my cues. And the doctor was calm and chipper.
I could hear the nurses and doctor chatting, which actually made me feel better. I knew that this was a procedure that they were so comfortable with that they didn't need to work in total silence. And thankfully, I found myself laughing, joking, and telling stories with them; and they told me that I was a rare kind of patient.
Throughout my C Section Experience
There were a few times where a wave of nausea would hit me, but as soon as I began to tell the anesthesiologist about it, it subsided. He was fast. He was my new best friend.
Before I knew it, we were all raving about my big, healthy, 9 pound baby boy.
I heard him scream, and I was worried for a second at how strong his cry was. My first had colic, and I was imagining hearing this loud scream for the next few months as well. (Luckily that did not turn out to be the case this time around)
The loud cries stopped when I got to snuggle him and bask in all of the warm mommy hormones while they stitched me back up. My husband held him near my head for a long time. He bragged about his healthy, sturdy, new son.
---
---
A positive c section birth experience
When they transferred me to the hospital bed I got to hold my son chest to chest right away as they wheeled us down the hallway. I loved getting to snuggle him like that. It was amazing to be so alert and aware (unlike last time when I was in a fog of induction medications). I was so content.
As soon as we got to the room, our little guy began breastfeeding like a champ. He was 9 pounds of hunger, and he still doesn't mess around when it comes to food!
I felt wonderful. I had a c section, and it was amazing. The birth of my son was a magical experience, and we were both totally healthy. I did not spend a second mourning a VBAC that was never meant to be.
Within 12 hours I was up and walking around. Within the month I was moving into our first home, painting walls, and driving the kids to home depot for supplies.
Thankful for My C Section Birth Story
My c section birth story is one that proves that cesareans aren't all bad. It even shows that they can be a healing experience after a traumatic first delivery. But I think the most important factor for a c section delivery is how the hospital handles it.
I had purposefully switched to a smaller hospital where they truly put mom and baby first. They respected the golden hour, my concerns, my wishes, and my needs. They kept me informed, and they trusted me; which made me trust them.
Overall… I am grateful for my birth experience 🙂
Read more pregnancy and birth stories:
3 Kids, 3 Very Different Birth Experiences
My Home Birth, and Why I Loved It
For more on this topic, check out the full Pregnancy Through Postpartum collection
---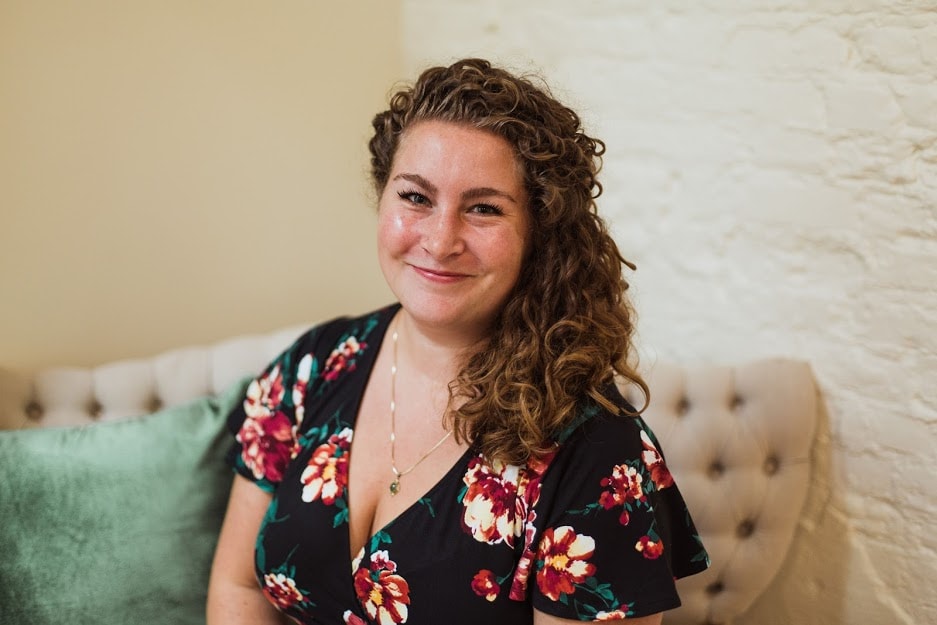 Co-Owner: Shari Medini
Shari Medini is the co-owner of the parenting website Adore Them. Her prior experience includes working as a marketing strategist and writer on multi-million dollar capital campaigns, website designs, advertising campaigns, and book launches. Shari's parenting articles have been published in dozens of publications; and she enjoys doing various speaking engagements. When she's not on her laptop, Shari can be found spending quality time with her husband and two sons exploring their hometown of Lancaster County, PA
Contact: Shari@AdoreThem.com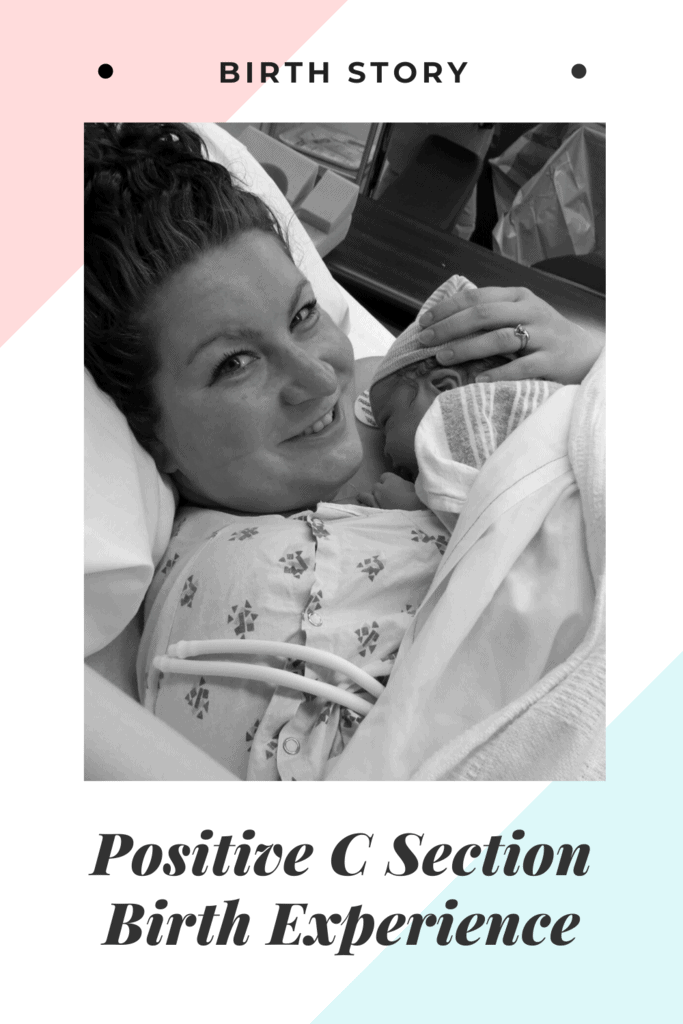 ---