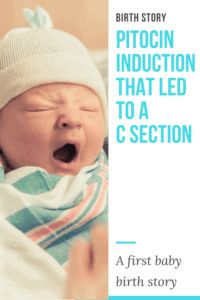 I wrote this shortly after having my first son (in 2010) after going through the pitocin induction process. I am posting it without editing it for 2 reasons: 1 – it shows my view point at the time, and 2 – I am too busy to re-write it! It is personal and somewhat graphic so read at your own risk 😉 I decided to share though since reading birth stories was such a help to me during both of my pregnancies, and I hope that my pitocin induction birth story can help others too 🙂 

Note: You can read my second son's birth story here: A Healing Cesarean Section Birth
---
My first baby birth story begins with a very frustrated mom-to-be, and ends with a beautiful baby boy. – Just like many baby birth stories out there. Also, like many birth stories, things did not go as planned. I ended up having a pitocin induction birth that resulted in a cesarean section after 3 grueling days (and nights) in the hospital. So here is my story. My personal, horrible, yet wonderful birth story. Oh, and it's pretty long…
---
This article is written by Shari Medini
For more on this topic, check out the full Pregnancy Through Postpartum collection
Continue reading this article below, or click play to listen to this article being read to you!
---
PITOCIN INDUCTION BIRTH DECISION
I had a doctor's appointment on July 1st where the doctor and I decided to move forward with an induction birth. I scheduled it right away for the next day (Friday, July 2nd) for 4:00pm. My mom warned me that maybe it was not the best choice to go for an induction birth. But my due date had been June 24th, and I was just ready to meet my son! Now I know that it is common (even the norm) for first babies to be born significantly past their due date. But I was done being pregnant. And, for my own sanity, I needed to get the process started.
BEGINNING THE BIRTH AND LABOR PROCESS
We arrived at the hospital around 3:45pm that Friday and were informed that it was a popular day for babies. So it would be a little while before they had a room ready for us. Once we were able to go to our room, we set up camp since we would be there until the baby was born. – Which unfortunately, with a pitocin induction birth, could take days. Since labor and delivery was so busy that afternoon, they did not start me on the Cervadil until 7:30pm that evening, which was fine since it had to stay there for 12 hours.
My husband and I just sat around and watched the free on demand movies in our room excited to get this show on the road. They offered me a sleeping pill, but I declined since I had never taken one before and didn't know how it would affect me. Even though I woke up fairly often through the night, I still managed to get a decent night's sleep.
INDUCTION BIRTH TECHNIQUES
First thing Saturday morning, they checked me and found out that Cervadil hadn't really caused me to progress at all. The baby's head was still very high, and I was barely dilated 1 centimeter. The next step was trying the Foley balloon that they fill gradually with saline to put pressure on the cervix in hopes that it would dilate. This treatment caused contractions to come on immediately. Within a few hours, my contractions were about 2-3 minutes apart, and quite painful to the point where I really had to breathe and hang onto my husband to get through them.
However, once they reached the maximum amount of saline they could administer, my contractions just stopped. The relief from the pain was wonderful. But unfortunately it meant that my labor was not progressing. I had gone through so many hours ramping up to those intense contractions all for nothing. And even worse was now knowing what was in store for me in the near future to get back to that point.
PITOCIN INDUCTION BUT NO PROGRESSION
The next step was starting Pitocin. They kept me on a steady dose of Pitocin all night, which required constant monitoring. This helped get things moving at first. However, by morning my body had gotten used to it so it wasn't doing anything for me anymore. They gave me a few hours of nothing for my body to steady itself and encouraged me to walk the halls. We walked and walked and walked; but still no progression. They started Pitocin again and increased it steadily. Shortly after, I began having contractions about 2 minutes apart and very strong. Thankfully I was able to breath through it and hang onto my wonderful husband.
GETTING AN EPIDURAL FOR PAIN RELIEF
All along, I had wanted to get an epidural when I could. I told my midwife, but she encouraged me to use the exercise ball and walking to get through things. When her shift ended and the new midwife came in, I told her that my birth plan included pain medication. She said, 'well, you can have an epidural right now if you want it.' Woo hoo! And why did the other midwife not think that that was an option?
Within a half hour the anesthesiologist came in to administer the epidural. That process was unpleasant and scary for me (anything going into your spine is kind of scary! I felt a significant amount of pain as he put in the catheter because the numbing shot did not work correctly). However, the result was well worth it. I could actually get some rest now. At that point, I was so frustrated with the whole process. And as I got more tired, I became increasingly worried about the delivery. That night I slept okay considering all of the equipment I was hooked up to (epidural drip, pitocin drip, catheter, internal fetal monitor, internal uterine monitor, and an IV for fluids). I threw up a few times and was starting to have tremors due to all of the medications. I was ready to be done with this.
---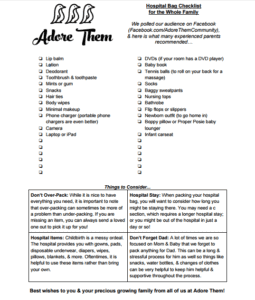 Submit your email to receive instant access to this FREE printable!
---
EVERYONE GIVING BIRTH BUT ME
Meanwhile, the hospital was going crazy with deliveries. There was an article in the paper the next week about how busy the hospital was with record numbers of births! I had heard the head nurse on the phone in the middle of the night tell someone, 'I'm sorry, I don't know what to tell you, we don't have any beds. Oh she's 7 centimeters? Let me see what I can do. Try to make her comfortable.' I laid there wondering if I'd rather be in her position – at least she was going to be delivering sometime in the near future.
CESAREAN SECTION – HALLELUJAH?
By 4:00 am on Monday July 5th, the nurse let me know that my contractions were at the point where I should start progressing very quickly. This was great news, but I still was not confident since my labor had stalled out a few times before. Around 7:00 am, the midwife checked me and said that I was still only 3 centimeters. What?! After three hours of contractions that were supposed to get me progressing, I hadn't progressed at all. After 3 DAYS of labor, I had not progressed. I knew immediately that that meant a c section.
Shortly after, the doctor came in to talk with me. He said, 'well, things are not moving along. Do you know what that means?' I said I knew that that meant I needed a c section. He told me that I was smiling too much for needing a c section, but I told him that I had been there since Friday afternoon and just wanted to meet my son and have this stage over with!
Rather than disappointment or failure (that I hear many women feel when needing a c section), I was feeling excitement and honestly, relief. We asked the doctor when we would be having the c section (assuming that it would be a few hours). He told us that he had to go deliver a baby and would be ready in like a half hour. Wow. Okay. Here we go! My husband called family while the nurses rushed around to get me prepped for surgery.
CESAREAN SECTION OPERATING ROOM
In the operating room, they administered the numbing medication through my epidural. They did tests to see if I was getting numb such as seeing if I could feel cold or pricks. I made them repeat it a couple times to make sure I wasn't going to feel any pain! My husband came into the room in all his scrubs and sat beside me behind the curtain. The anesthesiologist was so nice and genuinely caring (plus he was wearing good smelling cologne haha). He let me know step by step what was occurring during surgery, which is what I had wanted. I could feel the doctor starting the incision, but it just felt like someone dragging their finger across my stomach. I relaxed a lot after that because I had a fear that I would feel pain even though I was not supposed to.
---
---
FINALLY DELIVERING MY BABY VIA C SECTION
The next worry was waiting to hear my little boy cry. There was never a concern throughout the pregnancy that there were any complications or defects, but you can't help but worry. After he came out screaming (and peeing on the doctor!), My husband left my side to go tend to our baby. I, on the other hand, laid on the table trying to control the tremors due to the hormones and medications and not throw up due to the horrible nausea. Due to those discomforts and the grogginess of the medication, my focus was not on my new son.
They brought him over to me so that I could see him and kiss him, and they asked if I wanted to try to hold him. I said, 'he is beautiful, but I don't want to throw up on him.' So the nurse said that they would go take care of him and asked if I wanted my husband to stay with me or go with our new baby. I told him to go, and I again turned my attention back to trying not to convulse myself off the table.
Right after a Cesarean Section
It was nice to be stitched back up and wheeled to a recovery area to be reunited with my new little family. My husband filled me in on all of those first moments and showed me all of the pictures. It seemed odd that I was in the same room but missed out on so much. It was so sweet how our newborn grabbed my husband's finger and so sweet how he was completely in awe and in love with our son. Our son was 8 pounds 2 ounces and 21.25 inches long! 10 fingers and 10 toes! And just the most handsome little guy ever! The nurse helped me try to breastfeed, which was not successful at that moment, and my husband called my family who was there waiting. Turns out that they already let my family go into the recovery room even though I wasn't there yet!
Proud Newborn Mama Moments
I was looking forward to showing off my new baby boy and seeing my family after the grueling weekend. They asked all sorts of questions about the process. They asked for the time when he was born, and I told them 9:49am. My husband disagreed with me, and my mom said that she believed him since I was all drugged up. But turned out I was right! 😉 A lot of those first few moments were a blur; however, I do remember being miserable when the nurse made me get out of bed. It was a very painful experience, but they make you do it to prevent blood clots. I don't remember it clearly, but one of the first great moments was holding my baby against my chest – skin to skin – and just closing my eyes.
Hospital Recovery after Cesarean Section
The next day (Tuesday and day 5 of being in the hospital) brought more visitors, which was fun. My husband really bonded strongly with our son because I could not get in and out of bed very easily so my husband was the primary caretaker. He was so sweet and completely in love with his son. He would tell the nurses all of our baby's preferences and changed every single diaper like a pro. I am so glad that they got to get a jump start on bonding! It was easier for me as a stay at home mom to catch up later.
By Wednesday, we were both getting sick of being in the hospital and being dependent upon staff for everything.  Luckily we got to go home Thursday! But since the hospital had been so busy we were not discharged until about 7:00pm. We were all happy to be heading home despite all of the new obstacles that would meet us there.
My birth process was not perfect, but it did get my son here safely! And I certainly would not trade him for anything in the world!
Read more pregnancy and birth stories:
A Positive C Section Birth Experience
3 Kids, 3 Very Different Birth Experiences
My Home Birth, and Why I Loved It
For more on this topic, check out the full Pregnancy Through Postpartum collection
---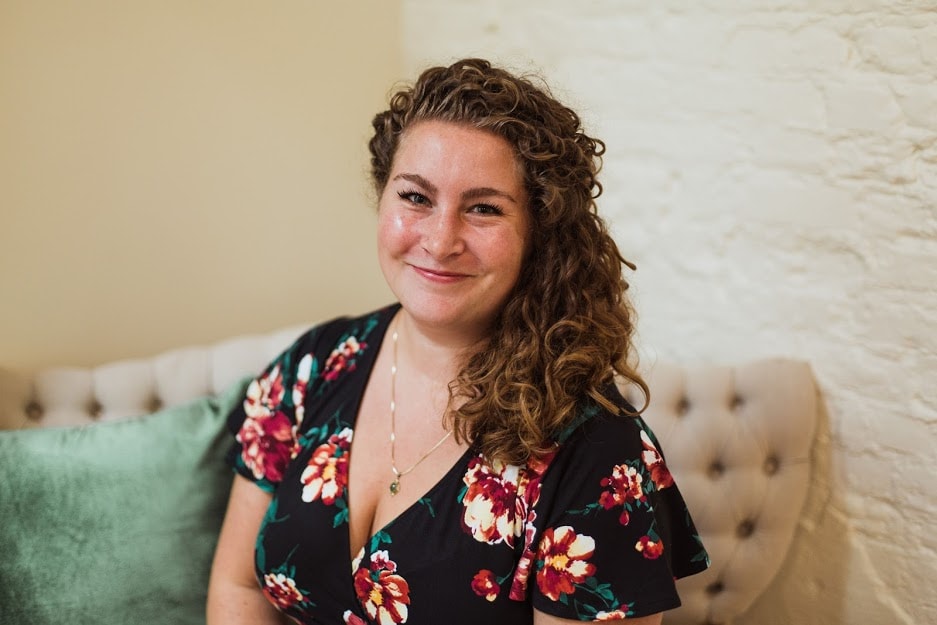 Co-Owner: Shari Medini
Shari Medini is the co-owner of the parenting website Adore Them. Her prior experience includes working as a marketing strategist and writer on multi-million dollar capital campaigns, website designs, advertising campaigns, and book launches. Shari's parenting articles have been published in dozens of publications; and she enjoys doing various speaking engagements. When she's not on her laptop, Shari can be found spending quality time with her husband and two sons exploring their hometown of Lancaster County, PA
Contact: Shari@AdoreThem.com
---