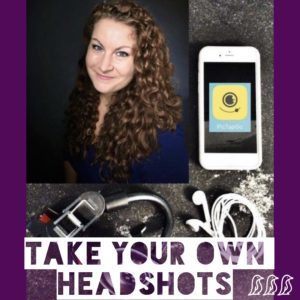 This article is written by Shari Medini
For more on this topic, check out the full Photography Tips collection
I wanted a new headshot but a photoshoot with someone else does not fit in with my schedule. Instead, I set out to do it myself with just my iPhone, a window mount, headphones, & PicTapGo app. You can see that it turned out pretty well, & I want to encourage you to take your own headshots too!
SET UP TO TAKE YOUR OWN HEADSHOTS
Natural Light
Find a place in your home that is near a window & has a plain background. My headshot was taken in the corner of my bedroom with my plain grey wall behind me & the window in front of me. Getting the natural light from a window is so key to a good photo – especially if you are taking it with your iPhone.
iPhone Mount
This is why I use an iPhone mount (that is actually meant for your car). I stick the iPhone mount to my window for the natural light. You can use other tripods, but I love that you can put this mount as high as you'd like & bend the arm of it to get just the right, flattering angle.
Rear-Facing Camera
When setting up your iPhone, you will want to use the rear-facing camera b/c it is better quality than the forward facing camera. Of course this means that you can't see yourself & the pictures that you are taking. My advice would be to take a bunch of pictures with the forward facing camera to make sure that you are getting the lighting, angles, hair, & facial features how you want them. Then you can flip your phone around & use the rear-facing camera.
Headphones
You will also want to plug in your headphones b/c you can use them like a remote to take pictures. Clicking the volume on your earbuds takes a picture! You could choose to set the timer, & there are apps that allow you to take timed pictures in burst mode, but I didn't have much luck with this feature…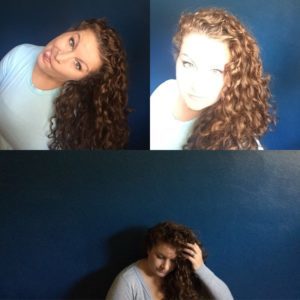 TAKE A LOT OF PICTURES
Free up space on your iPhone before you start b/c you are going to want to take A LOT of pictures. You will want to try different locations, different clothes, different smiles. You might want different looks for different uses, & the more you do it the more you will recognize what looks good. My current headshot is the last picture that I took!
We are always so critical of ourselves, but instead of looking at your flaws, accentuate what is unique about yourself. You can do some editing after the fact, but you're not going to change your hair, your smile, or your clothes in editing (we're not that good).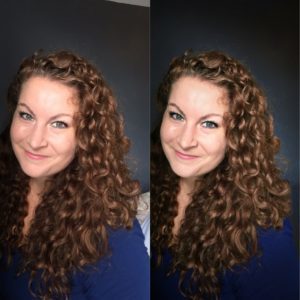 TIME TO EDIT YOUR OWN HEADSHOTS
The images above are my before & after images. I used the TouchRetouch app & PicTapGo app on my iPhone to make these edits – that's it!
The TouchRetouch app allowed me to magically get rid of the spot of white ceiling & my disheveled bed behind my shoulder. Those two things would have ruined the picture, but I was able to easily edit them out.
Then I layered filters in PicTapGo to help bring out the green in my eyes, sharpen the image, & add the vignette effect. The app makes it easy to play around with different effects to see what will work best to bring out your own features.
For more on this topic, check out the full Photography Tips collection
---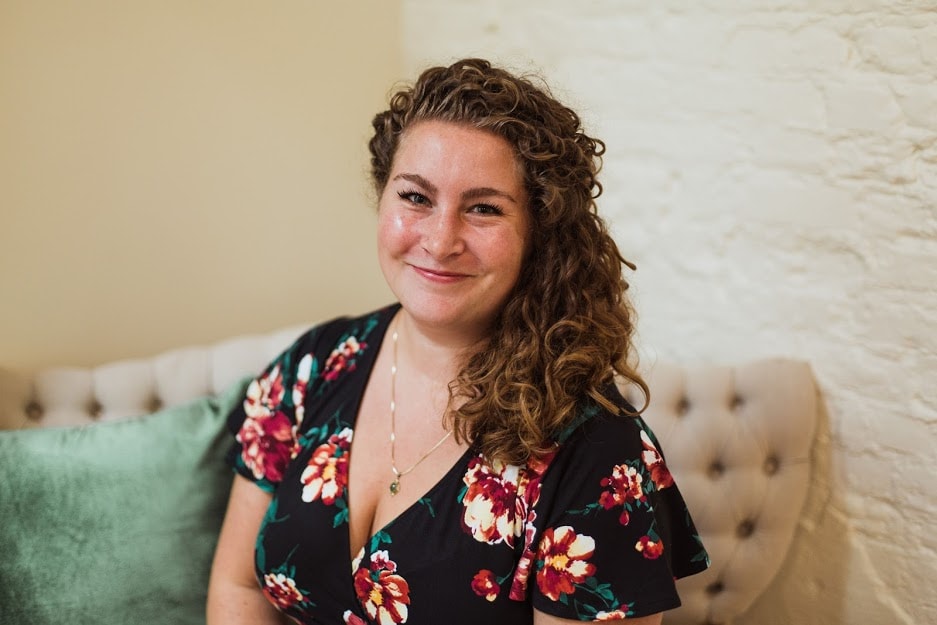 Co-Owner: Shari Medini
Shari Medini is the co-owner of the parenting website Adore Them. Her prior experience includes working as a marketing strategist and writer on multi-million dollar capital campaigns, website designs, advertising campaigns, and book launches. Shari's parenting articles have been published in dozens of publications; and she enjoys doing various speaking engagements. When she's not on her laptop, Shari can be found spending quality time with her husband and two sons exploring their hometown of Lancaster County, PA
Contact: Shari@AdoreThem.com
---