Taking family photos is a lot of fun, but it can also feel a bit overwhelming. That is why we put together an entire collection with tips on how to style, dress, pose, and more, to help you better prepare. We want you to enjoy this special moment as you capture your family in a way that will be remembered forever. And we want you to be proud of your photos, and get the most out of your investment. So that is why we partnered with professional photographer Angie Englerth, to bring you expert advice. Below Angie recommends getting at least these 10 poses during your family photo session.
Print out our free printable below and hand it to your photographer during your next family photo shoot 🙂 And be sure to check out the rest of our collection for more Photography Tips!
---
Poses For Family Photo Session
This printable is created with tips from Angie Englerth
For more on this topic, check out the full Photography Tips collection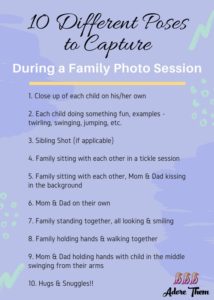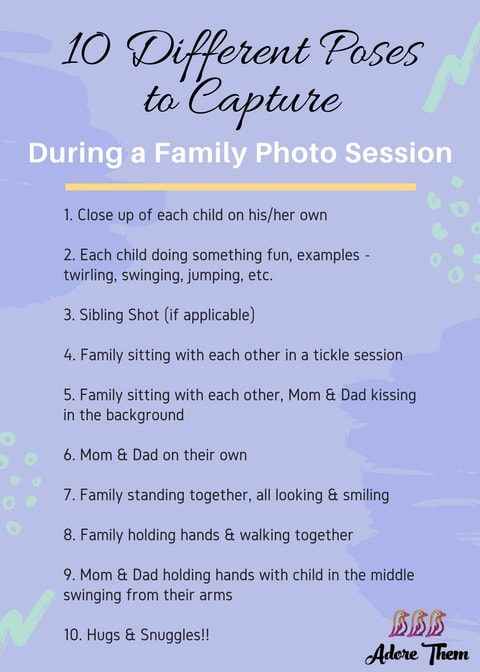 ---
No matter if you are having photos taken to frame on your wall, or to share – you will always appreciate capturing these moments as a family! If you decide to share your photos online, consider using an Instagram post maker, or some other tool to enhance your social media posts.
And for more on this topic, check out the full Photography Tips collection
---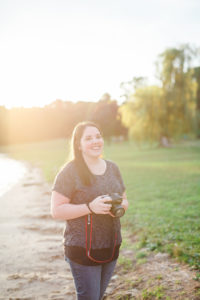 Featured Contributor: Angie Englerth
I am Angie, a wife and mama to two sweet little boys! I'm a portrait photographer in Lancaster county capturing the journey to and through motherhood. I believe that women look the most gorgeous when pregnant and I want them to feel the same way about themselves. My goal for each maternity session is for mamas to realize just how beautiful they are. I also enjoy capturing little ones while they are still little. All the details of newborns, from the tiny toes to the milk bumps on their nose, are my absolute favorite!