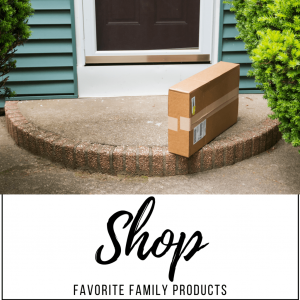 SHOP OUR FAVORITE FAMILY PRODUCTS
Whether you need some gift ideas, fun toys for kids, unique baby gear, or book recommendations… we got you covered!
Check out some of our favorite products on Amazon and Etsy, and order them easily! Simply scroll down to start browsing…
 The links below are Amazon and Etsy affiliate links. These do not change your price or shopping experience, but they do help out Adore Them by providing us with a small commission on each purchase. As an Amazon Associate I earn from qualifying purchases.
Simply browse the categories below and click the images for details about each product!
Browse parenting topics by category
When shopping for toys, you want to spend your money on toys that your kids will actually play with! The toys that we've included here are kid-tested, parent approved. Each of these toys has brought hours of joy to our own children, which is why we're excited to recommend them to you!
Parenting doesn't come with a one-size-fits-all manual, but… there are a lot of great parenting books out there! Whether you are looking to grow as an individual, or help your children in their own journeys, these books will provide you with a lot of insight and inspiration!
Activity books, drawing books, and bedtime stories all deserve special space on your kids' bookshelves! Below you'll find a variety of books that your kids are sure to love.
Tired of playing Candy Land over and over? Try some of these great family games instead! We've included kid games that can be played as a family as well as some logic games that kids can play by themselves. We hope your kids love these games as much as ours do!
Baby gear can get overwhelming, but there are so many great baby and toddler products out there that can make your life easier! Here are just a few of our favorite baby and toddler products…
Check out some of our favorite style items like comfy clothes, affordable jewelry, and functional bags! And since these items are on Amazon and Etsy, they are super easy to order.
Amazon and Etsy are overflowing with unique home items, but where do you start?! Here are some of our favorite items that you might want to add to your home as well.