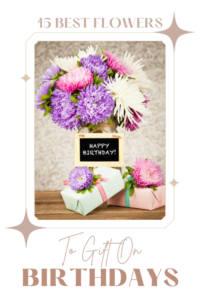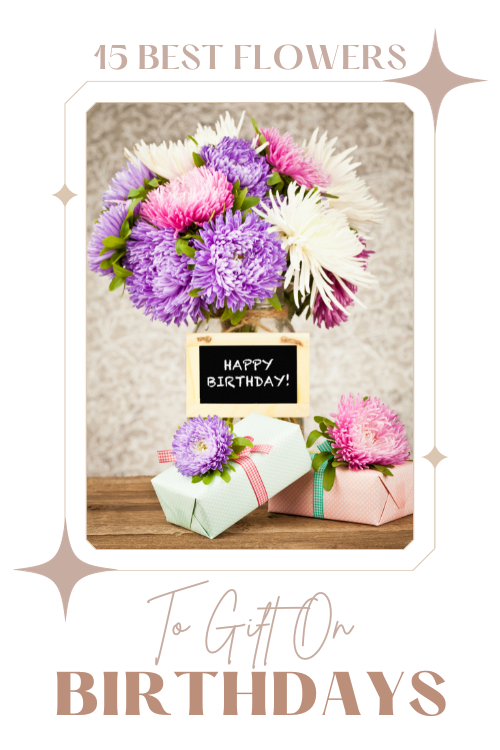 So it's your child's birthday – and you have already planned a birthday party. How about giving your kid a bunch of flowers along with a nice birthday gift? Sounds like a great idea, doesn't it? Plus, location is not really a problem these days. If you are located in Brighton, then you can just opt for flower delivery in Brighton and get these delivered to your doorsteps.
So, without wasting time, let's check out the 15 best flowers that you can give on your child's birthday.
---
For more on this topic, check out the full Party Planning or Gift Giving collections
---
15 Best Flowers To Gift On Birthdays:
So, which flowers are the best option for a kid's birthday celebration? In the Victorian Era, the language of flowers or floriography was a huge thing. Each flower had a meaning associated with it – a secret symbol. Flowers were used to convey success, achievement, joy, admiration, and friendship.
Things have certainly changed at the moment – but do you know what has not changed? The art of giving flowers – even today, people appreciate receiving flowers on special occasions. So, if it's your child's birthday and you are looking for something to get them apart from the gift you already got them, your best option is flowers.
1. Roses:
Roses are known to be the most popular flowers that can be given as birthday gifts, and it is no wonder why. A big reason is because roses represent appreciation and love. So, they are ideal for expressing how much you actually care.
Roses are available in multiple colors – each has its own meaning. For instance, red roses stand for passion and love, while yellow roses stand for friendship. Moreover, pink roses are typically known to be a sign of appreciation, while the white ones stand for innocence and purity.
Any color of rose works pretty well for birthday arrangements. However, it can be an exciting experience to find out the meanings of different colors of roses so that you can select the one that works best for both the occasion and the recipient.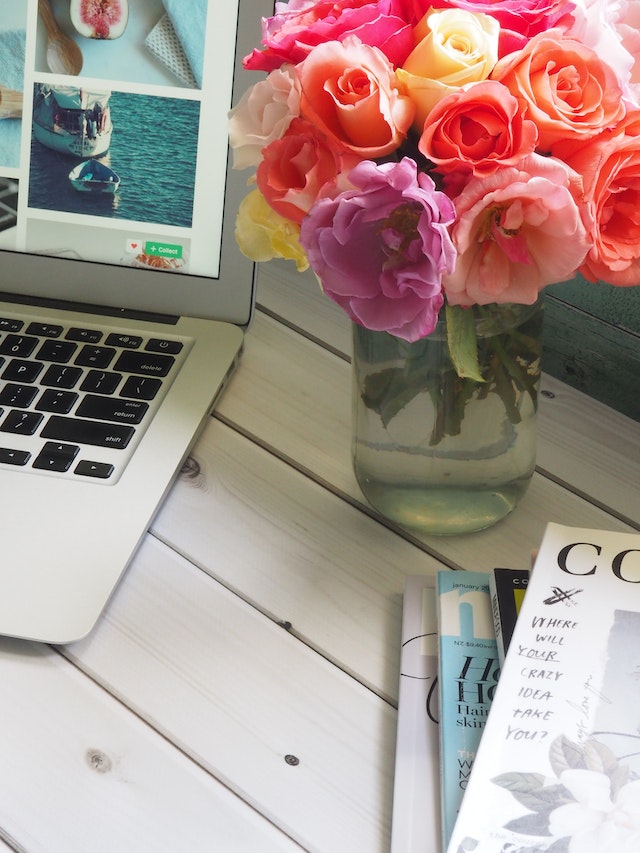 2. Peonies:
Peonies make for wonderful birthday presents, considering their color variety and beauty. This particular flower stands for honor and riches, both amazing wishes for birthdays.
Perhaps the most well-known shades of peony for birthdays are red and pink. However, yellow and white peonies also happen to be excellent choices. While red peonies represent respect and love, pink ones stand for marriage and love. Similarly, yellow peonies refer to new starts, while the white ones convey a sense of long-lasting beauty.
Moreover, there is something so classy, so timeless about peonies that we are fans – you might think we are saying it for the sake of saying it, but we honestly prefer peonies over roses, especially on dates.
3. Carnations:
Carnations are a great gift simply because they are available in so many colors. So you can actually find the right shade of carnation for matching the the recipient's party theme, favorite color, or personality.
This is also one flower that has a pretty long history of symbolizing appreciation, friendship, and love. As a result, carnations are also considered to be a heartfelt option for a loved one's birthday or a friend's special day.
Perhaps some of the best options in terms of color are light red or pink for friendship and dark red for love. You can also opt for white carnations since these are considered to be suitable for almost any recipient since these stand for good luck.
4. Tulips:
Tulips are always made available in a wide range of shades. As a result, you can find a color that is perfect for your loved one or friend's personality. Moreover, tulips are considered to be a symbol of love and perfection. So it is great to express how much you actually care.
While you are choosing a color of tulip for an event like a birthday, there are certain things that you need to keep in mind. Red-colored tulips represent love – as a result, these are the ideal choice for your significant other or a close friend, at the least.
Similarly, yellow-colored tulips are associated with sunshine, warmth, and happiness. So, these are perfect for anyone who brings happiness in your life, while orange-colored tulips are considered to be a symbol of appreciation. So, they are a great choice for anyone you are grateful to actually have in your life.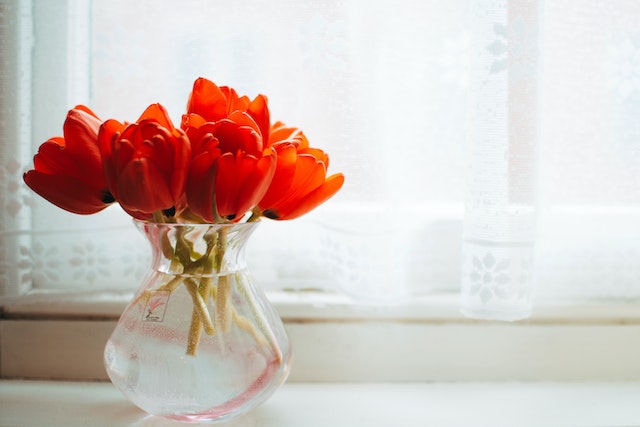 5. Dahlias:
Dahlias are cheerful and bright flowers that are available in a wide variety of colors. This particular flower represents enduring love, strength, and wealth – all of which are great wishes for anyone on their special day.
Plus, there is something so cute about dahlias – they are great for all occasions. It doesn't have to be birthdays. It can also be first dates, anniversaries, or just because you felt like it.
Perhaps some of the best colors of dahlias that are relevant for birthdays are purple, pink, and red. Obviously, red shades of dahlias stand for love, romance, and passion. As a result, these are considered to be great as romantic birthday gifts. Purple and pink dahlias represent service and kindness. So, these are considered to be great for a coworker, family member, and friend.
6. Irises:
Irises are a sophisticated, elegant option for a birthday flower bouquet. These flowers represent faith, hope, and wisdom. Plus, these flowers are also the birth flower for the month of February.
So, if you plan on choosing irises to gift on your kid's birthday, your best color options are purple and blue. At the same time, purple irises represent wisdom and royalty. Blue irises stand for royalty. As a result, both these color choices are considered to be ideal for making someone close to you feel really special on their birthday.
Another unique color choice for birthdays happens to be yellow. The color represents hope since it gives out this cheerful vibe. Plus, this option is a great gift for your friends and coworkers.
7. Geraniums:
Geraniums are considered to be a lovely flowers for birthdays since these stand for good health, well wishes, and happiness. These flowers are available in multiple colors, such as orange, pink, yellow, red, white, lilac, and apricot.
Perhaps some of the best shades of germanium are white, red, and pink. Since red and pink geraniums stand for romance and love, these are considered to be ideal for romantic partners and not for your children.
For your kids, you can always opt for white geraniums since the color white stands for innocence and celebration. So these flowers are considered to be a perfect choice for children.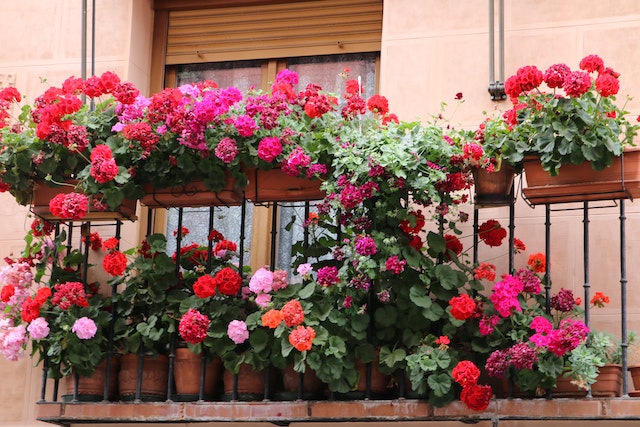 8. Gardenias:
Gardenias are considered to be an ideal birthday gift for kids since these stand for happiness, joy, and warmth. Perhaps some of the best color alternatives for birthdays include red, pink, and white. Each of these shades takes on a completely different meaning that might be suitable for your kid's birthday. You can also be considered the same color for your friend or colleague's birthday.
White gardenias stand for the purity of relationships and love. As a result, these are thought to work well for anyone you have a close bond with. Since red gardenias represent love and passion, it is best to save them for your significant other.
At the same time, pink gardenias stand for trust and emotional support. As a result, these are a great option for family, co-workers, and friends.
9. Camellia:
Camellias stand for admiration and gratitude. As a result, these flowers are perhaps one of the best birthday flowers on this list, especially if you are looking up birthday flowers for your children.
These flowers provide the opportunity to let someone know you actually care – be it your significant other, your kids, your friends, or your colleagues. White, red, and pink Camellias are all excellent birthday gifts.
Since pink Camellias stands for appreciation, they work well for colleagues and friends. Similarly, red Camellias signify love – so they are best kept for romantic partners or close friends. For children, the best shade is white – white Camellias symbolize innocence and purity. So, they are considered to be nice for younger recipients.
10. Marigolds:
Marigolds are known for being lovely birthday presents since they have a pretty positive aura all about them. This particular flower is typically associated with good luck, strength, and happiness.
You can find these marigolds in colors of brown, red, orange, and yellow. So, it is a pretty cool option for brightening your child's birthday decor or actually contributing some amount of cheer to a good day.
Gold and yellow marigolds are ideal for family members (including your children) and friends. Since yellow and gold marigolds stand for positivity, warmth, and happiness, they are best suited for birthdays.
Similarly, orange marigolds stand for strength, making them perfect for anyone who has been going through a difficult period in life or has recently overcome a major problem. Moreover, red marigolds stand for good luck and optimism, making them perfect for all recipients on their special days.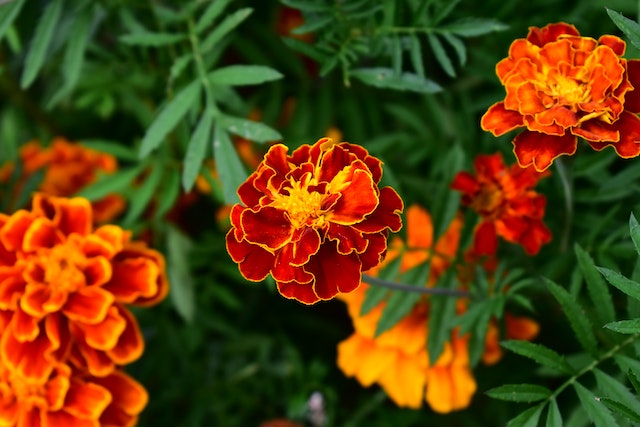 11. Hydrangeas:
There are multiple reasons as to why hydrangeas make a great birthday gift. For once, they are beautiful flowers with abundant, cheerful blooms. Additionally, this particular flower has a range of multiple colors – from pale green and deep blue to white and soft pink.
Typically, hydrangeas stand for heartfelt emotions and gratitude. However, they might have a deeper meaning depending on the shade you select.
For instance, green-colored hydrangeas stand for new beginnings. So, they are a meaningful option for anyone beginning a fresh chapter in their lives. Pink hydrangeas refer to appreciation and gratitude, so they usually work well for a mentor, teacher, or a parent.
12. Sunflowers:
Sunflowers are the ideal gift for your children's birthdays simply because they bring joy and happiness to any occasion. The most well-known sunflower color happens to be yellow. However, you can find this flower in different colors, such as purple, red, and even cream.
Just like their appearances suggest, sunflowers are known to be a symbol of positivity and happiness. This obviously makes these flowers a great option for nearly everyone's birthday. But if you are aware of your recipient's unique preferences, you can always choose a purple or red variety.
13. Gladiolus:
Gladiolus is a great option for your children's birthdays. This is simply because they are fairly inexpensive compared to other flowers. Plus, they have a pretty long vase life. As a result, your child can easily enjoy these flowers in the upcoming weeks after their special day.
You can come across these flowers in nearly any shade, including yellow, red, purple, pink, and white. The flower stands for multiple sentiments, including honor, love, and strength.
These meanings naturally make gladiolus an extremely suitable birthday present for someone you respect and admire. Yellow and purple ones are ideal for birthdays, representing joy and charm.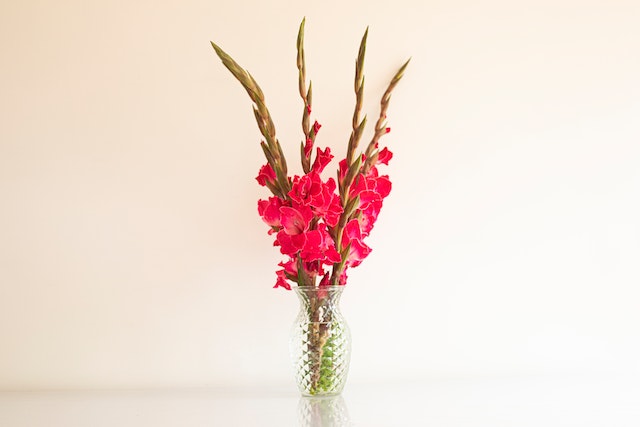 14. Stargazer Lilies:
Stargazer lilies are an exciting choice for anyone who appreciates making a bold statement. This flower has an extremely striking appearance, so it is sure to actually contribute to your kid's birthday decor.
Pink stargazer lilies stand for wellness, wealth, and abundance. So, these flowers pair well with all the wishes you would have for anyone on their birthday.
Remember, stargazer lilies also come with a romantic meaning. These make a pretty great gift for your children, but they might be best for your love interest or romantic partner.
15. Ranunculus:
Ranunculus makes fantastic birthday flower bouquets for their elegant appearance as well as a variety of shades. Perhaps some of the very best colors for different birthday gifts are orange, yellow, and pink.
Pink ranunculus stands for admiration and love, so they work pretty well for loved ones and close friends. The orange and yellow varieties stand for positive energy and happiness, working well for almost any recipient.
If you are purchasing for your romantic partner, then you must take into account red ranunculus. This color stands for passionate feelings, love, and romance.
And It's A Wrap!
And it's a wrap on the best flowers to gift on birthdays for your kids. Now tell us, what do you think about making flowers a part of your child's birthday gift? Sounds fantastic, doesn't it? We know! Plus, these are environmentally friendly!
For more on this topic, check out the full Party Planning or Gift Giving collections
---