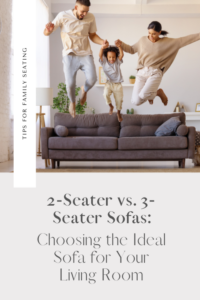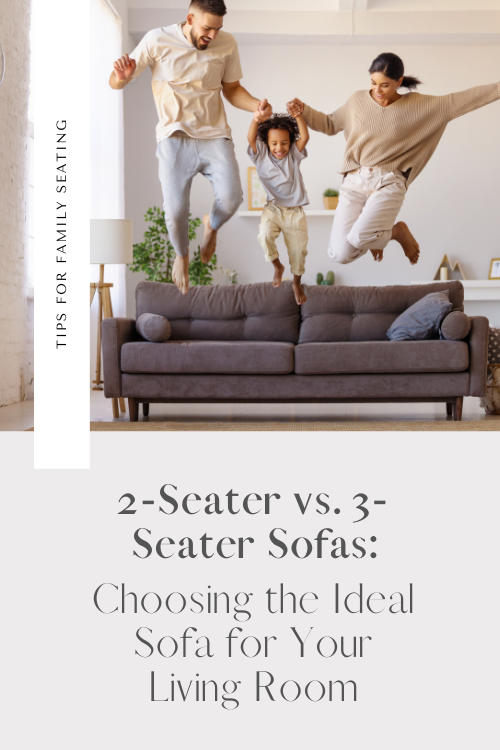 2 Seater vs. 3 Seater Sofas
The sofa in your living room is the main focal point that catches everyone's attention. When it comes to choosing the perfect sofa, there are several factors to consider. While design and style are typically the most important aspects, there are other factors that should be taken into account as well. It's essential to think about the seating capacity of the sofa. This also involves evaluating the available space, considering the number of family members, and determining for what purpose you use a sofa. Consequently, our most popular options are usually the 2 seater sofa vs. 3 seater sofa. To help you make an informed decision, we have gathered expert advice on choosing between these two options.
But before we dive into the debate of 2-seater vs. 3-seater sofas, let's take a look at the advantages of both types.
---
For more on this topic, check out the full Family Home collection
---
Benefits of 2-Seater Sofa
Experience a diverse range of colors and designs when choosing a 2 seater sofa. By opting for a modern sofa adorned with various patterns and hues, you eliminate the need to stress about your room's existing decor. As the intricate designs of a 2 seater sofa effortlessly harmonize with your living room's overall aesthetic.
One of the key advantages of a 2-seater sofa is its compact size, which allows it to occupy minimal space in your living area. Despite its smaller footprint, this sofa doesn't compromise on comfort. Imagine cozying up with your partner while watching a movie or spending quality time together as a family. The intimacy and relaxation provided by this snug seating arrangement enhance the bonding experience and create cherished memories.
Benefits of 3 Seater Sofa
A 3 seater sofa offers ample seating space, making it an ideal choice for three individuals. Its size is particularly suitable for small families or close groups of friends. Whether your decor is traditional, contemporary, or modern, you'll find a wide range of options available when selecting a three-seater sofa.
Numerous models of 3-Seater sofas come with in-built storage. This thoughtful feature helps maintain a well-organized and clutter-free home, which is especially beneficial for smaller houses or apartments with limited space. Additionally, several 3 seater sofas come with reclining features, allowing you to unwind and relax after a tiring day. This feature proves particularly delightful when watching TV or seeking a comfortable spot for a quick nap.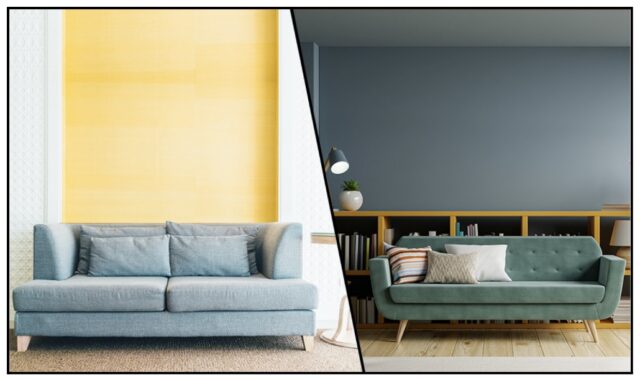 Which One Should You Choose for Your Living Room – 2 Seater Vs. 3 Seater Sofa?
Size and Space Utilization
One of the primary factors to consider is the size of your living room and how you plan to utilize the space. A 2 seater sofa is generally smaller and more compact, making it ideal for smaller living rooms or apartments where space is limited. It allows for more flexibility in arranging other furniture items, creating a sense of openness.
On the other hand, a 3 seater sofa offers more seating capacity, making it suitable for larger living rooms or spaces where you frequently entertain guests. It provides a focal point and can anchor the room, especially when combined with accent chairs or other seating arrangements.
Comfort and Versatility
When it comes to comfort, both 2 seater and 3 seater sofas have their advantages. A 2 seater sofa is cosy and intimate, perfect for small families or couples. It offers a sense of closeness and can be an excellent choice for intimate conversations or snuggling up with a loved one.
In contrast, a 3 seater sofa provides ample space for relaxation and stretching out. It offers more seating options and can accommodate larger groups comfortably. This makes it an excellent choice for households with multiple family members or for those who frequently host gatherings.
Cost and Budget
Budget plays a crucial role in any furniture purchase. Generally, a 2 seater sofa is more affordable than a 3 seater sofa due to its smaller size and reduced materials required. If you're working with a limited budget, a 2-seater sofa can offer a cost-effective solution without compromising on style or comfort.
However, if you have a larger budget and prioritize seating capacity, a 3-seater sofa might be the better option. It provides more value for money in terms of the number of people it can accommodate and its overall presence in the room.
Last Idea on 2 Seater vs. 3 Seater Sofas
Ultimately, the decision between a 2 seater and a 3 seater sofa depends on your individual needs and the characteristics of your living room. Consider factors such as space utilization, comfort, style, and budget when making your choice. A well-chosen sofa will not only enhance the functionality of your living room but also contribute to its overall aesthetic appeal, ensuring a comfortable and inviting space for you and your guests.
For more on this topic, check out the full Family Home collection
---