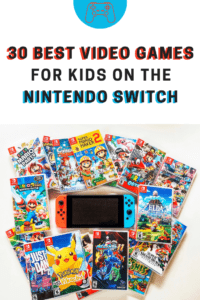 In a world ruled by Fortnite, parents are reasonably concerned about what their kids are playing. I've had many parents come to me because they were thinking about buying a Nintendo Switch, but then they were concerned about what games their kids would play on it. You also don't want to spend money on a video game that your kids will never play. You want something that holds their attention, and that they genuinely enjoy. The worry is always that you're going to buy a video game console like the Nintendo Switch and then it ends up being a parenting battle over appropriate versus inappropriate video games for young kids. Here is a list of the 30 best video games for kids for the Nintendo Switch so that the whole family can enjoy the experience!
This page contains Amazon affiliate links. As an Amazon Associate I earn from qualifying purchases. These links do not change your price or buying experience, but they do help us out! Thanks for supporting Adore Them.
---
 For more on this topic, check out the full Gift Giving collection
Best Nintendo Switch Games for Kids
Super Mario Maker 2
Super Mario Maker 2 is such a unique game for the Nintendo Switch! It allows kids to create their own video game levels by using logic, strategy, and design. They can customize the way their levels work, and the way they look!
I am always amazed at the creativity of what my boys have come up with… They have made levels that are more like puzzles where certain doors lead to certain paths. They have made levels filled with bad guys, and you have to find the right power up to beat the level. They have made levels where you have to speed run through the entire level as quick as you can.
And once they complete their level, you can choose to upload it to the Super Mario Maker community so that other people around the world can also play your level.
Both of my boys (ages 6 and 9) have spent hours playing this game, which means we have definitely gotten our money's worth!
Let's Go Pikachu and Let's Go Eevee
This game includes a lot of really unique features that are very impressive! You can choose to buy the Pikachu or the Eevee version – they are the same game just the one you start with Pikachu and the other you start with Eevee. And I would highly recommend getting a bundle that includes the Pokeball Plus. Yes, it is an extra expense, but it is what brings the game to life!
As with all Pokemon games, you go through the universe catching Pokemon. But what's unique is that you can actually put your caught Pokemon into the Pokeball Plus! Once you "put" them in your Pokeball, you will hear them make their noises, and it will light up with their colors. You can "play" with your Pokemon in your Pokeball and walk around with it to level it up so that when you transfer it back to the game, it is more powerful than before.
The other really cool feature is that this video game works in cooperation with the mobile game Pokemon Go. You can transfer Pokemon that you caught on your phone into the Let's Go video games.
The technology is really incredible, and if your kids are Pokemon fans, they will love it! 
Scribblenauts Mega Pack
This game is so creative and fun (especially for kids just learning to spell). Scribblenauts is an adventure and puzzle type of game, but what makes it unique is that you can create anything that you can imagine! You type words into the game to create objects to solve the levels. If there is a person that is cold, you can type in "sweater" to make them warmer and happy. If you need to get to a higher place in the level, you can type in "wings" and fly up there yourself!
I appreciate that this game feels like an educational game in that kids are practicing spelling and problem-solving. At the time of posting this, the game is only $19.99 on Amazon, which is such a great deal!
Mario + Rabbids Kingdom Battle
While many of the Rabbids games are kind of crazy, this game is actually really great for kids! It is essentially a strategy game that involves a lot of puzzles and logical thinking. It is almost like a very involved and vibrant game of chess where each level gets a little trickier and includes beloved characters.
My older son was really into it for a while and ended up beating the entire game, and then just recently my younger son started getting into it too! And with it being priced under $30 on Amazon right now (at the time of posting this) – it is a steal!
The Legend of Zelda: Link's Awakening
I played the original Link's Awakening game when I was a kid. I played it on my Gameboy, and I think it was the first game I actually ever completed! I was so excited to introduce this game to my kids, and they ended up loving it as much as I did.
It is a fun, classic-style Zelda game where you are using logic and problem-solving to work your way through dungeons and battling bad guys along the way. The graphics are cute and vibrant, and the gameplay is so much fun!
Rayman Legends Definitive Edition
My husband introduced me to Rayman a while back, and even though I was skeptical, I ended up really enjoying the game! It is another one of those games that can be fun for a wide variety of ages since the mechanics and concepts are simple, and the game teaches you as you play.
You basically run through the worlds collecting items as you go, and there are fun characters all along the way! My favorite levels are the the musical levels where your running, jumping, spinning, and ducking coincide with a song that makes it a fun rhythmical challenge! If your kids haven't played this one before, I'd highly recommend it – especially since it's priced under $30.
Super Mario Odyssey
Yes, you're going to continue to see a lot of Mario on this list! But it's because they do such a great job coming up with unique and kid-friendly concepts.
Super Mario Odyssey is an adventure game where you travel to different worlds, completing missions, and collecting items as you go. The worlds are so colorful and fun, and Mario games always seem to find the right balance of letting you choose how easy or challenging you want the game to be. If you want to be a completionist and find every last item, it is going to take even the most experienced gamer a good amount of time. But if you just want to do the bare minimum and waltz through the game, you are able to enjoy that too!
Minecraft
I don't think I have to explain to anyone what this game is all about… I'm sure you are already at least a little familiar with Minecraft! The nice thing about getting the game for the Nintendo Switch is that it makes playing Minecraft much more portable.
After watching video about Minecraft for years, my 9 year old has finally gotten really into building worlds of his own. I am amazed at how creative he can get with this game, and it's fun to see what he comes up with!
Cuphead
This game blew up in popularity, and while I never ended up getting to far in the game myself, my husband and my boys love it! It's inspired by 1930's cartoons and has a really fun vibe to it, and the gameplay is extremely challenging.
It is the type of game where you need to play a level over and over again to pick up on patterns and hone your skills, which requires a lot of patience but results in a fun payoff when you finally beat each boss!
Cuphead is a digital download for only $19.99, which I'm sure is part of why it's become so popular! You can get it through Amazon below or simply buy it through the Nintendo store on your Switch.
Super Smash Bros Ultimate
Whether you actually understand the moves and strategy behind these battles, or you just like to button mash… this is a really fun game for a large group of people. When my son has friends over, this is usually what they want to play!
You can play this game with up to 8 people (if you have that many controllers), and you don't have to know anything about the game to get started, which makes it a great party game.
This game brings about more yelling and laughter than most other games we've played, but that's half the fun!
It also has a story mode type of game play that my boys have also enjoyed working through when they're playing on their own.
Pokemon Sword and Pokemon Shield
These games are the latest in the Pokemon franchise and are following that similar style of releasing two similar games with a slightly different angle. The main difference between the two games is which types of Pokemon and Trainers appear throughout the game. Both of my boys say they want the Pokemon Shield version for what it's worth…
These games are set to release on November 15th, 2019 so while we haven't played them yet, they look like what you'd expect from the franchise. You collect. You battle. You power up. You complete missions. All things that my boys have grown to know and love, and they are really excited for this one!
Nintendo Labo
Nintendo Labo is basically an elaborate craft kit for kids that love video games, which is a fun way to bring things to life! The Labo kit comes with a game cartridge and a whole bunch of cardboard. The game cartridge has tutorials and interactive games on it, which is a great feature for tying it all together! My kids were able to follow the simple instructions to build all of the fun Labo creations, and then enjoyed playing the games that go with those creations.
There are things like a fishing pole where you can virtually catch fish and a piano that actually plays music. At the time of posting this, the Nintendo Labo Variety Kit is being offered for over 40% off on Amazon!
Mario Kart 8 Deluxe
Mario Kart 8 is another one of those nostalgic games… I grew up losing horribly to my brother in Mario Kart, and I still love playing it today!
You can enjoy the challenge of winning trophies in single player mode and unlocking new vehicles and upgrades. You can race with multiple people. Or you can have fun in battle modes where you can compete against friends or team up with them!
My boys tend to like being on the same team in battle mode the best because then no one has to lose to the other 😉
Splatoon 2
We got really into Splatoon when it launched for the Wii U, and it is a really fun and unique battle game! You are a squid/human hybrid that inks bad guys and runs through various levels. It might take a little bit to get used to the controls and gameplay, but once you get the hang of it, it is super fun!
My boys like to do battle mode where you battle against other players online from across the world, and I like that there isn't a chat feature attached to this gameplay so that they're not exposed to anything inappropriate. If you are looking for a Fortnite alternative, this could be a really good option!
Mega Man 11
My husband grew up on Mega Man games so he is a huge fan of the whole franchise, which also means that our boys now love it too! Each character has different abilities and strengths so they have fun figuring out what will work best in each scenario.
It is another one of those games that will take time and patience to master, which can be a good thing! Mega Man 11 is also a great value since it's priced around $20!
Mario Party Superstars
Admittedly, this Mario Party is one of my favorites because it's the latest iteration of the game that I grew up playing as a kid. But it is also a great family game!
Mario Party is essentially a virtual board game with fun mini games built in. I do think that some of the more recent Mario Parties are trying to get to fancy and complicated, and I wish they'd just go back to basics a bit more. But… this game is still a staple in our collection.
This is a game we gravitate towards when we have friends over or just have a free evening as a family.
Just Dance
This is another game that has been around for what seems like forever, and each year they come out with an updated version with new, popular songs. It is a great game that gets your kids (and yourself) moving while having a blast together!
There is a wide variety of songs, difficulty levels, and dance styles that is fun to explore and try together. And there are even workout modes as a fun way to sneak in some exercise!
Super Monkey Ball: Banana Blitz HD
This classic game just came out for the Nintendo Switch, and I can't wait to try it! There are over 100 colorful stages to race through, and a variety of party games are available to play as well!
Considering this game is being offered at a significantly lower price-point than other Switch games ($39.99 instead of the usual $59.99), I think it will be worth the money. It is a classic Sega style game, and who doesn't need some of that in their life?
Mario Tennis Aces
I was a little skeptical about this game initially, but it turned out to be really fun! You can play against each other like a virtual tennis match, or you can play in story mode where you come across some really unique challenges.
It is surprisingly addicting once you get into the rhythm of playing, and it's of course filled with all of the usual favorite Mario characters!
Yoshi's Crafted World
Yoshi's Crafted World is another game that my older son got really into and completed fairly quickly, but what I love about these types of games is that even once you beat the story mode, you can then go back in and do all sorts of bonus missions.
This game has such adorable graphics and is so creative! The entire world is made out of craft supplies and has unique mechanics (like pulling on a piece of yarn to unravel the entire wall to find a hidden item).
The game also allows you to choose between easy mode and challenge mode so that you can adjust the gameplay to your liking. You can even switch modes mid-level, which keeps kids from getting stuck at a certain part and losing interest.
Sonic Mania
While my husband grew up on Mega Man, I grew up on Sonic. This game took me back in the best way possible! Sonic games took a weird turn a while ago, and they just weren't the same. So when this launched with the old-school mechanics and gameplay, I was so excited!
Sonic Mania re-introduces this franchise to kids in the best way possible. Now my sons understand why I love Sonic so much! And for only $30, this game is worth having on your shelf.
The Legend of Zelda: Breath of the Wild
I can't say enough good things about this game! It was one of the first games that we owned for the Nintendo Switch, and we still consistently play it almost 3 years later!
This open world type game is beautiful but also so much fun to interact with. Younger kids will have fun running around and exploring while older kids (and adults) can dedicate hours upon hours to the game.
Some of the bad guys can get a little bit creepy at times so keep an eye out for that. But I would argue that this game is a must-have for anyone with a Nintendo Switch… especially if you're a fan of the Zelda franchise!
1-2-Switch
This is one of the games that the Nintendo Switch originally launched with, and it is still one of my younger son's favorite games. It does a good job of using the controllers in a unique way through a variety of mini games. All of these games are interactive and have to be played with another person, which makes it a fun family game.
Whether you are wizards battling each other with your wands, trying to unlock a safe, or running a race against each other, this game provides simple fun in short chunks of time.
Super Bomberman
This game is really different than other games out there, and my boys have really enjoyed it! They love playing against friends and family in battle modes, and if they're playing on their own, there is adventure-style levels to work through too.
The nice thing about this game is that each round is fairly short. You try to bomb the other players without blowing up yourself too. There are power-ups to collect and a good amount of strategy involved. And since the rounds are so short, it is easier to accept that you win some and you lose some! For $25, it's a safe bet that you'll get your money's worth out of this game.
Mario & Sonic at the Olympic Games Tokyo 2020
Here's another type of remake that takes me back to my own childhood. I remember playing these types of games on our old Sega, and I think this game is a fun way to get the kids into the spirit of the games! This game is especially unique considering the 2020 games were moved to 2021.
My boys tend to enjoy these types of games where they can play a variety of mini games in short bursts of time. Plus, it's Mario… and he rarely lets us down!
Donkey Kong Country: Tropical Freeze
This Donkey Kong game is another fun, simple platformer game. You run sideways, you collect items, you throw barrels at bad guys. Kids are able to catch onto the gameplay quickly, and they have fun making their way through each of the levels!
Octodad: Dadliest Catch
Octodad is a weird one, but my boys think it's hilarious! You play as a dad that is an octopus, and you have to complete simple missions around the house, at the grocery store, and other normal locations. The trick though is that you have to control all of the octopus limbs independently. So walking is tricky, using your arms is tricky, and everything is very goofy.
For only $15, I think it's totally worth the laughs!
Luigi's Mansion 3
This game has been extremely popular – especially since it was released on Halloween! My son loves the story and puzzle-solving aspects of these Luigi Mansion games.
It offers the familiar style of Mario type games with a fun twist!
Kirby Star Allies
Kirby Star Allies is another cute and fun platformer game for a variety of ages (are you sensing a pattern here?). Throughout the game you can collect different types of power ups that allow Kirby to do different actions to make it through each level.
It is another one of those games that is fun and simple, yet challenging as you move through the levels.
Lego Harry Potter Collection
At the time of posting this, you will get two LEGO Harry Potter video games remastered in one package for less than $25! I love all of the LEGO games because there just seems to be something satisfied about smashing and rebuilding digital LEGO structures. I also love how creative they get with their LEGO worlds.
If you have a Harry Potter fan in your house, I highly recommend this one. And if not, there are many other LEGO titles that are also fun to play like Incredibles, Marvel, and more…