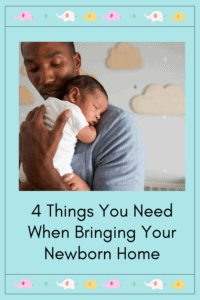 4 Things You Need When Bringing Your Newborn Home
A bouncing baby is a source of joy to a family. When you are planning for bringing your newborn home, there is a need to make the necessary arrangements for that warm welcome. Get all the essentials to keep the baby comfortable. It is possible as a family to make the ushering of your bundle of joy as memorable as possible.
There is plenty to prepare for from the diapering, feeding, and bathroom essentials among many others. Since the body of a newborn is still developing, there is a need to make the living conditions as friendly as possible. The room needs to offer enough warmth and comfort. Here are some essentials to have when giving your baby grand welcome to your place.
---
For more on this topic, check out the full Baby's First Year collection
---
Bathing Essentials for Newborns
The joy of your baby means the whole world to any parent. Think around the bathing time whereby you will invest in all necessary cleaning supplies. Due to the small size of the infant and soft skin, there is a need to be excellent with what you choose. Luckily, there are tubs specifically developed for infants.
This makes the bathroom much easier for you. Some thrift stores provide such items and some are in the right conditions. What you need afterward is doing proper sanitation. Have some packs of washcloths, baby body wash, cotton swabs, and some hooded towels.
[ Read: Answers for All of Your Common Newborn Concerns ]
Baby Changing Mats
The changing of diapers is frequent when you have an infant. Doing the change on time is significant for the health of the child's skin. Therefore, always be prepared even when you are on a journey. A perfect way to ensure this is through buying a baby change table mat as these products are made to work on almost any surface. They are also durable due to the high quality they exhibit.
This offers a proper place for placing the child as you change the diapers and concerning hygiene, these mats serve you well. The treated foam used in making them is effective in repelling disease-causing microorganisms such as bacteria and microbes. Most of them are washable hence making your child's health safeguarded.
[ Read: How to Get Through Your First Year of Motherhood ]
Wellness Supplies for Newborns
A child's growth and development need to be highly focused on. This is why doing proper feeding is significant. Consult with a nutritionist on the right meals for the baby at different times of the infancy stage. Look for ways to make this happen by buying basic wellness supplies.
Have some digital thermometers for monitoring his or her body's temperature. Early detection of fever is an indicator of an underlying health issue. Consider procuring a bulb syringe as this helps in the suction of mucous.
[ Read: Developmental Guide to Buying Baby Toys ]
Newborn Clothing and Blankets
The baby's environment should be comfy and cozy. One way of making this happen is by availing of the much-needed warmth. Buy cotton-made clothes, and choose blankets that will keep baby warm – especially during the winter months.
Welcoming a newborn into the family brings joy. This is why doing all the necessary arrangements is necessary. Consider buying all the relevant supplies such as diapering, clothing, bedding, wellness products, and many more. In all of them, go for the quality.
For more on this topic, check out the full Baby's First Year collection