Looking for unique ways to involve your kids with gift giving this holiday season? Have them help wrap presents! Here are five DIY gift wrapping ideas your kids will have fun creating and your recipients are sure to love! 
First remember that with any project involving kids, the end result will be messy!  The memories you make when you create and give are what's important. That being said, with my guidance, my children made all five wrapping ideas below!
This article is written by Pamela Rineer
For more on this topic, check out the full Happy Holidays collection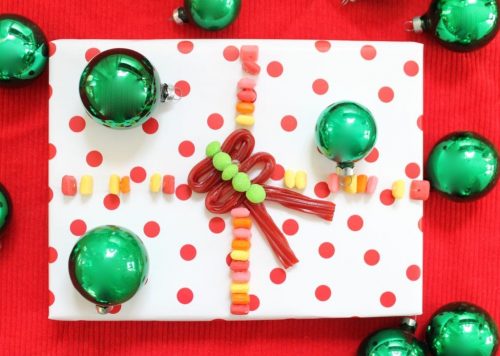 CANDY RIBBONS
Who doesn't love a sweet treat with their gift? Kids are sure to love making and receiving this special present. Simply choose a favorite candy, gummy or candies with a hole work best, and thread with jewelry string. This works great for a candy ribbon that can be eaten when received! For a non edible bow use hot glue to hold the candy in place.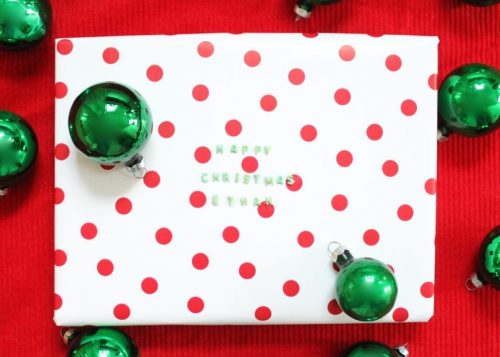 Name tags with Alphabet Pasta
Spell out your holiday greeting with painted alphabet pasta! Hot glue the letters onto the gift when you're done. This is so simple and the possibilities are endless, it's educational and fun!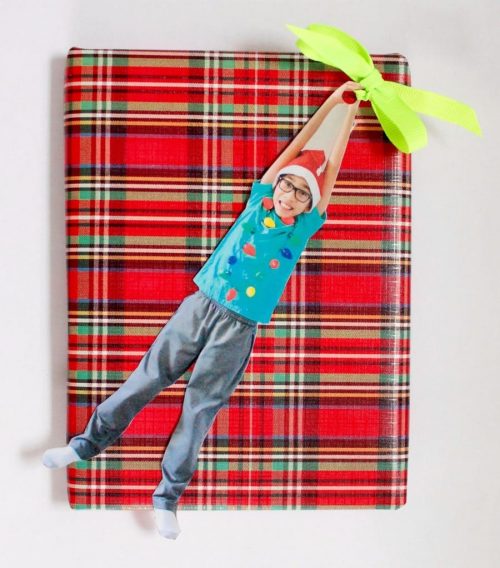 Bookmark Tag
My kids made these years ago and it's so cute that I brought them back this year! I especially love to use these when gifting a book. I like to have them wear holiday attire, Christmas jammies would be adorable, then take a photo. They can be jumping for joy, something that stretches their body in all directions makes it more fun.
Print the photo on preferred paper and have your child write who it's to and their name along with the date on the back. Use laminate sheets to cover the front and back, then cut out just the body, no background. I like when my kids have their hands clasped above their head, I can use a hole punch to place a ribbon through and it looks like they are holding the ribbon. Wrap the gift and use the bookmark as a name tag and the ribbon as a bow!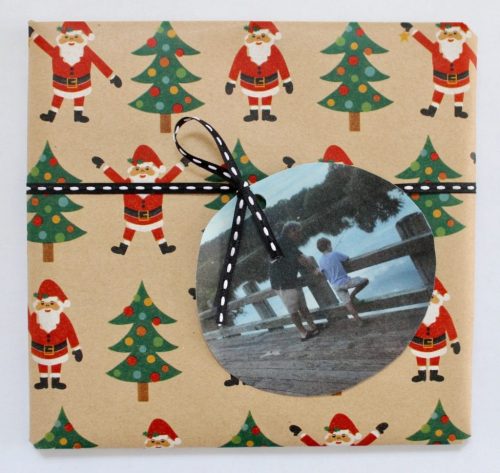 Photo Name Tag Ornament
Another cute gift wrapping idea is to print a photo of your child with the recipient. It can be on photo paper, card stock, or printer paper. Have your child write who it's to, their name, and date on the back. Laminate using the same self adhesive sheets as above. Cut out in a circle or decorative shape, hole punch and string ribbon. The photo can become an ornament and decorate next years Christmas tree!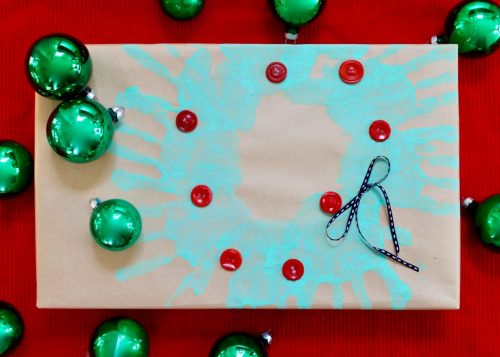 Homemade Paper
Having your kids make wrapping paper is so easy and fun. Start with white or brown craft paper cut large enough to wrap your package. Decide on a design or let your kids create their own. Use markers, crayons, or paint! For this gift we made a wreath out of hand prints, buttons for ornaments, and a ribbon for the bow! 
I hope this inspires you to wrap & give creatively this season! If you need some additional inspiration on the actual gift buying, check out the Gift Giving collection here for all kinds of great gift ideas!
For more on this topic, check out the full Happy Holidays collection
Featured Contributor: Pamela Rineer
Pamela Rineer lives in Lititz, PA with her husband, two boys, and very large goldendoodle. With a love of real estate, design, and money management she began renovating their homes on a budget. Now, settling into their fifth house, she shares simple DIY's for all things home.