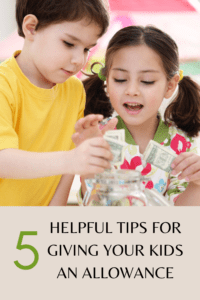 Helpful Tips for Giving Your Kids an Allowance
An allowance is a great tool for teaching kids about money. By giving your kids a source of income and allowing them to manage it, they can grow up with financial sense. If you plan on giving your kids an allowance, here are five tips to keep in mind.
---
For more on this topic, check out the full Saving Money collection
---
Encourage your kids to save rather than giving them advances
There will be times when your kids want an expensive new toy but don't have enough allowance to do so. They may beg you to give them an advance on the next week or even months worth of allowance. Rather than giving advances, teaching children to save will make them more money smart and encourage them to experience delayed gratification. Teaching them about savings or investing for kids by explaining how you are saving for their future is a good start. You can also offer to pay for part of a new toy or piece of tech they want if they are able to save up their half.
Tie it to big household chores – not everyday ones
It's tempting to tie your kids' allowance to their chores to give them an incentive to help out. While we all want our kids to do their chores, it's also important to teach them that household chores should be done freely as a family rather than as a paid activity. That said, an allowance is a great incentive for bigger jobs, such as helping with cleaning the car or mowing the lawn. Tie their allowance to big jobs rather than the everyday chores. Especially as kids may skip out on their chores if they decide they can live without the allowance.
[Read: Chore Chart by Age & the Benefits of Teaching Responsibility]
Don't withhold allowance as a punishment
An allowance should be a teaching tool for kids rather than a disciplinary tool. This is why we advise against tying an allowance to chores, grades, or behavior. As parents, we should encourage our kids to contribute to household chores, work hard at school, and behave well without financial incentives. Plus, if your kid doesn't have a steady allowance, it makes it more difficult for them to budget and save, taking away the chance to teach them about financial management.
Start early
While you may not want to hand over too much money to young kids, it's important to start giving allowance to your kids as soon as they grasp the concept. This guide to allowance by age suggests that 5 or 6 is the best age to start giving an allowance. Even if it's only a few dollars a week for them to spend on sweets or save for a small toy, it will make them money smart from a young and impressionable age.
Give older kids a debit card
Once kids reach 12 or 13, you should consider getting them a debit card. There are plenty of kid-friendly debit cards and bank accounts out there. You can opt for a prepaid debit card and kids can use this to withdraw money at an ATM, make online purchases, and check their balance easily on their phones.
For more on this topic, check out the full Saving Money collection
---