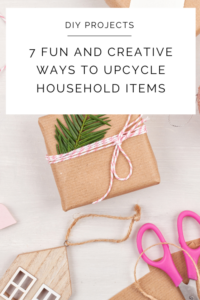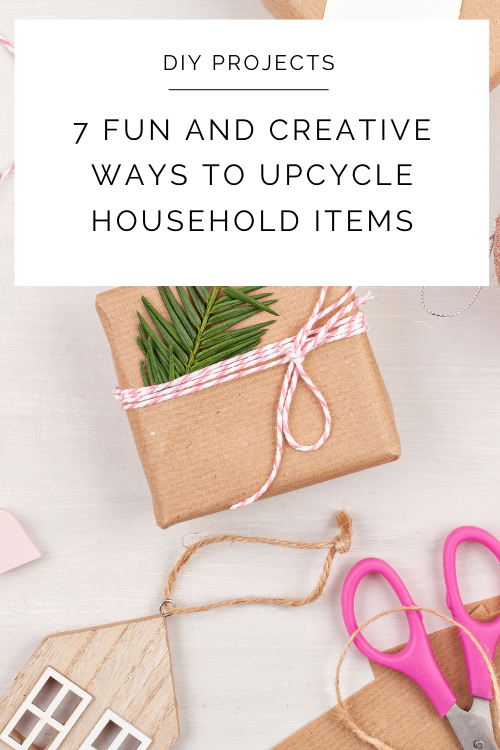 How can one individual tackle monumental issues like climate change and inflation? For some, they do it by undertaking one DIY upcycle household item project at a time. Upcycling has become a trend that addresses the need for sustainable and frugal solutions.
Did you know that in the US, an average American throws out 4.5 pounds of trash a day? Overall, this translates to an overall 268 million tons of trash in a year. What's worse, most of this trash is made up of non-biodegradable plastic and metals that could exist for centuries in landfills and oceans.
That's why upcycling makes a lot of sense. Instead of mindlessly throwing away things, consumers like you can reuse and remake them into useful items. Aside from being sustainable and cost-effective, these DIY projects are fun to do as they let you inject your own personality and creativity into every piece.
---
For more on this topic, check out the full DIY Projects collection
---
Upcycle Household Items
So, if you're looking for inspiring upcycle projects, below are a few suggestions.
1. Wall Art with Old Memorabilia
Proudly display your meaningful memorabilia like the plastic wristbands you wore to concerts and postcards sent by friends on your wall. If you have old frames you want to refurbish and reuse, you can insert your keepsakes behind the glass to keep the dust away.
Display these frames and items in a way that tells your story. You can incorporate the frames on your existing gallery wall or make a new memory wall that celebrates the most memorable occasions in your life so far.
2. DIY Plant Pots from Various Containers
Adding plants to rooms in your house is an easy way to bring in a bit of nature. But instead of buying expensive pots for your plants, why not get creative and put them in tin cans, mugs, and other aesthetically pleasing old containers? Not only would you save a lot of money but also inject a bit of personality into your spaces.
To make sure your space won't end up looking like a jungle junk shop, you can paint cans complementary or matching colors. Alternatively, you can group the same pots (such as mugs) together for a more cohesive look. Since these make for smaller pots, they are perfect for small, low-maintenance plants like succulents. That said, make sure to drill drain holes before planting. Lastly, add a top dressing of pebbles or moss on each plant for a neater look.
3. Mosaic Tiled Bird Bath from Broken Dishes
Broken dishes don't necessarily have to end up in the trash. Instead, jazz up an old birdbath using these broken ceramics as the mosaic tiles. This project allows you to play with colors and patterns, turning discarded items into functional art.
With this bird bath, you can invite the birds and butterflies into your garden while reducing landfill waste—a win-win for your garden and the environment.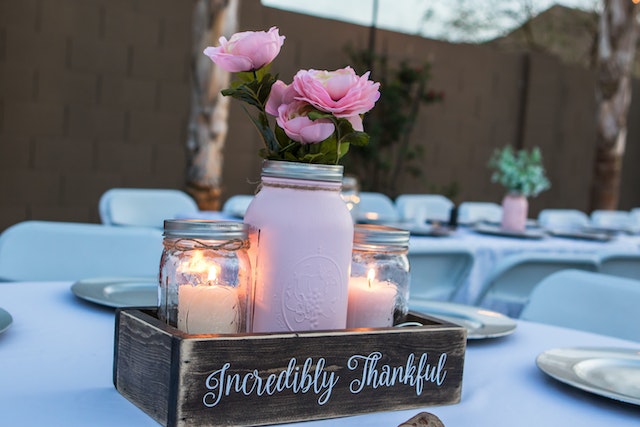 4. Decorative Glass Jar Candle Holders
In most households, it's typical to find a cabinet where all the empty glass jars go. Some of them may even be thick enough to pour wax candles into. But for a simpler DIY project, you can use them as holders for votive candles.
That said, you can't just leave them plain and boring. So, whip out your twine, paint, and other decorative materials and decorate these jars with your children or housemates. This would make a fun group activity over the weekend. After you've decorated them, place them in areas like your patio or deck to add an intimate ambiance during get-togethers.
5. Quilted T-Shirts
If you're the type to get sentimental over an old T-shirt, there's good news for you. You can cut out pieces of your T-shirt to make a quilt. To start, gather up old clothes and cut them into uniform shapes. Next, arrange them in a pattern, and sew each section. Finally, sew sections together to form the quilt.
For newbie quilters, you can consult tutorial videos on YouTube to get specific ideas of how to go about making an epic quilt.
6. Pillowcases and Tote Bags from Old Clothes
Aside from quilting, you can also reuse your old clothes and transform them into unique pillowcases or tote bags. With a sewing machine and a bit of creativity, you can repurpose old fabrics into functional and fashionable items. For instance, you can upcycle denim pants into an adorable bag by cutting the widest section at the top. Then, sew up the leg holes, and add a zipper on top. For better functionality, you can add shoulder straps using the leftover denim.
Meanwhile, you can make pillowcases out of old blouses and skirts. Choose a fabric like satin to ensure that your hair won't excessively rub into the material and cause frizz while you're sleeping.
7. Statement Accessories from Iconic Items
Get inspired by iconic or vintage items. Turn them into statement pieces that will definitely spark conversations. For instance, add a hole in some Lego bricks to make them into earrings. In addition, vintage typewriter keys turned bracelets can add a unique look to any ensemble. These accessories not only allow you to wear a piece of history but also celebrate the sustainability of using existing materials for fashion. It's a way to make a statement both in style and eco-consciousness.
Conclusion for Upcycling
Upcycling is more than just a sustainable practice. It's a delightful journey of creativity and self-expression. So, check your home for discarded items that can be turned into new treasure pieces. You never know what your imagination can produce.
For more on this topic, check out the full DIY Projects collection
---