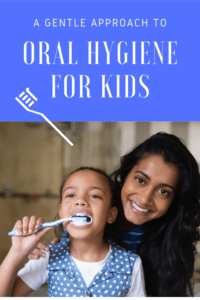 Oral hygiene is something that every family needs to make a priority for not only themselves, but also their their children. It is a space where you can lead by example. When your children see you flossing, brushing, and using mouthwash daily, they will want to take part in that routine. Which is the start of them learning how important oral hygiene is. However, sometimes children don't want to join in. It becomes a little bit more tricky, but you can make oral hygiene fun. Keep reading below on tips for how to take a gentle approach to oral hygiene.
---
For more on this topic, check out the full Staying Healthy collection
---
Start Oral Hygiene for Kids Early
The earlier you start your child's oral hygiene routine, the more comfortable they will be with it. This includes taking regular trips to the dentists, and making sure that they see you getting a check-up from time to time too. Let them see you brushing your teeth twice a day, and they will want to copy you.
They love to mimic what they see, so make it fun. Play a song for two minutes and really get into it.
Find out what you need to know about children's dental health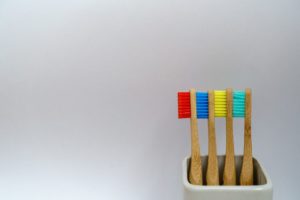 Toothbrushes for Kids
Babies love to chew on things, and you can give them a toothbrush to practice with nice and early. They will get used to the sensation of having a toothbrush in their mouth before they even have teeth. Try to find a silicone toothbrush that is suitable for small children and the dishwasher too.
As they get bigger, you can switch to fun toothbrushes with lights, timers, and so much more.
Dental Appointments for Kids
The first time children visit the dentist can be filled with upset and the unknown. Because unless they have seen you visiting the dentist, they don't always know what is going on and can decide they aren't going to let the dentist do their job. When looking for a dentist, look for one that has a number of services that you can benefit from. From ones where you can find a low-cost option to remove your wisdom teeth, to ones that specialize in children's oral hygiene. A family-friendly dentist will take a gentle approach to oral hygiene, and will help you find the right method of oral care for your children.
Take your children with you on your check-ups, if possible. Many dentists don't mind having children in the office and appointment rooms as it helps them get to understand the environment. When it is their turn to get in the chair, they are happier to do so.
---
Bedtime Chart Printable – Simple Checklist for Kids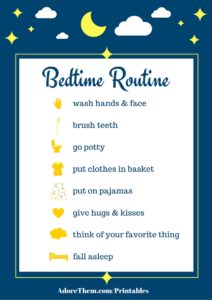 ---
Sing It Out as a Family
Brushing your teeth for two minutes isn't something that everyone can get into. However, if you have a song ready to play on your phone or iPad, it can make the whole thing much more manageable. There is a range of great songs on YouTube to help you tackle the two minutes in the most fun way possible. Over time they won't need the song. However, they will be used to how long 2 minutes are, and have a nice and complete tooth brushing habit.
Toothpaste Flavors for Kids
Although you might like a fresh and minty toothpaste, your little ones might not. There are many different brands of toothpaste on the market that have a range of flavors for kids. Stock up on a variety of exciting flavors and your children can pick a different toothpaste everyday. This keeps it fun and interesting for them. If your child is sensitive to flavors (like my son is), there are flavorless options available as well! We were able to find a child's toothpaste that still had flouride without any flavor at all, which really helped the nightly toothbrushing battle!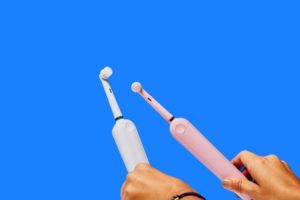 Help Your Child Brush
Although you should encourage your child to brush their teeth, you are going to need to take control of some of the brushing. Work this into the routine from the start. Your child can brush for half of the song, and you can brush for the rest of it. This will make sure that any spaces they may have missed will be covered, and they will have a really thorough clean.
Keep it Calm
There is a temptation to be bullish over the brushing of teeth. The problem is, the more it becomes a point of contention, the less likely it is that the oral care routine you get will be the one that you want. Remember, a gentle approach to oral hygiene will be the most effective here!
If your child refuses to brush their teeth, have them wait in the bathroom while you finish doing yours. They'll eventually become intrigued and want to take part in the process. Try to keep it cool, calm, and collected even if you feel irritated. In the early days, arguments about teeth and oral hygiene can have a negative impact on how they feel about their dental health and dentists later on in life.
Taking a slow and gentle approach to dental hygiene can give your child a lifelong appreciation for their teeth and gums. Leading to much fewer difficulties later on. Positive experiences when it comes to health and hygiene can last a lifetime, and so can negative ones.
For more on this topic, check out the full Staying Healthy collection