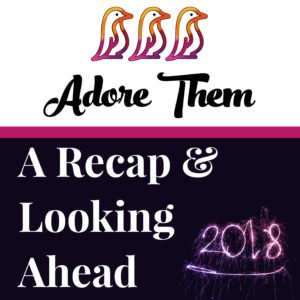 WHAT A YEAR!!!
From the bottom of our hearts, thank you to each and every one of you that helped to make Adore Them's first year such a huge success!
---
This article is written by Karissa Tunis
For more on this topic, check out the full New Year New Goals collection
---
We launched in mid January of 2017 with a goal to create collections of content around popular parenting topics. Our plan was, and still is, to share content that is encouraging, insightful, and filled with value to help YOU find the joy in parenting, and to support YOU on this incredible journey 🙂
We are both mothers that believe it is an honor and a privilege to hold that title, and we truly adore our children! However, we have found that negative content is very contagious and can affect our parenting mindset. Content carries influence, and a negative mind will never give you a positive life. We wanted more for ourselves, our families, and fellow parents – and that is why we decided to take action and launch Adore Them.
This Year We…
Published over 40 collections
Worked with over 50 amazing expert contributors and businesses
Participated in a lot of awesome events
Shared our articles with the Today Show parenting team
Had several articles published in parenting magazines around the country
Grew our reach to over 130K per month
Totaled over 1 MILLION total reach across our platforms

We love being able to share our mission beyond our website, as we truly want to create a community! This is why we enjoy having the opportunity to be involved with events like the Lancaster Baby Shower, the PA Family Expo, and several other parenting events in the tri-state area. We have also worked really hard to meet our readers wherever they are consuming content. So while our website is home-base, we take pride in the presence we have created across our social platforms.
---
Follow us on Facebook, Instagram, Pinterest, Twitter, & iTunes
---
Fun Things to Come…
We have a lot of great things in the works for the near future including the following:
Expanding each of our collections
Partnering with more experts & businesses
Turning top articles into podcast episodes so that you will have the option to read or listen to our content
Recipes that tie into our collection themes
Fun DIY project tutorials
Interactive quizzes & polls (like this one: What is Your Parenting Strength?)
And more!
To Support Us in Our Mission…
Below are a few simple ways that you can support us in our mission to make this parenting journey more enjoyable for families everywhere:
Again, thank you so much for all of your love and support! We really appreciate your positive feedback, and we look forward to 2018 and all that we have planned for each of you to enjoy!
Thank You & Happy New Year to You and Your Lovely Families!
~ Karissa 
For more on this topic, check out the full New Year New Goals collection