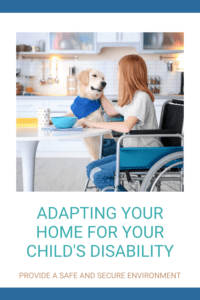 Providing a safe and secure environment for your child at home is something all parents strive for. If your child has additional needs, or requires special care for health conditions or injuries, making your home safe for them extends far past the typical baby proofing most parents put in place. In short, you become a parent and a safety expert as the same time. But the goal remains the same. – To allow them to live their lives in a house that supports their development and changes as they grow. Continue reading below to find out how to adapt your home for your child's disability.
---
For more on this topic, check out the full Tough Times collection
---
Modifying Doorways
One of the biggest concerns for many parents is having accessible rooms in their home. This allows for more unrestricted movement, especially if you have a wheelchair user in the house. For many, they first focus on adjusting the communal room in the home, such as the family room or kitchen. You will also want to consider the external doorways. If you cannot widen your doorways, consider which doorways would have the most impact and opt to make those changes first.
Aids and Supports
For external doorways, the addition of a wheelchair ramp will allow them ease of access in and out of their homes. Along with wider doorways you will also want to consider handrails, hard floors, lowered faucets, door handles, accessible storage, or countertop heights if possible. It is the attention to these small details that will pay off when making any changes.
Remove Obstructions
Children who use mobility aids, or have visual impairments, will have a hard time moving around if they encounter certain home accessories or furnishings. Secure any loose rugs, remove obstructions from in the line of sight and make sure no wires are lying where they could be tripped over. Remove low-lying items such as coffee tables to remove extra trip hazards.
Keep things in the same place so your child knows where to find them. And have an easy access point where they can help themselves to snacks or food in the kitchen. You will also want to make it easy for them find their belongings such as coats, shoes, backpacks, and so on.
Extra Lighting
Another item to consider is installing extra lighting, or change the lighting you use in your home. Whether you need to make things easier to dispense medications, assist with visual impairment, or make the house easier to move around; consider how each room looks and feels and adapt the lighting accordingly.
Accessible Bathroom
Being able to use a bathroom and bathe is something many people take for granted. If you want to invest in one area of your home that will make another big impact, choose your bathroom.
There are many different adaptations you can make in your bathroom. However, you will want to tailor them to your child's needs, as well as create the perfect accessible bathroom that works for your whole family. From higher toilets, allowing for plenty of room to change, and a bath transfer system. These type of systems allow for options for children who need more significant support when bathing, such as walk-in baths, lower sink basins, and comfort handles to aid sitting or standing.
It is important to remember that your child needs will continue to grow. And as such, your changes and adaptations will need to grow with them in order to offer them continued support through their childhood and beyond.
For more on this topic, check out the full Tough Times collection
---