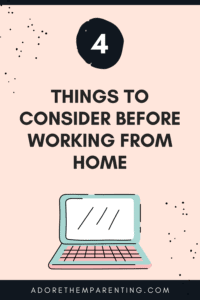 Advice For Parents Who Want To Start Working From Home
Are you thinking about working from home? This is something that a lot of people are interested in, especially once they have children. After all, it makes sense for you to work from home if you are able to because you won't need to pay for childcare and you will be able to spend more time with your children. However, this is not to say that it is going to be easy. With that in mind, we are going to take you through some top tips that you should consider before you start working from home.
---
For more on this topic, check out the full Work Life Balance collection
---
Security while Working from Home
Don't forget about security. When you are at work, you will typically have a policy in place that outlines how to act in a secure manner. When you work from home, you need to make sure that you put measures in place to ensure that you are protected. The first thing you should do is install a VPN so that your IP address is hidden. Check out Troypoint's guide for more details about how to do this. Aside from this, make sure that you choose strong passwords and that you use a different password for every system. 
Time Management 
Time management is difficult, and it is something you will need to master. If you speak to anyone who works from home, they will definitely tell you that one of the most difficult things about doing so is time management. You think that you will work less when you are working from home. However, a lot of people often find that they end up working really late into the night because the day-to-day distractions of being at home have gotten in the way. This can be especially difficult for people who have children. This is why it is important to make sure you put together a schedule and that you try to stick with it. Having a designated place of work can also make a massive difference as well. Working from your sofa or bed may sound appealing, but it is usually much more difficult. 
You will likely end up working more hours than you used to in your traditional job. This is one thing that most freelancers are surprised to learn. After all, you are now your own boss and you have the freedom of working from home, surely this means you will work a bit less and enjoy a better work/life balance? Most people find that it is the exact opposite. This is because their place of work and home are now the same thing, and so they struggle to switch off. They feel they should be working, rather than sitting and watching television. This is why you should put together a schedule so that you have a structured working day to stick to when you start working from home.
[ Read: Tips to Improve Your Time Management at Home ]
Communicate with Others
Communicate with other parents who are working from home. Working from home can get lonely. Even though you get to spend time with your children, it can be lonely from a working sense because it means that you're not communicating with others in the working environment. If you are struggling with a certain topic or piece of work, you can feel like you are the only person in the world that is having that difficulty. That is why it makes sense to make the most of forums and speak with different people so that you can connect with other parents who work from home. This can make a bigger difference than you may realize.
Tax Deductions
You will be eligible for certain tax deductions. A lot of self-employed people that work from home end up paying more tax than they need to. This is because they don't realize some of the tax deductions they are eligible for. Of course, this all depends on where you are based, but you should explore it further before you start working from home. If you have a home office, you can deduct the rental fee for this room. You can also deduct money for electricity, Internet connectivity, and your phone lines.
These four pieces of advice can assist you when working from home as a parent. We hope that this information will help you to work effectively as a parent at home.
For more on this topic, check out the full Work Life Balance collection