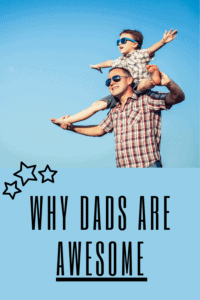 Why Dads are Awesome!
Dads are incredible! They do so much for their families, their homes, and especially their kids. With Father's Day just around the corner, I thought I'd share why I love my husband so much, and why we appreciate all that he does as a dad!
---
This article is written by Karissa Tunis
For more on this topic, check out the full All About Dads collection
---
Thankful For Partners and Dads
I am blessed, and would be totally lost, if I did not have my wonderful husband to help me out! He honestly is the half that I need to get through each day, and the perfect partner to help raise our precious children!
I truly do not know how single parents do it! So to all of you singles rocking it on your own – I admire you and wish you all the strength and patience in the world! And I hope that one day you will find someone, or maybe a combination of people, that can step in and fill some of these rolls that amazing dad's do so very well!
When it comes to my husband and I, the kids definitely turn to me for the nurturing, and him for the fun. I can be fun as well, but not in the same way, or to the level, that my husband is! And so, this is why we all love him and appreciate him so incredibly much!
Father's Day Ideas – Quotes, Gifts, Cards, Crafts, and More!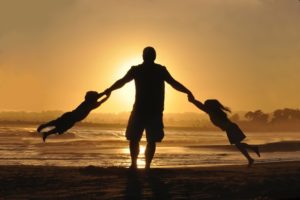 Dad Provides the Active Fun
What I love about him is that he has strength and energy! He will play outside for hours with the kids. They rough and tumble, he throws them in the air, spins them around, plays ball and tag, rides bike, builds forts, blows up swimming pools, runs through sprinklers, instigates water gun fights, and pushes them on the swings way higher than I ever could. This man truly goes above and beyond with all the active fun! He is strong, tall, athletic, and uses every ability for the kids enjoyment! While I love jumping in and playing as well, I also appreciate that he can keep everyone entertained for hours on end and allow me time to focus on other tasks when needed.
Try 100 Fun Ways to Connect with Your Dad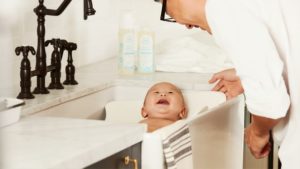 Dad is Patient
Sometimes the days of being a stay-at-home-mom are long and exhausting. On days like these I can't wait for my husband to come walking in through the door from work! He now is the parent with a fresh amount of patience, and might be the better one to interact with, or help guide the kids to a new activity. I appreciate the mental breaks that he allows me to take, and the alone time that he allows for me to do my own thing.
 Explore 101 Self Care Ideas for Busy Moms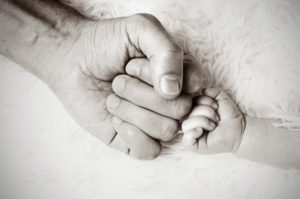 Dad is a Rock
I hate to admit it, but I do tend to be the more emotional and sensitive one. What I love is that he can be the objective/rational voice that I sometimes need to hear. He is also less likely to panic when one of the kids gets hurt. He is supportive, but realistic; and the voice of reason that we all sometimes need.
Dad is our Family's Shield
Late one night we heard several loud noises that sounded like someone was trying to break into our house. I never saw anyone grab a baseball bat and sprint towards the "danger" so fast! Thankfully it was just a shelf that collapsed and a lot of non-breakables fell hitting the ground. But what this moment showed me was that he is not afraid to protect our family! Not only does he provide for us, but he is also the first one to stand up and protect us at any time.
Free Printable Father's Day Mad Lib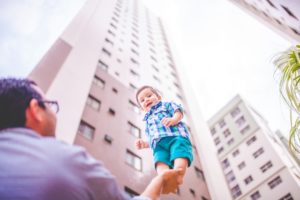 Dad Keeps it Interesting
Anyone that knows my husband really well, knows that he has a great sense of humor! He is funny and mischievous. His stories are hilarious, and he knows how to turn a boring evening into a fun one! He is the perfect person to break me out of my "groundhog" like days, and can keep the kids laughing during a long car ride. At family get togethers, he will give my sister's a hard time (in a fun way of course), and will joke for hours if given the chance. He loves to scare anyone coming around the corner, will spray you with the garden hose when you least expect it. And did I mention that he orders the best surprises from Amazon? – I don't know who benefits more – the kids or myself…
---
Free Printable Father's Day Cards
Choose from 30 different designs of free printable Father's Day Cards. Print out your favorite design on half a sheet of paper, and then fold it in half for an easy, free card!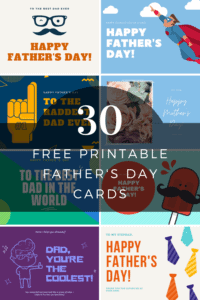 ---
Dad Makes The Most Out Of Every Situation
To go along with the point prior, he somehow finds ways to make the most out of little things, or even mundane moments. Even just the way he spends his evenings with the kids – he is always making a typical weeknight interesting and fun! He is great at planning activities, day trips, and vacations to maximize what we learn, what we do, and what we get to experience.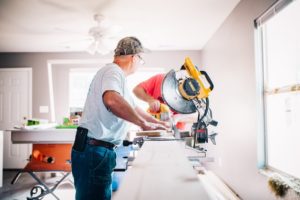 Dad Knows it All
I don't know how my husband became such an expert at almost everything, but he has. He won't admit that, but it's true. There is rarely any news going on around the world that he does not know something about. There is also hardly anything that he cannot fix. Or, he will at least attempt to fix before calling in an expert 😉 He is well-rounded, knows his way around the kitchen and grill, and has many interests. Which again keeps our family learning and exploring!
Appreciating Dads
I am so lucky that I found all of this in one man! He may have a few faults; but his good and love for our family goes beyond my expectations and dreams. He is the partner that I definitely need and appreciate.
Celebrating Father's Day
Even though I just shared my own thoughts and appreciation for my husband, I hope you realize that not one person needs to check all of these boxes. And I'm sure that there are dads out there that can claim even more than this list that I put together. But whether it's a dad, an uncle, a grandpa, a friend, or a combination that help raise your children and fill these rolls, I hope that you can make them feel appreciated this Father's Day!
Gifting Tips
I always think combining a physical gift with a planned trip out is a great idea for those hard to buy for dads. For example, wrapping up a couple of fly fishing books, then organizing a fishing day trip out with the whole family, is a perfect idea!
Sometimes, when one item isn't enough to give as a gift to convey the message, I love to treat with a basket full of goodies. These whiskey and bourbon gift baskets are the ultimate indulgence for the best dads in the world.
Or, check out this comprehensive list of Father's Day gifting ideas, cards, quotes, and more to plan the perfect celebration – Fathers-day-ideas-quotes-gifts-cards-crafts-and-more
Happy Father's Day!
For more on this topic, check out the full All About Dads collection
---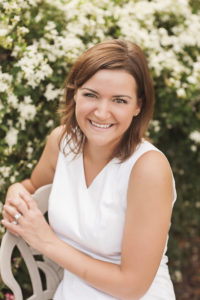 Co-Owner: Karissa Tunis
Karissa Tunis is the co-owner of both the parenting website Adore Them and the family event company Milestone Family Expos. Through these ventures she is able to share inspiring, heartfelt insight with large audiences within local communities and across the country! Her knack for all-things-organization allows her to balance content creation, brand partnerships, and event planning without losing sight of what she wants for her own family. Despite her busy schedule, Karissa also makes it a priority to spend quality time with her husband and three children. You will often find her volunteering at her children's schools, cheering them on from the soccer sidelines, or enjoying the great sites of Charleston, SC with her family.
Contact: Karissa@AdoreThem.com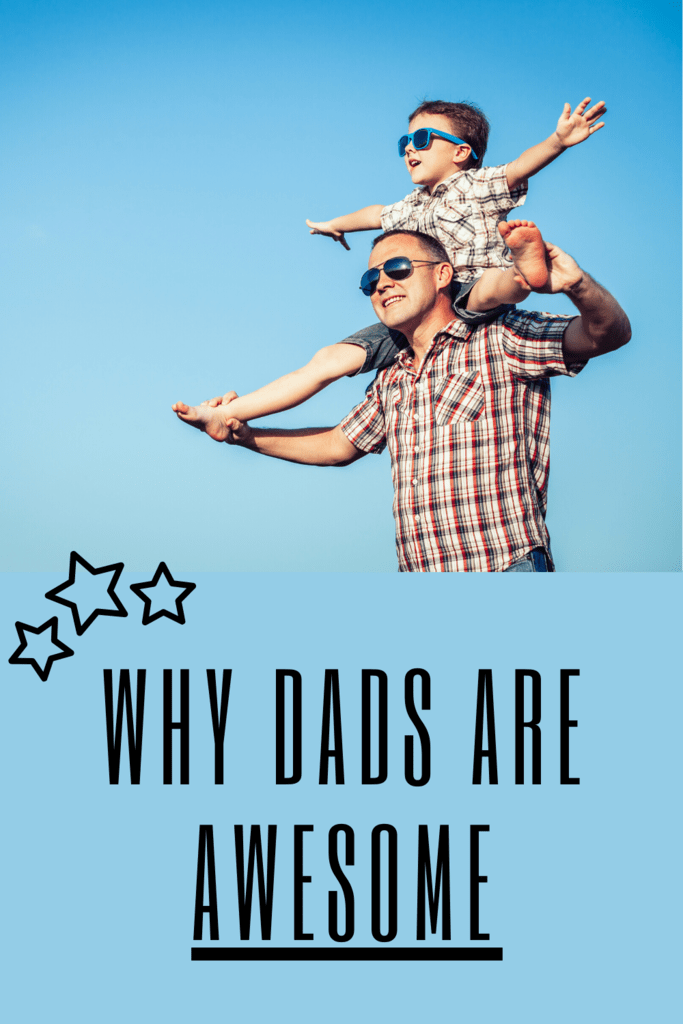 ---