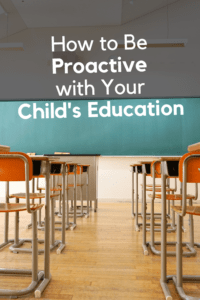 Being Proactive with Your Child's Education
No matter what their grades are, no one knows their successes and challenges like we do as their parents and care-takers. No one will speak up for our child like we can. So we need to remember that. And we need to also remember the fact that teaching our kids is a team effort. It's between school, home, and everyone that is involved in their life.
So speak up, get involved, and be proactive with your child's education!
---
For more on this topic, check out the full Back To School collection
---
Be Proactive with Your Child's Education
It is so important to be proactive with your child's education as we head back to school. At the start of each school year, we're able to turn over a new leaf! We can help our kids feel excited about this upcoming year, and their future as a whole.
However, I know from experience that if there are any concerns with your child's education, it's extremely important to be proactive.
It is easy to fall into patterns and routines. And it's easy to hope that things will resolve on their own…
"Sure, My kid is a little behind, but they'll catch up on their own eventually."
"Eh, My kid seems a little bored in class, but maybe something next month will spark their interest."
"It's hard because my child doesn't seem to be enjoying school, but they'll get used to it."
We tend to simply hope that things will work themselves out without us parents having to step in. And I get it! As parents, we already have so much on our plates. We are busy and overwhelmed and exhausted. But… ignoring these concerns is only going to lead to bigger problems down the road.
Education they Deserve
We do need to make sure that our children are getting the education that they deserve. There are supports available to your child to ensure that they are receiving a valuable education. In education law, they often use language that expresses that all children have the right to learning a year's worth of academic material over the course of a school year.
If your child is already ahead and not learning anything new from the classroom curriculum, they are not learning and growing on the trajectory that they deserve.
When your child is struggling in a certain subject area and not truly understanding the material, they are not learning and growing on the trajectory that they deserve.
If your child is struggling emotionally and is feeling too overwhelmed to consume the material being taught, they are not learning and growing on the trajectory that they deserve.
And while the solutions to these problems cannot occur overnight, we should at least start advocating for our kids sooner rather than later. Communications and potential evaluations can take a lot of time. There will be meetings and emails and paperwork.
Encourage Participation
Another way you can ensure they get the education they deserve is by encouraging them to participate in boarding school sports. Sports have been known to be incredibly stimulating and helpful for brain development, while providing kids with ample social opportunities. The list of benefits associated with participating in sports are endless, but all of them will equip your child with all the necessary skills they need in order to succeed in their academics as well.
Encouraging your child's active involvement in sports can also lead to recognizing their efforts through award ribbons, which serve as tangible reminders of their accomplishments and further boost their confidence and motivation. These ribbons symbolize success, pushing them to strive for excellence both on the field and in their academic pursuits, ensuring a well-rounded and fulfilling educational experience.
Advocating for Our Kids
Starting the process in partnership with the educators and administrators at your school does not have to be a painful process. As parents, we can open the lines of communication. We can share our observations and insights about our own child. And we can advocate for a positive partnership moving forward.
Sure, we can't move heaven and earth for our children (as much as we'd like to). But we can (and should) advocate for them and their education. The sooner we start asking questions, the sooner we find helpful answers. So if you're having concerns, start being proactive with your child's education today. And, if you want to get more involved with your child's school, maybe its time to even consider working in their building through sen jobs.
---
Back to School Collection
Back to School is always a weird time of year for families. Everyone is on varying levels of dreading going back, and/or looking forward to it. Oftentimes, it's a mix of both! And since this transition is something that we have to do every single year; it's a good idea to seek out some strategies to help make things go as smoothly as possible!
In this collection we are covering the topic with lots of Back to School advice, tips, and suggestions from both expert professionals and seasoned mothers! Enjoy topics on how to help the whole family adjust back to school, 3 ways to prepare for the first day of school, a free morning routine printable, guidelines for accomplishing homework, homeschooling, and more!
Best of Luck!
For more information, check out the Back to School & Education Options collections
---