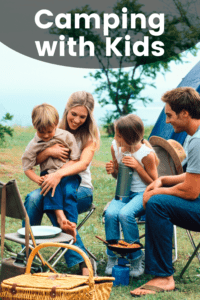 I don't "mind' tent camping necessarily, but ask me to do it with little kids and my head gets overwhelmed with stress. Up until this point (our kids are 2, 4 and 6), I have kindly said no. However, I know my husband likes it. I see the positives and fun points in it, and I can get excited about it more now that the kids are a little older. A couple of months ago, I felt compelled to give it a try. When I mentioned it to my husband he was thrilled. Well, that was after he just about fainted in shock, but needless to say, he said yes right away to going camping with kids.
---
This article is written by Kathy McClure & originally appeared on FrugalLancaster.com
For more on this topic, check out the full Summer Safety & Activities and Travel Tips collections
---
Camping With Kids
We found a local deal for only $20/night. I had no clue what it costs to go camping, but I thought that was a pretty frugal rate for our first time trying camping out together as a family! I loved that it had a pool (we love to swim!), was near a creek and there were other tourist activities to do in the area, like the Toy Train Museum, if we wanted to. Plus, we weren't too far from home if things did go really wrong and we had to cut our trip short.
Being that this was our first time camping, I immediately started a pinboard with ideas. Folks, I had so much fun planning for this! There are some really creative and unique things you can do. The first thing on my mind was food – which I guess is ok because everything I read said campfire food is just the best around.
Needless to say, we had a great trip, of course with both ups and downs, but most importantly, we added tons of great family memories.
Here are a few things we did to make our first family camping trip a success!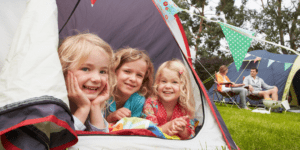 How to Prepare for Your Camping Trip with Kids
Choose a Family Campground with Activities
I saved this for last, because it was a huge factor in the success of our first camping trip with kids. We decided to camp at the Mill Bridge Campground because it was near to home, and we had a Local Flavor deal, making it only $20/night.
We loved that it had a pool (we love to swim!), a creek and a playground. There was also a game room, badminton, basketball, and even hayrides on the weekend and although we didn't know it ahead of time, all campers received FREE admission to the old mill museum on the property. We love history and I plan to share about everything we saw inside in another post – admission is only $3 for non-campers and it is a self-guided tour.
We were thrilled when we saw our camp site upon arrival. Check out this view of horses and cows in the pasture and we even had an end of the row lot so we weren't surrounded by campers or other campsites. I really do think we got the best lot on the campground! (Ask for #95 if you go!)
Another unexpected surprise was seeing hot air balloons in the morning and evening. Because we were near a location where most flights take off, they flew right over top of us regularly. The kids loved to see them and got excited that they were going to land near us!
It would also be really fun to find a campground close to the ocean. That way you have the added bonus of being able to take the kids to the beach and get them to go picking shells and finding treasures! This is a great way to educate your kids on nature and for them to see the sea life and nature at its finest. And if you're looking for a bigger experience, a dolphin cruise can be really exciting for the whole family! These excursions can create lasting memories and teaching moments.
Ask Friends for Camping Advice
A few days before we left, I asked my facebook friends what some of their favorite camping secrets were. I loved getting this feedback from experienced campers who could help me think ahead and plan accordingly. I did not use all of their tips, so I am saving those for next time!
Look into camping tent options
The local deal that we used included a tent. It was suppose to rain the last day of our trip, so we figured we would use their tent instead of possibly adding to the stress of trying to pack up a wet tent at the end of our trip. The tent the campground gave us was a Coleman Sundome 4-person tent and was very simple to set up – I highly recommend it for first time campers! Very affordable too.
I am also blessed that my husband is a professional influencer and reviews products for fun. He recently received an awesome tent that you can set up in lightning speed with just one person. I highly recommend it for anyone who doesn't want to mess with the hassle of putting up a tent. I still can't believe all you do is pull the red strings up, and when it snaps you're done!
Pack Lots of Wipes for Your Camping Trip
On the Giant gas deals last week, I bought several packages of wipes to earn free gas. These came in very useful on the camping trip. We kept a package in the diaper bag, at the picnic table near the campfire, and in the van for outings. Wipes made cleaning up sticky fingers or dirty faces quick and easy.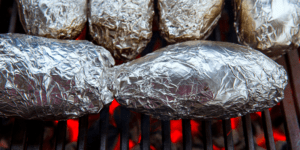 Meal Planning for Camping with Kids
To save on food costs I started planning my menu early. I made a list of what we had and what we needed a week before we left. We were planning to leave on a Friday so that week I went to the best places to buy the items needed at the best prices. I mostly used Glennwood Foods, Sharp Shopper and the local circulars for that week to find the best priced items.
Since we decided to have a lot of fun with food and be quite creative in what we ate, I will admit we did spend a little more on food than I was thinking. But we still spent way less than if we would have eaten at restaurants for every meal! For that reason, it's convenient to have a soft cooler with you."
Learn more meal planning tips here
Preparing Food for a Camping Trip
On Friday afternoon before my husband got home from work, I chopped all the veggies for the meals. My son scrambled the eggs and put them in a container, and also pre-made the pancake mix (in retrospect, we should have mixed all of it and then added the wet ingredients when we were ready to make them!) Having this work done ahead of time was a huge blessing! We didn't need to spend time doing it there or take extra cutting boards and knives, etc.
While I was chopping the vegetables, I actually just completely made the foil meals in pie pans for that evening. When we arrived at our campsite then, all we needed to do was start a campfire and throw the pie pans on. The kids were so excited and well-rested (because they were at home for afternoon naps) that waiting for a later dinner was no issue.
Check out these easy to make recipes
Make a SIMPLE "PACKING-UP TO LEAVE" MEAL
One of my favorite pieces of advice from those facebook friends was to plan a simple meal for when we are packing up to leave. This is right up my alley! I absolutely love simplicity. We of course didn't want to have a huge campfire lit when we left and I didn't want to clean a bunch of pans. I was really looking forward to these ham and cheese foil sandwiches for Saturday lunch, but I decided to switch them to Sunday lunch and simplify them a bit.
I made the sandwiches while waiting for breakfast Sunday morning, added a slice of pineapple to the middle, and then wrapped them in tin foil. (If you don't have the thicker camping foil, you might want to wrap your sandwich twice, or just fold the tin foil in half before you wrap the sandwich!)
As we started packing up the fire was almost out so I just set the sandwiches on the hot coals for a few minutes to melt the cheese. It didn't take long! They were delicious and there was NO clean up!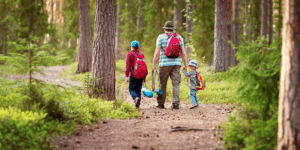 Family activities for a camping weekend
The first night we stayed up late around the campfire. It was fun, but it was harder for the kids to settle down. The second night, we decided to clean up while it was still somewhat light and head to the tent early. We all huddled in a pile and daddy read books to us as it got dark. I was so glad I thought to bring The Gruffalo along, it was one of our favorites and seemed to be a perfect camping story!
I'm happy to report that this bedtime strategy worked perfectly. When we turned the lights out, it was pitch dark and the kids were so relaxed it didn't take long at all for them to fall asleep.
Have the Kids Draw Maps of the Campground
There were a few times while we were waiting for meals to finish cooking or kids were a little too cranky to play nicely with each other. When these times came up, I got out my activity bag. I had them each draw a map of the playground, including the pool, our tent, the roads and the office. We talked about a key and how they could use symbols to identify areas.
PLAY FAMILY CAMPFIRE CHARADES
A few weeks before we left our friends gave us Charades for Kids and our family just loved it! I couldn't believe how even our 2 year old participated in the game and did well. One evening around the campfire we needed a filler activity.
I had come prepared with some campfire charade ideas. I wasn't sure if it was going to work out as well because I would have to read them what they had to act out. (Personally, I like the actual game better because they had pictures on the charades cards and the kids could 'read' their own cards. That way everyone could be guessing!) But it worked out well. And really, the kids just love acting things out.
We acted out things like chopping firewood, setting up a tent, making s'mores, rolling up a sleeping bag, flying a kite, catching butterflies and swatting mosquitos.
Have the Kids Use Their Imagination
This was a completely unexpected lifesaver! One of our first snacks over the fire were cinnamon twists. To make these we used large wooden kabob sticks. The next day the kids used them to build little structures, poke in the ground, and even play ring toss.
On the last day, one of our camping neighbors left us a box of unused wood scraps as fire starter. The kids loved playing blocks with these to build anything and everything they could imagine.
Learn how trading activities for play time benefits their play experience
Let the Kids play in the dirt while camping
There were many very peaceful moments on our camping trip, of silence and peaceful play while I set around the campfire talking with my husband and the kids played in the dirt. We had brought two tractors along for our youngest – who just LOVES anything about tractors, so playing in the dirt with them is definitely something he started. The other two joined in as they made fields, barns, plows and ponds.
The unexpected advantage to this was when we returned home, I walked in the front door and immediately appreciated how clean our house was! (And considering how I hate cleaning and don't think I do a wonderful job at it, I think from now on I will appreciate my efforts with new eyes.)
Learn how by picking days can help with better time management
Naptime Drives for Little Kids
We weren't expecting to do this either, but we could tell on Saturday afternoon that the kids were very tired. Plus, it probably didn't help that we were all awakened at 5am by a calf mooing right outside our tent! We decided to go for a drive to try to simplify taking a nap. Are our kids the only ones who often will fall asleep easier in a car, strapped in their seats?
I talked to them calmly as we were strapping them in their seats, explained what we were doing, and asked all of them (even our six year old) to show me how they were going to close their eyes. My daughter asked me to sing, so we sang a few songs for them as we drove. It wasn't even five minutes down the road that we looked back and saw this.
Get the kids involved in camping fun
Our family made helping an activity or a game, just like we do household chores. The kids helped us gather sticks, build log cabin or teepee fires before we lit them, set the table, poured drinks, and even use small plastic knives to cut simple pre-cooked sausages for our foil pack meals.
Sometimes they would help for only a few minutes and then play quietly until we finished, other times they would help until the job was done. We were flexible!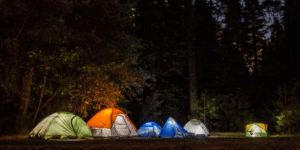 Communication during a family camping trip
I find that when we speak kindly to our children and give them age-appropriate responsibilities, they respond quite positively. They are a pleasure to be with and things go well for them and for us.
We will be the first to admit that there were a few stressful moments on the trip when we were not careful with our words and things did not go well for any of us. In those times, asking for forgiveness turns the situation around very quickly.
Teaching them to use phrases like the "I Statement" is also very helpful.
Camping With Kids Experience
So there you have it. Our first tent camping trip with kids was a success! We had a great time, made memories and learned a lot for our next trip. I'm really glad we kept this trip short. The kids were so tired by the end of the trip, and we were only there two nights. I highly recommend keeping them short when you have young kids.
For more on this topic, check out the full Summer Safety & Activities and Travel Tips collections
---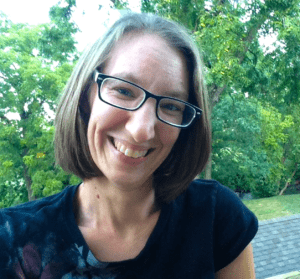 Featured Contributor: Kathy McClure
Kathy and her husband were always asked about the FREE and cheap things they were discovering. They started sharing everything the knew on the Frugal Lancaster blog in 2010 and haven't stopped since! They love to check out free petting zoos, free summer movies, and all the free christmas light shows during the holiday season—and their kids love the free splash pads, roller skating, bowling and ice hockey lessons they learn about in Lancaster County!