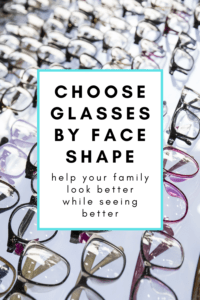 Learn How to Choose Glasses by Face Shape
My husband, my son, and I all wear glasses; but we all have very different styles and features that we're drawn to! Every year, when we renew our prescriptions, we all have to go through that process of picking out glasses that compliment our features, are on-trend with current styles, are comfortable to wear, and are durable enough to hold up month after month. As the mom, I help my son and husband pick out their glasses along with trying to choose a pair that I love myself.
This process usually means that we try on every pair of glasses available in the store. We laugh when we try on a pair that makes us look like an entirely different person, and we slowly figure out the shapes and styles that we are drawn to. But since we are just making guesses, this process can take a while!
Instead of just guessing about what might look good on our faces, I was curious to see if I could find some information to help our process. What I came across was that choosing glasses by face shape can be very helpful for both adults and kids! Once you identify your or your child's face shape, you can easily narrow down glasses options accordingly.
---
For more on this topic, check out the full Back To School collection
---
Round Shaped Faces
Rounder faces have a naturally softer look, so you'll want to choose more angular frames that will balance you out. Choose higher frames that don't sit right on your cheeks to minimize your fuller cheeks. People with round-shaped faces are lucky, as they can play around with fun colors and prints to create a more significant contrast.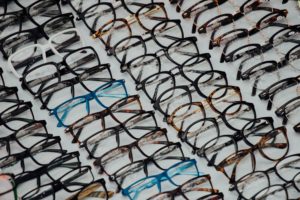 Oval Shaped Faces
Consider yourself lucky if you have an oval shaped face; you can choose from the broadest selection of specs that will complement your face shape. The most important thing to remember is that you'll need to select frames that are wider than your face. Wide-set frames will add width and balance to your face. Just be careful when browsing over-sized frames, as these can throw off the natural balance with which your face is already blessed.
Heart Shaped Faces
Heart shaped faces are widest at the top and gradually narrows towards the chin. This fact means you'll want to choose bottom-heavy frames to add some weight to the lower half of your face. If bottom-heavy frames aren't your thing, then at least select a pair that minimize your forehead, since that is your face's natural focal point. Add some fun to your frames by keeping the embellishments to the ends, which will add width and dimension.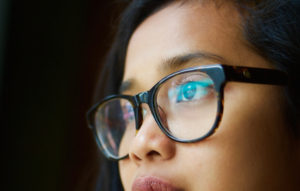 Square Shaped Faces
Strong jawlines and otherwise angular features will benefit a lot from softer, rounder frames. While it might sound counter-intuitive to choose frames that are contrary to your natural face shape, opposites can balance each other out quite nicely. Wide-set frames in neutral colors will further soften and thin out your face.
Oblong Shaped Faces
Oblong shaped features include high cheekbones, tall noses, and long foreheads. Since your natural features are already pretty prominent, broad and high-sitting frames can add width to your face. Choose color accents to add a bold, yet understated flavor to your look.
Picking Glasses by Face Shape
Keep these tips handy next time you or your family needs to order a new pair of glasses! It can be a lot of fun to figure out face shapes, and then see how it works well with different styles of frames. Once you have a few frame shapes and styles that you know will work well for you, you will also start to feel more comfortable ordering online. For example, these Vera Bradley glasses let you sort by shape so that you can easily narrow down your options and pick a pair of frames that you'll love.
Whether you are shopping in store or online, your yourself or for your family… take the time to find the right frames. It'll boost confidence and encourage more wear time so that you get the actual benefits of glasses – being able to see better!
For more on this topic, check out the full Back To School collection