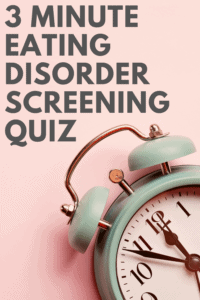 The National Eating Disorder Association (NEDA) is taking steps to spread awareness. They are encouraging people to take 3 minutes out of their day to take a simple Eating Disorder Screening Quiz. The quiz is completely confidential, and extremely helpful.
The point of this screening is for people, and their loved ones, to begin recognizing potential eating disorders. And thankfully, there are incredible treatment options available to those who need it!
---
For more on this topic, check out the full Staying Healthy collection
---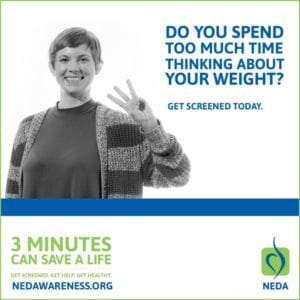 Eating Disorders
I want to make the point that eating disorders, and disordered eating in general, can be much broader than we typically think. When we hear eating disorder, we oftentimes think of anorexia or bulimia. However, binge eating can be a very serious issue as well.
We tend to approach weight and eating issues with diets, exercise, and extreme lifestyle changes. However, working with a professional on the mental health aspect of eating disorders is far more healthy and productive. The goal should be to get to the root cause of why you are making these choices. Knowing that will help to give you a longer-lasting result. And above all, you deserve to be healthy!
Eating Behaviors
Concerning eating behaviors are very prevalent in our culture whether it is fast food or fad diets. For instance, Netflix binges or marathon races. Giant portions or calorie counting. If we are honest with ourselves, it becomes apparent that we do not have a healthy mindset when it comes to food and body image. And I know this from my own personal experience.
The good news is that it is possible to make lasting changes with the help of professionals. No, not personal trainers. No, not self-help gurus. I am talking about licensed counselors. These specially trained individuals understand the importance of diving deeper and will help you live a better life.
Eating Disorder Screening Quiz and Awareness Week
#NEDAwareness Week is all about taking those steps and acknowledging that this is a significant issue impacting many of us. You can join the conversation on social media by using the hashtag #NEDAwareness. And don't forget to take the Eating Disorder Screening Quiz.
---
Additional Resources on This Topic Include:
For more on this topic, check out the full Staying Healthy collection
---