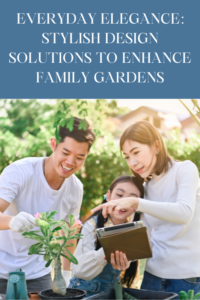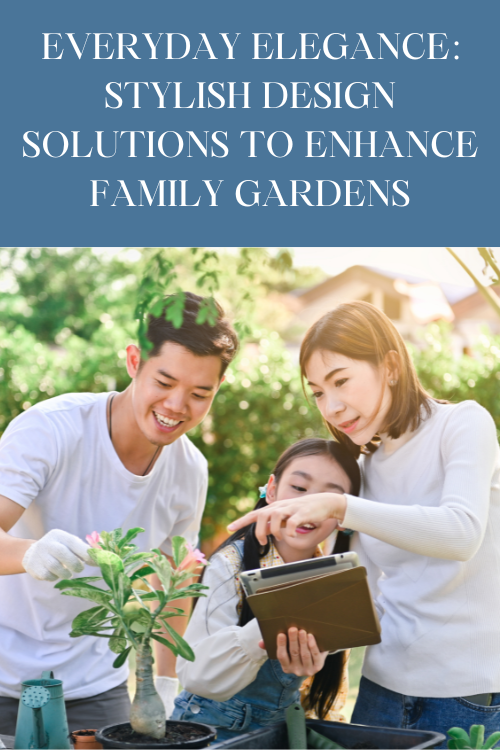 Gardening is a popular hobby for many families, and it's not hard to see why. Spending time outdoors, cultivating plants, and watching them grow can be incredibly satisfying and therapeutic. However, when designing family gardens, it can often be challenging to balance functionality and style. Fortunately, with clever design solutions, you can create an elegant and stylish family gardens that everyone will enjoy. In this guide, we'll explore some tips and tricks to enhance your family garden's design while keeping it practical for everyday use.
---
For more on this topic, check out the full Family Home collection
---
1. Invest in Hanging Planter Boxes
One of the best ways to add elegance and charm to your family garden is by incorporating hanging planter boxes. They are particularly beneficial in smaller gardens, where ground space may be limited. With various styles available, from traditional ceramic pots to modern geometric designs, you can select planters that reflect your style and complement your garden's theme.
Consider planting trailing plants like ivy or a string of pearls for a lush, cascading effect. You can position hanging planters on walls, fences, or even tree branches to create visual interest and add height to your garden. Always ensure they are hung securely and easily reached for watering and maintenance.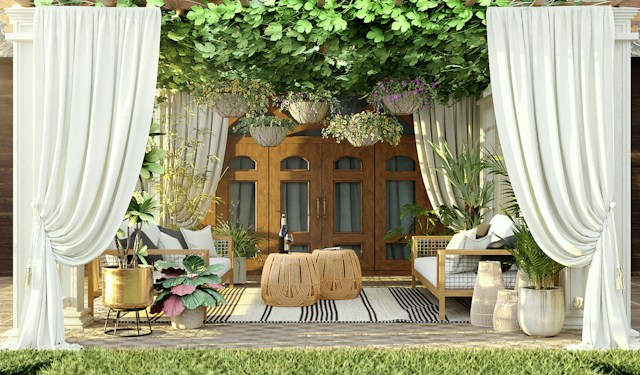 2. Create a Focal Point with Garden Art
Garden art is a brilliant way to introduce a striking focal point into your family garden, adding a touch of elegance and personality. Whether it's a traditional sculpture, a modern abstract piece, or a whimsical wind chime, garden art can transform an ordinary space into something extraordinary. Strategically placed, it can draw the eye and guide visitors through your garden, creating a sense of discovery and surprise.
Add kinetic art pieces like wind spinners or water features to enhance your garden's sensory experience. Ensure the chosen art complements your garden's style and withstands outdoor elements. Above all, choose a piece that resonates with you and your family, as it will be a significant part of your shared space.
3. Incorporate Multi-functional Furniture
Regarding family gardens, having furniture that serves multiple purposes is essential. Not only does this save space, but it also adds practicality and functionality to your garden design. Look for items like storage benches or outdoor tables with built-in planters. These pieces can help keep your garden organized while providing seating or tabletop space for outdoor activities.
You could also invest in a daybed or swing that can double as a lounging area and a cozy spot for reading or napping. If you have younger children, consider adding a sandpit with built-in seating, which can easily be transformed into a picnic area. Keep the furniture consistent with the garden's theme to maintain the elegant aesthetic.
4. Create Zones to Accommodate Different Activities
Create distinct zones in your family garden to cater to various activities while maintaining style. For example, a shaded corner with a hammock or bench can be a reading nook, while a sunny open space is perfect for physical activities. Adding a pergola or gazebo creates a separate dining or entertainment area, providing a sense of seclusion and intimacy in an open space.
Use plant borders, hedges, or decorative fences to delineate zones, maintaining a cohesive aesthetic subtly. These zones can include a vegetable patch for growing your produce or a wildlife-friendly spot to encourage local fauna. Thoughtful zoning enhances functionality and adds depth and interest to garden design.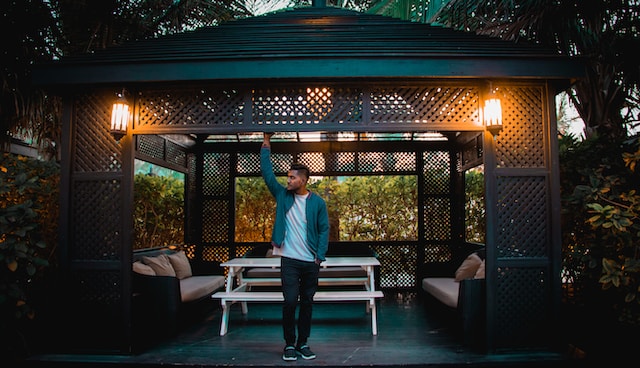 5. Integrate Lighting for Ambiance and Safety
Pay attention to the importance of lighting in your family garden. Adequate lighting creates a warm and inviting ambiance and ensures safety when navigating through the garden at night. Choose soft, warm lights over harsh, bright ones to create an elegant atmosphere.
Consider incorporating different types of lighting, such as string lights, lanterns, and spotlights, to add depth and texture to your garden. You could also use lighting to highlight specific features, like a beautiful tree or an attractive flowerbed. To save energy, opt for solar-powered lights that can be easily installed without wiring.
6. Add a Touch of Luxury with an Outdoor Shower or Bath
Consider adding an outdoor shower or bath for the ultimate relaxation and luxury in your family garden. This is especially useful if you have a pool or hot tub, allowing easy rinsing off before and after swimming. It also creates a unique spa-like experience at home.
Choose from rustic stone showers to modern freestanding baths, depending on your garden's style and preferences. You could also surround the shower or bath with lush greenery or add a privacy screen for a more secluded feel. With this addition, you'll be able to enjoy the beauty of nature while indulging in some everyday elegance.
Conclusion to Family Gardens
Creating an elegant and stylish family garden is about finding the right balance between form and function. By incorporating these design solutions, you can elevate your outdoor space while keeping it practical for everyday use. Remember to consider your family's needs and preferences when making any changes to your garden, as it is a shared space that should bring joy and relaxation to everyone who uses it.
For more on this topic, check out the full Family Home collection
---