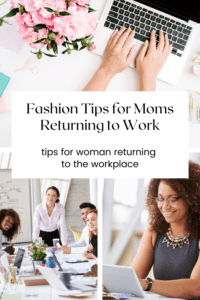 If you are returning to work as a mom, you may be experiencing a whole host of different emotions. Some women are incredibly excited. They cannot wait to get back into the office and regain their working way of life. For others, they feel anxious about leaving their children and getting back into the corporate routine. One thing a lot of women struggle with is a lack of confidence. Their bodies have changed and they have been out of the workplace for quite some time. This can be difficult for them to deal with. This is why planning your wardrobe makes a lot of sense. It can make a bigger difference to your physical and emotional state than you may realize. With that being said, let's take a look at some top fashion tips for women returning to the workplace so that you can get a better understanding.
---
For more on this topic, check out the full Work Life Balance collection
---
Wear shoes that are comfortable
There is only one place to begin when it comes to dressing for the office, and this is by wearing shoes that are comfortable. While it can be very tempting to wear high heels (after all, they look good!), they can be a bit of a nightmare, can't they? They hurt! Plus, if you're not confident about wearing heels, you may be worried about tripping throughout the day. Therefore, the only thing you are doing is giving yourself another thing to worry about, which is the last thing that you need. This is why it makes sense for you to choose sensible footwear. You do not need to wear high heels in order to look great. How about women's boots with a small heel, for example? You could also go for a pair of smart flat shoes, like some brogues. By doing this, you will be professional and stylish, but you won't have to worry about sore feet either. It's a win-win!
Don't be afraid to show off your personality
Yes, you need to be respectful when dressing for the workplace. This is a given. However, this does not mean that you need to wear something boring. You can show off your personality. If you are someone who likes feminine prints and pastel shades, bring some of this style into the workplace. If you are someone who likes to keep up to date with the latest trends, there is no reason why this cannot be part of your workplace attire. You can showcase your character and the sort of person you are by the clothing you wear. Have fun with it. Yes, make sure your skin is sufficiently covered and you do not wear anything too casual or crass. However, you can still try out different prints and go for something different from the typical white shirt and black trousers combination.
Accessorize thoughtfully
Another tip when it comes to dressing for the workplace is to accessorize in a thoughtful manner. Accessories can add the perfect finishing touch to your outfit. However, it is critical to make sure that you do consider your accessories carefully. For example, we would recommend that you do not wear a bunch of bangles. While this may look good, it can end up annoying everyone when your bangles hit against one and other all day long. Instead, think of statement jewelry that you can wear that is not going to cause any distraction for the rest of your employees.
For example, a statement watch can provide the perfect finishing touch for any outfit. There are so many different styles of watches available today as well. You can opt for ones that have a classic leather strap for example, or you can go for a watch that appears more like a bracelet. The options are endless so you won't run out of different styles and designs to choose from. Aside from this, another finishing touch that can look professional and beautiful is your handbag. There is no denying that a handbag is a critical accessory for every woman. It contains all of our essentials. While you will want something that is practical, you are also going to want something that is sleek and stylish as well. From satchels to tote bags, there are so many different options to choose from, so you will be able to find something that is chic, but represents your own individual style at the same time.
You can elevate your work attire by adding the subtle glamour of diamond earrings, introducing a hint of elegance to your look and boosting your self-assurance.
Consider getting your hair and make-up done professionally for the big day
For your big return to work, you may want to consider getting your hair and make-up done professionally. Of course, this does not mean that you need to! Rather than it being about how you look, this is more about how you feel. You can feel mega confident to have your hair and make-up done by an expert. If you do decide to have your hair and make-up done professionally, it is important that you tell your beautician and hairdresser that you are having this done for your return to work. Tell them to keep it classy and professional. The last thing you want to do is turn up to the office looking like you are ready to get married. Therefore, it is important to be clear about the sort of vibe and look you are going for. If you are not happy, do not be afraid to tell your beautician or hairdresser to make some changes.
While not common, some women can experience pregnancy hair loss due to hormonal changes. This can go away with time or treatment of the underlying cause. In the meantime, you can get gorgeous tape-in human hair extensions to add volume to your hair instantly and just in time for your big comeback!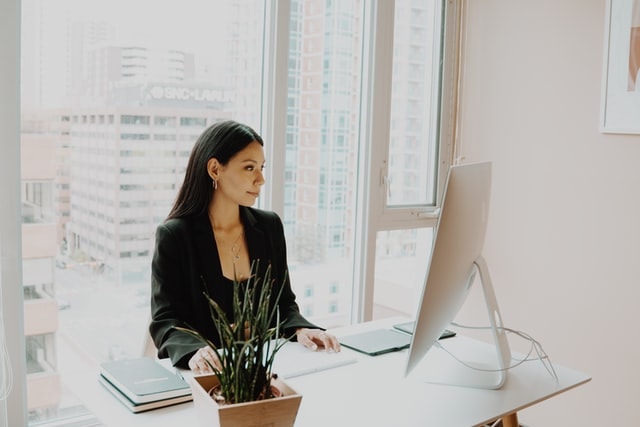 Check out the dress code beforehand
Aside from the advice that we have mentioned so far, it is important to check out the dress code beforehand. Some businesses will have a strict dress code in place. Others will trust you to make your own judgment. While businesses do not have a tendency to change the dress code on a regular basis, it is worth checking this out before making any wardrobe decisions. There may have been some changes, especially in light of the pandemic. Therefore, do a quick check beforehand so you can refresh your memory and adhere to the regulations that the business has put in place.
Don't be afraid to style yourself on fashion icons you admire
In addition to the tips that we have provided you with, we also recommend that you take the time to look into your favorite style icons. If you have someone who you adore from a fashion point of view, there is no harm in you looking at some of their best outfits and modeling your look on this. Blake Lively is someone who is known for having a stunning style and dressing in a chic and sophisticated manner. This would be a great example of someone's style that would translate well to the workplace. Of course, it is all about considering who you admire, so don't try and imitate a style you don't feel comfortable with.
Make sure you wear clothing that fits
This may seem like an obvious point. However, if you have recently had a baby, your body is likely to have changed. Therefore, you may feel like a lot of your clothing is ill-fitting. This gives you a great opportunity to get yourself some new clothing and upgrade your wardrobe. After all, if you are wearing clothing that is either too small or too big, you can end up feeling uncomfortable while you are going about your daily routine This can be especially the case when you are sitting down at your computer. No one wants to spend their day with trousers digging into their stomach, do they?
Think about different ways to re-work staple pieces
Last but not least, it is a good idea to think about the different ways you can style particular garments. If you have a pair of statement red trousers, for example, you could wear these trousers in many different ways. You could team them with a black turtle neck, for example, or how about a crisp white shirt? You could also opt for a pale blue shirt, or how about a smart dark grey top? There are a lot of different ways that you can go about styling specific pieces, so this is worth considering when figuring out your look.
So there you have it: some top fashion tips for moms returning to work.
We are sure that you have a lot on your mind, and you may feel like fashion is the last thing that you really need to consider. However, the way you dress can have a massive impact on the way that you feel. Therefore, it really does make sense to consider your office wardrobe so that you can give yourself a great confidence boost when you return to work. And, remember, this does not mean that you need to spend a fortune either. Having children can cost a lot of money, and so there is no need for you to blow hundreds and hundreds of dollars on a new wardrobe. Only spend what you can afford. There are lots of special offers and deals online that you can take advantage of. 
For more on this topic, check out the full Work Life Balance collection
---