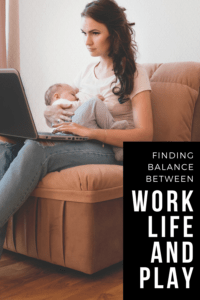 Finding Balance… we all strive for it. We all want to feel equal parts successful in everything that we do. And we, as new modern-day parents, are trying to do our best while juggling a lot!
We want to excel in our careers, our parenting abilities, our marriages, our friendships, our volunteering commitments, our coaching gigs, etc. But, sometimes I wonder, are we trying to juggle way – too – much?
---
This article is written by Karissa Tunis
For more on this topic, check out the full Work Life Balance collection
---
How do I bring balance to my life?
A few years ago a terrible accident forced our family to dial everything back to basics. As recovery continues, and life is slowly filling back up, I have been very cautious not to over commit. In fact, we have traded a lot of our activities, for more playtime/family-time together. I have enjoyed this slower and more simple way of life. And so, I have learned the art of saying "No", and weighing the pros and cons before accepting any new commitments.
Because of our new lifestyle and routine, the topic of finding balance and simplicity has become very important to me.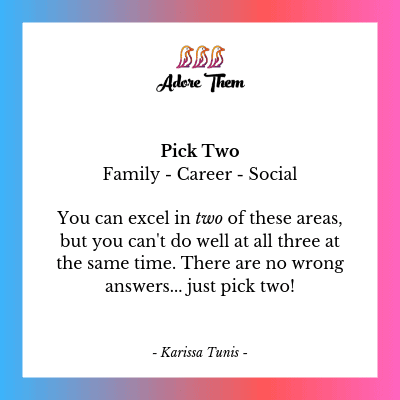 Picking just 2
I once heard an interesting conversation. They were discussing that there are 3 main categories we all strive to excel in:
Family
Career
Social
Their position on the whole work-life balance theory was this:
"You can be great in two of these areas, but you can never be great at all three at the same time.

There is no right answer for which two you pick, but you can only ever have two at once."
I found this conversation very persuasive, and have given this statement a lot of thought ever since. I am a big believer that our lives are made up of different phases. Each phase brings along new challenges and new rewards. New priorities, and a different focus. Some phases last a few weeks, and others might last for years.
At times your work will require more of your attention. But once that project is over, you can re-adjust your focus. Or maybe you just had a new baby, or one of your friends has become very dependent upon you. You may then find yourself re-adjusting once again.
I wish I could say that I have found the perfect balance, but the truth is I have not.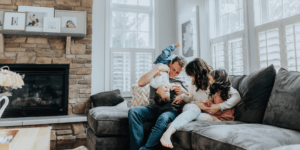 What does balance feel like?
I have learned to be better at (although I am still seeking that unattainable perfection), picking my priorities. I try to look at my life as a whole, and almost from a 3rd person's perspective. If I live just day-to-day, it can be so easy to fill my schedule with all kinds of little tasks. But when I look at my life from the outside in, I try to look at everything together.
Suddenly, I see where some of my time management needs to shift. I see what is actually not that important or necessary. I try to be less emotional, and more practical when assessing. And I look at my entire schedule along with my family's needs.
Are my kids in school all day? If so, then maybe I can try to take on a bigger project at work, or plan a few activities with friends. But if school is out of session, and my kids are home with me all day, then I will need to say no to a few more work or social invites.
Balancing Priorities
I love my work, but I love my family more. Keeping them and their well-being my first priority allows everything else to fall in line. If I need to take on a larger workload, then I have to withdraw from my social circle for a while. But if things are slower in the office, then I am quick to plan the next dinner date out.
I know that working from home allows me a little more flexibility, but I have been in both situations. I worked outside the home for the first few years after having my daughter. The easy/hard part was that when I was at work, I tried to only focus on work. When I was at home, I tried to only focus on home (I know, much easier said than done).
Now that I work from home, the trick is trying to stay focused when I actually need to get my work done.
So, no matter your set-up, there will always be those challenges and perks. There will be times when you feel that you are called in a million different directions, and there will be times that you need to shift your priorities and just say "No".
But the important thing is that when you get through that phase, you meet that deadline, or complete your task; you go back to your priority list and re-adjust. Make sure that those special people who were flying a little more solo without you, now have your undivided attention. Or that your workload that started piling up, is now getting completed.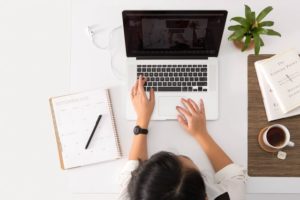 Balancing by Day
Some people can jump from task to task from hour to hour. I am not like that. I have to give myself one main focus for each day. I know that working from home does give me a bit more power to make these decisions, but anyone can give it a try.
One day I focus on my kids. I still have other things to do, but they are my priority for the day. I plan fun activities, we get out of the house, and we spend that quality time together. Another day I focus on work. Hopefully because we had a fun day prior, the kids can give me that time and space needed to be productive. Sometimes I need to put in a little extra time and energy to first get them set up with snacks and something fun to play, but then I can sit at my desk and start checking off that to-do list. I even schedule my "House" days where I can focus on all of my cleaning and laundry.
By planing a priority for each day, it helps me to find a better daily balance.
Why is Finding Balance in Life Important?
Back to the statement I referenced earlier. For me, my number one priority is my family. My career is a close second, but that is what gives if I ever want a social date. Maybe I work late one night to get ahead, so that I can finish work early the next day and plan a social activity. Or maybe I schedule an early morning coffee with a friend, and shift my work schedule for the following afternoon. So yes, I still get to see my friends, and yes I do still have fun. Do I wish I could see them more often? Definitely! But for this phase of my life, my focus is more so on my family and my career.
As my kids continue to grow, our lives, routines, and phases will change yet again. So I guess that means that I believe: at times you may find a temporary balance, but it will constantly change – just as life does.
But by figuring out your #1 priority, you will be able to swap your #2 back-and-forth as needed. This will help you to stay better organized, better focused, and more successful.
But no matter your phase, or your priorities, my advice is this:
 Do not over-commit (again, I know easier said than done).
 Learn to say "No."
 Try to assess looking from the outside in, and look at everything at once – don't just focus on individual details.
Keep your priorities simple and in order. Eventually it might become more clear where your attention is needed, or what you need to let go of.
Hopefully by making life less full, you will find more success in finding that balance. Try picking two, not all three.
And if you ever learn the secret to finding balance 100% of the time, in every area of life, then I hope you don't hesitate to share with me your success!
---
For more on this topic, check out the full Work Life Balance collection