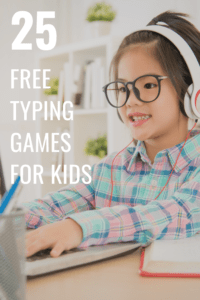 Growing up I have many fond memories of my school's very first computer lab from back in the early 1990's. Playing typing games was a big highlight, and it quickly became a competition to see who in our class could be the first to master typing. But fast forward to today and with more emphasize on digital learning, I've realized that my own kids haven't quite learned to type yet. Perhaps that is thanks to iPads and other smart devices, but I still believe that typing is a much-needed skill set. Below are 25 fun and free typing games for kids!
---
This article is written by Karissa Tunis
For more on this topic, check out the full Summer Learning and Back to School collections
---
Typing Games for Kids on ABCya
ABCya.com offers both a free and a premium version. But even with the free version, there are still a lot of typing games that are offered for free for kids in Pre-K through 6th grade (and beyond). ABCya offers vibrantly colored learning games that touch on a variety of subjects such as art, music, math, language, science, social studies, and of course typing. Out of the 14 free typing games offered, these five were my children's favorites:
Typing Games for Kids That Are Free:
Keyboard Zoo – This game offers younger children the chance to practice using their index and pointer fingers to match letters on the screen to their keyboards.
Ghost Typing – Players must find the letters on the keyboard that match the letter on the ghost before they get too close.
Koala Paddleboards – Here is a fun multi-player opportunity for word spelling practice. Players race one another by spelling the words correctly and moving their Koala's on paddleboards across the water.
Owl Planes –  Here is another multi-player opportunity to race from anywhere in the world while practicing your keyboard skills.
Typing Race – Correctly enter the number, letters, and punctuation to pass cars and fill up on gas. Drive as fast as you can without running out of gas.
---
35 Teaching from Home Printables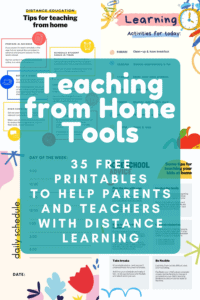 ---
Free Typing Games on Dance Mat Typing
DanceMatTypingGuide.com is 100% free! Your kids will learn to type and enhance their skills with fun games created by the BBC. You have the option of playing typing games on your own, or working your way through their 12 stages to learn the keyboard. There is even a typing test that you can take to check your typing speed!
Typing Games for Kids That Are Free:
Outer-space Fleet Commander – Guide the Alien fleet through the galaxy by typing the correct letters before they stop you.
Keyboard Revolution – Groove and type your favorite dancing moves as characters show off their dancing skills.
Save the Sailboat Race – Falling letters are ruining the sailboats race, but you can help by typing the letters before they hit.
Keyboard Triathlon – Timed events test your knowledge of the keyboard. You can even try the advanced mode if you are up for a challenge.
Spacebar Invaders – Space creatures are falling from space. Stop them by typing the correct letters.
[ Also check out: 30 Science Experiments for Kids ]
Typing Games for Kids on Wordgames
Wordgames.com offers a network that allows developers and publishers a place to publish their games. For the game user, there is both a free and a premium option. Although the free version still allows for access to dozens, if not hundreds, of free educational typing games that will encourage your student to start typing. Games include word searches, sudoku, wordoku, crosswords, daily quote typing, and more – including some fun online classics! And all of this is recommended for kids in grades 1st through 8th.
Typing Games for Kids That Are Free:
Word Candy – Using letters that they give you, make words to collect the candy.
Beach Sudoku – Play this fun classic game but with a beach theme!
Text to Twist – Try to solve the mystery bingo word and keep your game going. Tip – you will want to find the longest words with as many letters as you can.
Finger Frenzy – This game is addicting! How fast can you type the alphabet?
Keyboard Climber – Help the monkey jump his way to the stars and moon by typing the letters as fast as you can.
---
5 Free Printables to Encourage Reading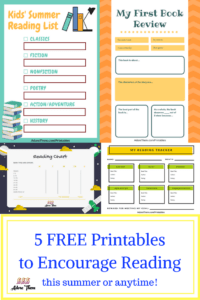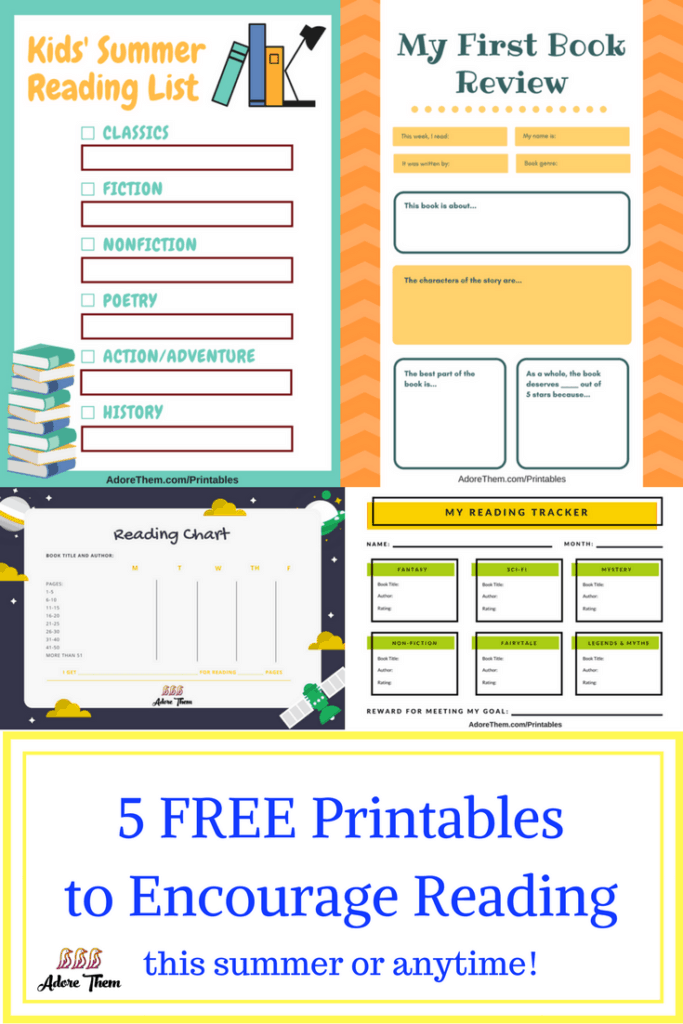 ---
Free Typing Games on TypeTastic
TypeTastic.com offers over 700 free typing activities for all grade levels! Not only do they offer games; but they also offer motor skill training, they teach letters along with numbers and symbols, they help with typing fluency, and they offer timed tests. A lot of schools have even turned to this website since they allow for student progress tracking, and allow for customized study materials and timed testing. When selecting from one of their free games, you have the option to narrow your search based on challenge level, age, home row or beyond, multiplayer, and fun categories. Below are a few of my children's favorites which can also be found at TypeTastic game zone – typinggames.zone
Typing Games for Kids That Are Free:
Typing Attack – Help the spaceships shoot the flying objects around them by typing words to help guide them through space.
KeyBall Maze – Use your typing skills to help guide the ball through the maze.
Crazy Monkey 2 – Control the crazy jumping monkey by typing the correct letters that will help him jump through the jungle.
Super Speed Typing Jump N' Run – Increase your speed with this fun typing game that focuses on mastering the home row of the keyboard.
Memory Game – Enjoy a classic memory game that improves both concentration and keyboarding skills. Turn over the cards by typing the letters on the back of each memory card.
[ Read: A Guide to Choosing Extracurricular Activities ]
Typing Games for Kids on Typing.com
Typing.com was built for educators, but with students in mind. This amazing site offers free lessons and games on keyboarding, digital literacy, and coding. With a focus on helping kids in grades 1st through 8th, there is a lot of valued content offered within this one website. Their exclusive typing games can be tailored to current typing abilities, and were designed to help improve speed and accuracy. Here are a few of our kids favorites that can be found at Typing.com/student/games:
Typing Games for Kids That Are Free:
Keyboard Jump – Help the animal leap up through the branches by typing the correct words. Too many mistakes and they will fall down.
Keyboard Ninja – Choose from a row of letters or numbers. Then type the letters on the screen to help the monkey chop the fruit and objects.
Ztype – Save the planet by typing the words on the astroids that are falling close to earth. When you type the word correctly, the astroid will explode across the screen.
Type-a-Balloon – Type the correct letter on the colorful balloons to pop them before they fly away.
Type Toss – Enjoy this fun carnival themed game by typing the correct words on the rubber duckies, and other toys, to knock them off of their moving tracks.
If an older teenager lives in your home, or you as the parent are looking for a fun online game to play, check out https://www.solitaire-masters.com/. However, if you don't like solitaire, there are thankfully tons of other free games online. You may have to do some searching, but there are lots of digital spaces to play popular games we grew up enjoying.
For more on this topic, check out the full Summer Learning and Back to School collections
---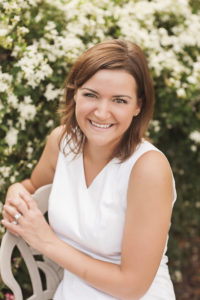 Co-Owner: Karissa Tunis
Karissa Tunis is the co-owner of both the parenting website Adore Them and the family event company Milestone Family Expos. Through these ventures she is able to share inspiring, heartfelt insight with large audiences within local communities and across the country! Her knack for all-things-organization allows her to balance content creation, brand partnerships, and event planning without losing sight of what she wants for her own family. Despite her busy schedule, Karissa also makes it a priority to spend quality time with her husband and three children. You will often find her volunteering at her children's schools, cheering them on from the soccer sidelines, or enjoying the great sites of Charleston, SC with her family.
Contact: Karissa@AdoreThem.com
---