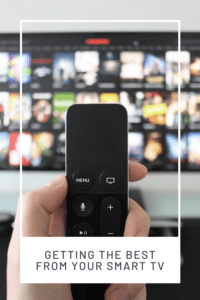 Getting the Best from Your Smart TV
Since there are so many different televisions to choose from, it may mean that there are more great features and better price tags, but it can also become a hassle to find the one that works the best for you. It's a good idea to narrow down exactly what you are looking for to make the right choice for your new smart TV. 
I am here to get rid of some of the confusion you may have about these new smart TVs with raw information and not the information a salesman looking for commission may give you. 
---
For more on this topic, check out the full Family Home collection
---
Screen Size for Your Smart TV
The two things to look for when picking out a smart TV is the size and dimensions of the screen. A big TV may look good in a big room, but the 40-inch screens are the most common and solid choice for size. They fit well in regular-sized rooms and create an amazing viewing experience. In today's world, televisions are becoming thinner. It's important to consider how the TV will appear in the room you want and how much space it is going to consume. 
[ Read: Simple Ways to Create a Family Friendly Home ]
Wall-Mounted Smart Televisions
You should always take into consideration the size of the room the new TV is going to go in. If you want to take up as little space as possible, look for wall-mounting capabilities on your TV. You should also think about what you are going to put around the TV such as gaming consoles, surround systems, and more. So keep that in mind when picking out your smart TV. A soundbar may also be a good add-on to enhance the acoustic experience you may want. 
[ Read: 3 Ways to Make Your House Feel Bigger ]
Smart TV Displays
There are two types of smart TV displays-LED and OLED. Without getting too technical, the OLED is a better and higher quality option. It has its own backlight for each pixel and offers sharper colors and deeper black contrasts to the viewer. Not only that, but TVs with OLED are thinner than LED TVs. However, the better the picture and higher quality mean a higher price tag. 
There are plenty of things to consider when picking out your new smart TV. However, considering these few main points can be helpful!
For more on this topic, check out the full Family Home collection