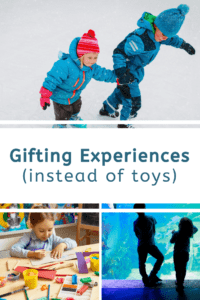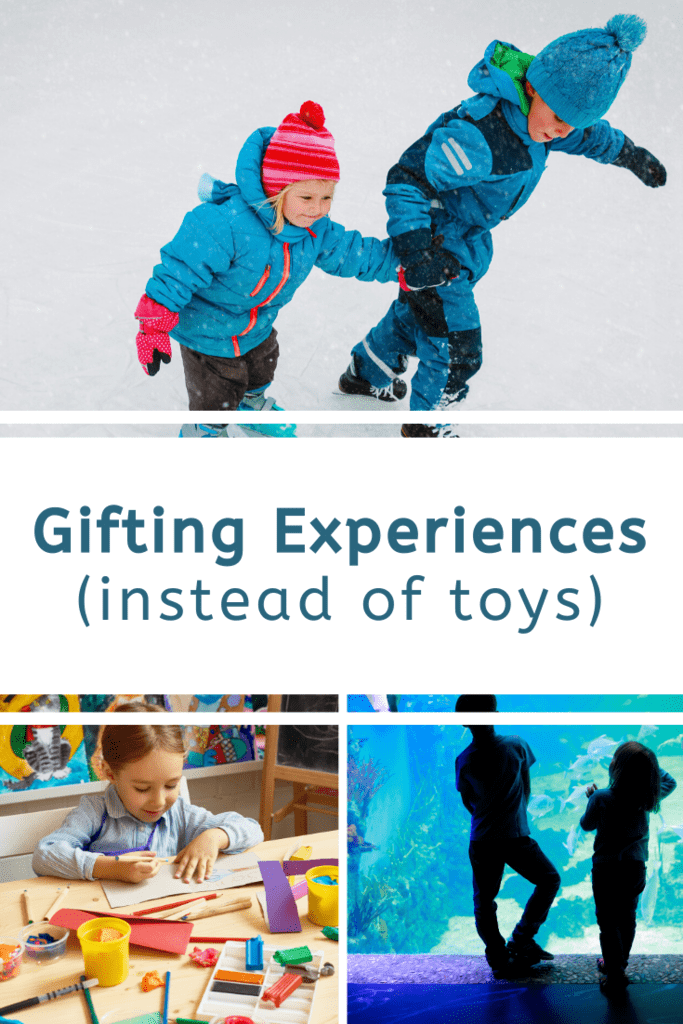 Last year I decided to do something a little different for the holidays. I asked everyone on my side of the family to give my children gifts of Experiences instead of Toys. In the end it worked out, but I probably should have given some examples or suggestions along with this request.
At the time we had our house listed for sale, and I could not handle the thought of more "stuff" needing to be organized for each showing. So the request was really made more-so for my sanity. However, in the end, I think my kids enjoyed it even more than I did!
---
This article is written by Karissa Tunis
For more on this topic, check out the full Gift Giving collection
---
Our Favorite Gifted Experiences
One of my kid's favorite gifts was from my sister and her family. She gave each of my children a small wrapped present, which ended up being a book about fish. Each book matched that child's reading level and interests. Then she handed my kids a card with a certificate to the National Aquarium inside. The kids were thrilled! And over one of their school breaks, we planned for our two families to visit the Aquarium together. Not only was it a fun gift, but it created many fun memories that years later we are all still talking about 🙂
Another favorite was a gift card to the Philadelphia Zoo from my other sister. We already had a family membership, but often my children would ask to jump on a ride, or do an extra that wasn't included with our membership. By having this extra gift card, it allowed for us to make our next zoo trip extra fun! There was even enough left over to get something small from the gift shop to remind the kids of their favorite exotic animals (did I mention my daughter's favorite animal is an Okapi?!).
Why Experiences Can Be Better
Toys are great, and my kids are very sentimental about everything they receive. But sometimes it's nice to bring the focus back to quality time. Material possessions definitely have their purpose, but a fun memory can last a life time!
If you are someone that likes something physical to hang on to, there are lots of easy options to tie in a small souvenir. Whether it's a trinket from the gift shop, a book about the topic, or even just a simple photograph that you frame from the special day. There are lots of options for turning an Experience Gift into a lasting memory.
And the best part is that these types of gifts are not bringing in any extra clutter! There is nothing that you need to make room for in the playroom, or return if it's the wrong size. Find a battery for, or follow step-by-step directions for hours just to put it together. Instead you grab your car keys, a camera, and go.
Suggestions for Gifting Experiences are:
Family passes to attractions – museums, zoos, aquariums, etc.
Seasonal passes (make sure they are local so they can use multiple times) – the township pool, a water park, the county parks, roller skating rink, ice skating, strawberry patch, apple orchard, pumpkin patch, Holiday lights experience, etc.
A share of a local CSA Farm
Gift cards to their favorite interactive places – laser tag, indoor play parks, arcades, etc.
Make a picnic basket filled with a few goodies and a map of a fun park
A certificate for a session, or package, of sporting lessons (example – gymnastics, dance, soccer, etc.)
Family pass for a horseback riding trail adventure, or even just horseback riding lessons
A certificate for a special class – pottery, paining, music lessons, etc.
Concert tickets
Create a scavenger hunt around a local playground and end with playtime
The options really are endless! But whatever you decide on, make it a fun quality experience. Use this time to bond and grow your relationships, while creating some fun lasting memories along the way!
For more on this topic, check out the full Gift Giving collection