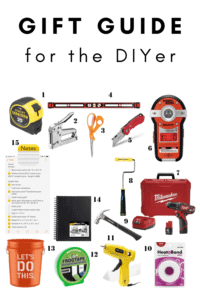 When others are getting ready to celebrate the holiday season or other festive occasions, you will often find me scrambling to finish a project in my home. This season my husband and I put the finishing touches on a fireplace surround just as family knocked on the door to celebrate Thanksgiving. So many of us want to deck our homes for the holidays and all year long. Which led me to think of all the DIY tools that I reach for again and again. Get inspiration with this gift guide for the DIYer whether it's the winter holiday season, Father's Day, Mother's Day, or a birthday. Or, send this link directly as a wish list for yourself!
This page contains Amazon affiliate links. As an Amazon Associate I earn from qualifying purchases.
---
This article is written by Pamela Rineer
For more on this topic, check out the full Gift Giving and All About Dads collections
---
Holiday Gift Guide for the DIYer
Gift Guide for the DIYer
1. Tape Measure
The number one item that I reach for multiple times a day is a tape measure. Tip: I keep a small one in my purse for home furnishing and decor shopping trips. BUY HERE
2. Heavy-Duty Staple Gun
Perfect for upholstery and carpentry projects. BUY HERE
3. Fabric Shears
It's hard to find a good pair of fabric shears and I've gone through a bunch, but these have excellent reviews. BUY HERE
4. Accu Mark Grip Level
This level will be your best friend when hanging pictures and it won't mark up the walls. BUY HERE
5. Utility Knife
I like the safety features and versatility of a utility knife compared to a detail knife, but both are good to have on hand. BUY HERE
6. Laser Level
This laser level adjusts for user error and has a built in stud sensor. BUY HERE
7. Drill
Look for a compact and durable drill that's good in tight spaces. BUY HERE
8. Purdy Paint Roller Frame
Hands down the best paint roller for mini roller covers. Other frames push the paint but this has a feature that helps rollers glide. Pair with foam rollers to give any project a smooth finish. BUY HERE
9. Hammer
The most basic tool that any DIYer will need, along with a screwdriver set. BUY HERE
10. Hem Bond
I almost didn't include this on the list, but it makes a great stocking stuffer. Fusible tape is perfect for the sewing impaired. Use it for curtains or clothes, any fabric that needs bonding without the hassle of a needle and thread. BUY HERE
11. Hot Glue Gun
I reach for my hot glue gun more than any other glue in the house. It's a quick fix to nearly everything in your home. Use it for crafting, repairing, and home decor. Hot glue peels cleanly off walls so it's easy to hang everything from posters to holiday decor. Use it on the underside of rugs so they don't move about the floor. Create wax seals, crayon art or even 3D sculptures all with your hot glue gun. BUY HERE
12. Frog Tape
Designed to use with latex paints so your paint doesn't bleed, Frog Tape creates a nice clean edge so you spend less time on touch ups and paint like a professional. BUY HERE
13. Bucket
This bucket is perfect to create a DIY gift 'basket'. Fill with crumpled paper and place a few of the items from this list inside peaking out the top. The DIYer in your life will appreciate the bucket and your creativity! BUY HERE
14. Sketchbook
Before starting any project, make a quick sketch. It will often show any mistakes in design before making a design board or beginning a project. Great to have all your thoughts in one place. BUY HERE
15. Notes or Evernote Apps
Granted the Notes App isn't something you can give, but it's the perfect tool that is rarely used. Any DIYer knows the endless hours spent at the home improvement store. Don't make life harder by not having your measurements or your needs list at a moments notice. Create a file for any project. I have a 'Home' file that includes the items I need and measurements for each space. The Evernote app also works similarly but allows the user to add pictures and so much more. It's definitely worth a look.
16. Welding Safety Curtain
Sometimes, I also deal with metal and steel in my DIY projects. This requires welding the different pieces together, which can be bright and loud. To protect people from sparks and reduce the noise, a welding safety screen is convenient for any DIYer. It can be dangerous to look directly at a welding spark as it can damage the eyes. Anyone nearby can also get injured by molten metal or sporadic flames.
For more on this topic, check out the full Gift Giving collection
---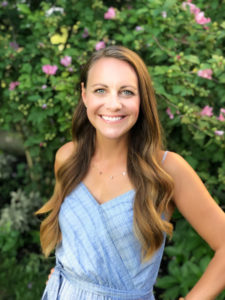 Featured Contributor: Pamela Rineer
Pamela Rineer lives in Lititz, PA with her husband, two boys, and very large goldendoodle. With a love of real estate, design, and money management she began renovating their homes on a budget. Now, settling into their fifth house, she shares simple DIY's for all things home.
---