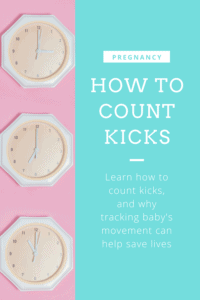 Many doctors recommend kick counting as a way to monitor your baby's health in the third trimester. In this article, we'll teach you how to count kicks and keep track of baby's movements.
Scientific studies indicate kick counting, a daily record of a baby's movements (kicks, rolls, punches, jabs) during the third trimester, is an easy, free and reliable way to monitor a baby's well-being in addition to regular prenatal visits.
When you start your 3rd trimester, it's time to start counting.
---
This article is reposted from Count the Kicks with permission.
For more on this topic, check out the full Pregnancy Through Postpartum collection
---
How to Count Kicks
Download the FREE Count the Kicks app.

Count the Kicks every day, preferably at the same time.

Pick your time based on when your baby is usually active.

To get started, sit with your feet up or lie on your side. Count each of your baby's movements as one kick and tap the foot on our app until you reach ten movements. After a few days you will begin to see a pattern for your baby (how long it takes you to get to ten).

Most of the time it will take less than a half hour, but it could take as long as two hours.

Save your kick counting sessions in the app to see your baby's movement history.

Knowing what is a normal movement pattern for your baby is key. When "normal" changes, this could be a sign of potential problems and an indication to call your provider.

Your kick counting history can be useful for visits with your provider.

The app will record the amount of time it took to get 10 movements, or you can log your times into

a downloadable Count the Kicks chart.
Reminders when tracking baby's movement
Every pregnancy and every baby is different.

The most important thing is to count your baby's kicks every day so you will know what is normal for your baby. For example, if you normally count 10 movements within 30 minutes and then you notice that it is taking two hours to record 10 movements that is a change in your baby's movement pattern.

Babies don't run out of room.

Babies do not slow down at the end of pregnancy. While they may run out of room for somersaults, babies move all the way up to and during labor.

Don't hesitate to contact your provider or go to the hospital if you notice a change.

If you notice a change in what is normal for your baby, contact your provider immediately. Your provider will want to hear from you with any concerns during your pregnancy. Trust your instincts!
Read pregnancy and birth stories:
3 Kids, 3 Very Different Birth Experiences
My Home Birth, and Why I Loved It
For more on this topic, check out the full Pregnancy Through Postpartum collection
---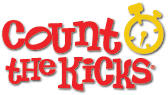 Featured Contributor: Count the Kicks
In the early 2000s, five Iowa moms endured the heartache of losing a daughter to stillbirth or infant death. After being connected through friends and pastors, a strong bond quickly formed between Jan, Janet, Kate, Kerry and Tiffan. During many connected conversations over coffee, the women decided to channel their grief into stillbirth prevention efforts to keep other families from facing the pain of losing a baby. Read their full story here!
---