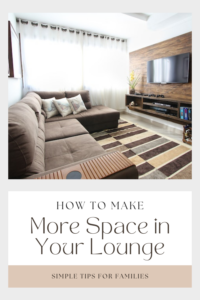 How to Make More Space in Your Lounge
It's only normal to want your home to look and feel its best, and decorating for a space that isn't ideal for you may be tremendously exciting and force you to be creative. However, because of its small size, decorating a small living room might be challenging. You'll undoubtedly make a ton of blunders along the road, but small living rooms may appear quite chic when properly styled utilizing a few easy techniques. Keep reading for ideas to make more space in your lounge.
For more on this topic, check out the full Family Home collection
Mirrors can help create the appearance of spaciousness
There are innumerable creative opportunities to take advantage of in little, frequently ignored locations. Using ornamental mirrors to provide the appearance of greater space is the ideal place to start. When correctly positioned, mirrors can make a cramped space feel open and breezy. Choose numerous mirrors to reflect all of the light in the living area for a dramatic effect. The mirror will reflect the most light and instantly provide depth if you install a large or many pieces on the wall next to your largest window. However, if your living room seems small and lacks windows, try hiding a tall mirror behind pieces of furniture to give the appearance that another room is expanding beyond.
Utilize light-weight drapes to enhance the light
Curtains have the ability to drastically change the look and feel of a room by adding color, pattern, and a cozy atmosphere. If you're looking for the ideal curtain for a small living room, put function before style in your considerations. Why not replace yours, which are heavier and come in deeper colors, with the lighter fabric to let more light into the room? To let in a ton of natural light and boost a room's brightness, choose white or pale colors.
A window seat provides additional sitting
Utilizing a window niche as a miniature living room with a window seat is one way to make the most of a limited space. You may wish to choose thin, elegant furniture that takes up less visual area when choosing the right seat. The eye is tricked into believing the room is less congested by these pieces of furniture. This transforms into a lovely refuge that makes it simple to read, talk, or simply sit and take in the scenery and sky when topped with simple plush cushions.
Reduce your furniture purchases
Any piece of furniture that takes up very little visible space will appear to open up a space. For instance, experimenting with size and proportion, such as by using a lower couch with thin arms and a tightly padded back, can help give the room a sense of volume. In any case, sleek, low-profile furniture, especially sofas, won't visually overwhelm or dominate the room. Instead of a conventional sofa and coffee table, you can utilize two loveseats or ottomans. Compact apartment spaces benefit from the lightweight design and tiny scale because they improve traffic flow and provide you more arranging possibilities. You can also look to get a tv mounting service so you don't need a tv unit and you can have your tv on the wall. 
For more on this topic, check out the full Family Home collection