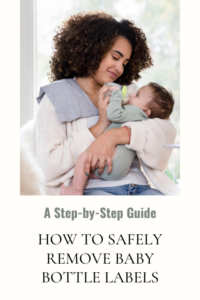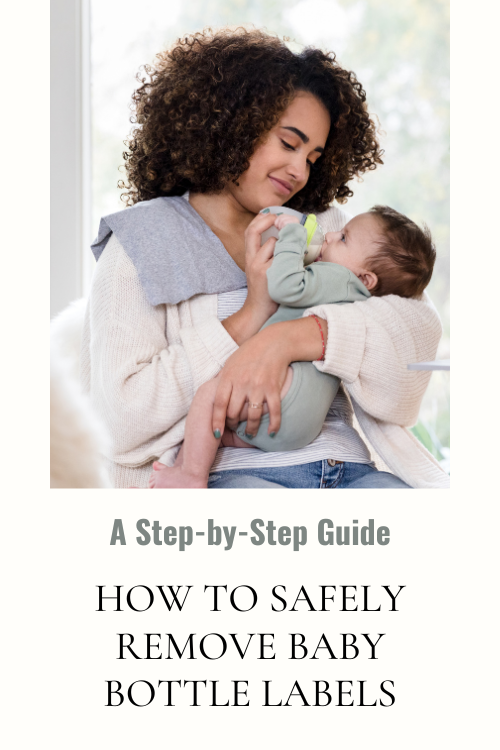 Labeling baby bottles is essential for organization and hygiene. But what about when it's time to remove those labels? Safely removing adhesive bottle labels without leaving residue or damaging the bottles is crucial for their reuse or donation. In this article, we will provide you with a step-by-step guide on how to remove baby bottle labels effectively, ensuring that your bottles remain clean and ready for their next use.
---
For more on this topic, check out the full Baby's First Year collection
---
Step 1: Gather the Necessary Supplies
Before you begin to remove the baby bottle labels, gather the following supplies:
Warm water: Fill a basin or sink with warm water. The temperature should be comfortable to touch but not scalding hot.
Dish soap: Add a few drops of mild dish soap to the warm water.
Soft cloth or sponge: Use a soft cloth or sponge to scrub the labels gently.
Rubbing alcohol: Optional but useful for stubborn residue removal.
Goo Gone or adhesive remover: Another optional solution for particularly stubborn labels.
Step 2: Soak the Bottles
Place the labeled bottles in the warm soapy water and let them soak for around 10-15 minutes. This step helps to loosen the adhesive and makes the labels easier to remove. Ensure that the labels are fully submerged, and if necessary, weigh them down with a small object to keep them underwater.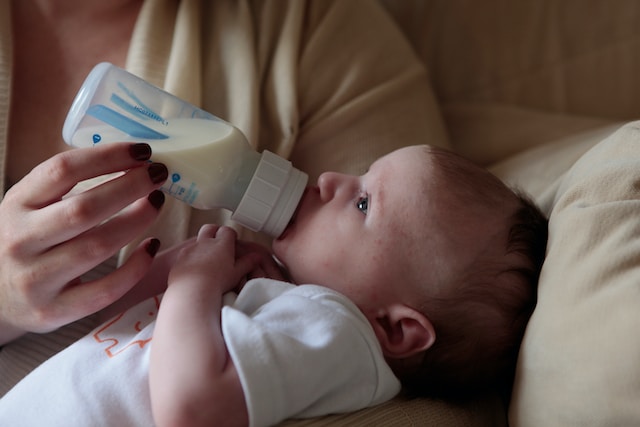 Step 3: Remove Baby Bottle Label
After soaking, remove one bottle from the water and begin peeling off the label slowly. Start at one corner and pull it off gently. If the label doesn't come off easily, avoid forcefully pulling or scratching it, as this may damage the bottle surface. Instead, place the bottle back in the warm soapy water for a few more minutes to further loosen the adhesive. Then, try again to remove the baby bottle label.
Step 4: Remove Residue
If any adhesive residue remains on the bottle after peeling off the label, you have several options for removal. One method is to dampen a soft cloth or sponge with rubbing alcohol and gently rub the residue until it loosens and comes off. Alternatively, you can use a commercial adhesive remover or Goo Gone by applying a small amount to a cloth and gently rubbing the residue until it dissolves. Remember to rinse the bottle thoroughly with warm water after using any cleaning solution.
Step 5: Wash and Dry
Once the labels and adhesive residue have been successfully removed, wash the bottles with warm soapy water to eliminate any remaining cleaning solution. Rinse the bottles thoroughly to remove any soap residue. Finally, allow the bottles to air dry or dry them with a clean towel. Make sure they are completely dry before using or storing them to prevent mold or bacterial growth.
Safely removing baby bottle labels is a crucial step in maintaining cleanliness and preparing bottles for reuse or donation. By following this step-by-step guide, you can ensure that your bottles remain free from adhesive residue and ready for their next use. Remember to be patient and gentle during the label removal process, as excessive force or harsh cleaning agents can damage the bottles. With proper care, your baby bottles will stay clean, safe, and ready to serve their purpose once again.
For more on this topic, check out the full Baby's First Year collection
---