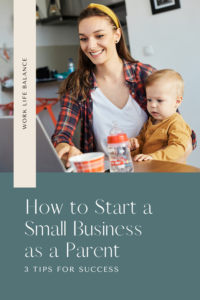 How to Start a Small Business as a Parent: 5 Tips for Success
Starting a small business as a parent may seem like an uphill battle, but it doesn't have to be. Launching your own business and juggling parenthood simultaneously can be quite manageable! Once you get past the initial hurdles of setting up your business, being a parent as you launch your new company can be beneficial. After all, having a child will likely keep you grounded and force you to organize and plan more than you would if you didn't have this new responsibility. Here are some tips to help you succeed in if you want to start a small business as a parent.
For more on this topic, check out the full Work Life Balance collection
Create a schedule and stick to it
It may sound trite, but scheduling is key to achieving success as a parent and entrepreneur. First, you must set aside time to care for your child; there's no getting around that. But, you must also schedule time to work on your business. Finally, you must stick to this schedule and don't let the pressures of daily life distract you from your goals. If you're struggling to find time to work on your business, you might want to consider working from home. You can work when your child is napping or sleeping at night. If you don't think working from home is an option, try to find a coworking space or hire a virtual assistant to help you with your workload so you can free up more time for your child.
Set boundaries with your business and your child
Establishing boundaries with your business and your child is essential.  When setting boundaries with your child, they can learn about responsibility and accountability when you're working, and you can ensure that you get your work done daily.  However, you also need to set boundaries for yourself and your business. For example, your child may have an extra-curricular activity each week from 4-5 p.m. You can't expect to be focused on business tasks during that time because you're responsible for ensuring your child gets home safe.. Instead, try to get work done during the mornings or late afternoons while your child is still in school. You can also find other small business owners who are parents and set up a schedule with them so that everyone can manage their time and stay focused on their tasks. 
Sort out the business essentials like insurance
Before you launch your business, you'll need to have the essential insurance plans. At the very least, you'll need general liability insurance.  You should go to an agency close to you to help you with the details- if you live in New York, for example, go to a new york small business insurance agency for advice and help.  You'll also need to sign up for a business bank account and business credit card to pay for business expenses. These could include office supplies, travel, and advertising. Finally, you'll want to register your business with the government so that you can start collecting taxes on your income and apply for small business grants.
For more on this topic, check out the full Work Life Balance collection