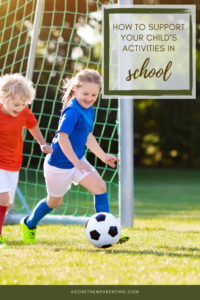 If your child is in grade school, you may have noticed that they are involved in many different activities. These activities can include everything from music, to sports, to clubs. Parents need to support their child's dreams and help them succeed. Here are some ways that you can help your child with their activities at school.
Customize Your Sporting T-Shirt
Creating custom sports apparel is an excellent way to show your support for any team or player. For example, when you order baseball mom shirts online, it's easy to add text and photos to connect with anyone who sees them. Likewise, if you have children who play on a school football team, baseball squad, or basketball club, consider designing their practice jerseys so they can be part of the entire experience from start to finish.
---
For more on this topic, check out the full Sports collection
---
Get Them the Necessary Equipment
If your child is involved in an activity that requires them to have a particular piece of equipment, don't forget to purchase or rent it for them. For example, if they're playing sports, you'll want to purchase their cleats and other gear as well, as the necessary sized baseball gloves or tennis racket. It's also essential to buy this equipment and be sure it fits properly so that they can use it safely and comfortably. Getting them the right gear can help them feel confident when they take the field or court and perform their best.
Always ensure that your child is wearing the necessary equipment, even if they're playing a sport at recess. If you have any questions about getting them their gear, or what type of equipment they need for an activity, speak with their teacher. They'll be able to let you know exactly what's required and where you can purchase it from.
While some kids' activities take place outside of schools, such as music lessons, or dance classes- other ones require children to wear certain types of protective clothing like helmets when horseback riding, or goggles when swimming.
Sign Them Up for Extra Classes
It can be helpful for your child to sign up for extra classes regardless of their age. Classes like art, music, and sports are great ways to help contribute to what they already enjoy doing outside of school within the classroom setting. In addition, signing up children early on allows teachers to better understand individual students' interests, which helps tailor specific lessons that might benefit that student over others. It is also an excellent way to support building ties with other parents at their school as well.
Encourage Them
Yes, as a parent, you want to support your child in their activities and schoolwork. Support doesn't only mean showing up at the event or meeting. You can also encourage them from home. It would help if you always let your kids know that they are doing great. They need encouragement throughout different stages of life–their educational journey is one where they need to have someone cheering them on the whole way.
Conclusion
These are some things that parents can do to help their children succeed at school. Of course, it is essential to have fun while supporting your kids' interests too. Remember what it was like being a kid? Try not to over-schedule them and let them be young if they can be.
For more on this topic, check out the full Sports collection
---