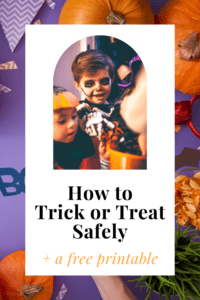 Tips for How To Trick or Treat Safely
Trick or treating is such a fun time of year for little kids, and even those big kids that still enjoy dressing up and collecting treats! And while most families will enjoy this yearly tradition, there are a few important tips that everyone should remember to help ensure that this special night is safe and fun for everyone! Continue reading below for tips on how to trick or treat safely this year, and scroll down for a FREE Trick or Treat printable.
---
For more on this topic, check out the full Fall Fun collection
---
How to Trick or Treat Safely
Here are 10 tips to help you and your family trick or treat safely this year. While some years may be easier then others depending on your kid's ages, and who they want to trick or treat with, the same advice typically applies.
Stay With An Adult
I know it is tempting for kids to run off with their friends, and I know sometimes parents become distracted chit chatting with neighbors. However, in order to keep all the kids safe, it is best to have a responsible adult present at all times. It may be easier to divide and conquer by age groups, or by groups of friends. But hopefully between everyone involved you can be sure there is at least one set of adult eyes on your children.
Plan A Safe Route
Some neighborhoods are known for handing out the best treats! If it's not your own neighborhood, be sure to map out a route ahead of time to avoid getting lost, or repeating the same loops. Also, if you do have older children that you are allowing to have more independence, it's helpful to map out their route ahead of time as well. This way you know exactly where they are, and can have a designated meeting spot every hour, or at the end.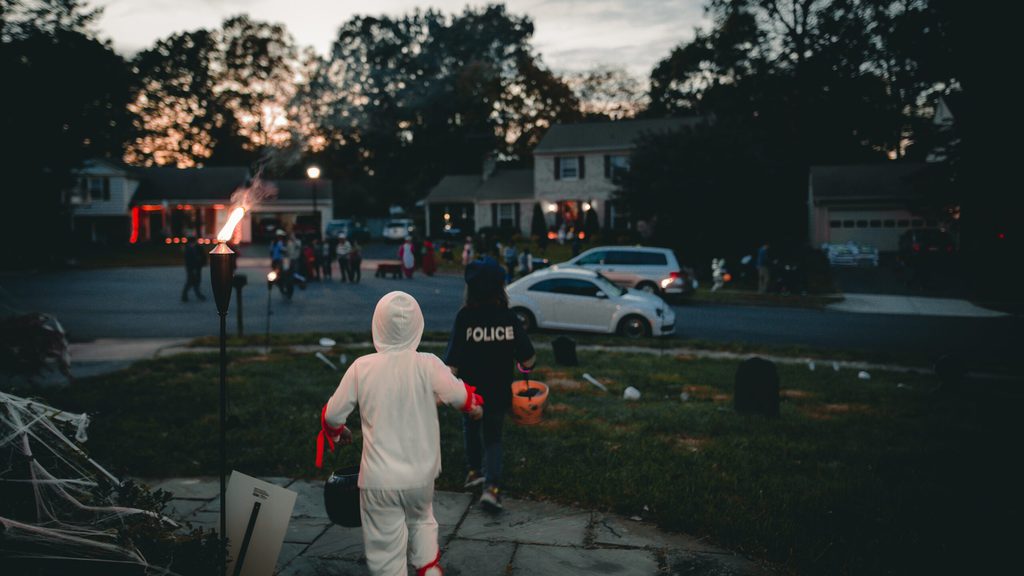 Look Both Ways Before Crossing The Street
I know this sounds basic, but kids oftentimes need a dozen reminders no matter their age! It's also a great reminder for adults too as there may be a lot of kids to keep your eye on. Remember that just because your family is out trick-or-treating, it doesn't mean everyone else is. There will still be traffic as people head home from work, or head out to activities.
Be Careful Near Lit Candles
Many costumes come with fun capes and layers. And since most of us don't typically wear this type of attire, we can easily forget that we need to keep an eye on our parameters. It would be terrible for anyone to catch on fire! So be careful and keep an eye on the costumes around anything lit.
Never Go Into A Stranger's Home Or Car
It sometimes shocks me just how trusting people can be on trick-or-treat night! Remember, if you don't know the person handing out candy, then they are a stranger (even if they seem nice). Reminding your kids about stranger danger ahead of time can be done in a light-hearted, non-scary way; but it is always a good reminder.
---
Free Trick or Treat Safely Printable
Adore Them wishes you a happy and safe Halloween filled with many yummy treats! 
Print and share this FREE Trick or Treating printable with your children, family, neighbors, and friends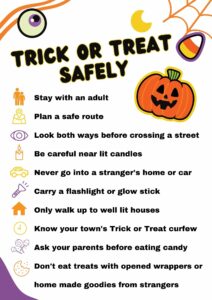 ---
Carry a Flashlight or Wear Glow Stick
Even though we start trick-or-treating while it is light outside, it does become dark before we get home. Because of this, it is very important that kids are easily spotted by others. Not only will this help the adults to keep a better eye on them, but it will also help cars on the road. You could even consider adding reflective tape to your child's costume.
Only Walk Up To Well Lit Houses
If the lights are off, then that house is not participating with trick-or-treat. Not only do you waste time walking up to these homes, but you also run the risk of upsetting your neighbors. Also, if the area is not well lit, then it does provide a safety issue. Someone could easily trip on a walkway that is dark – especially if there are steps. Or there is potential for other mishaps. So focus on the houses that are bright and clearly participating with trick-or-treat safely.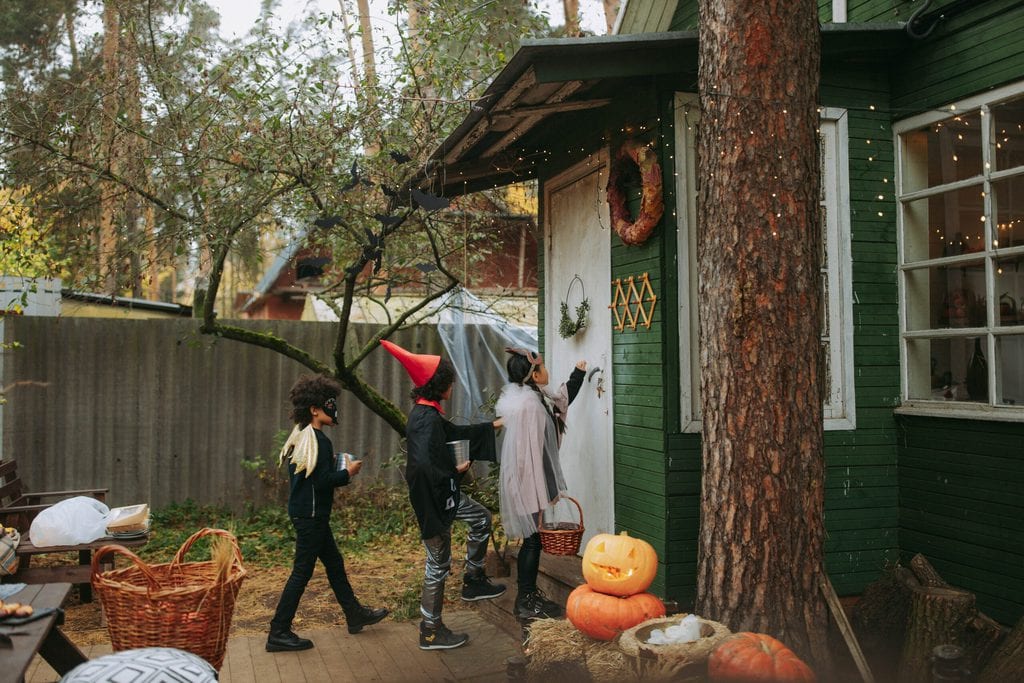 Know Your Town's Trick Or Treat Curfew
This is important because you don't want to show up too early, or stay out too late. Again, this could upset your neighbors, and you could have some disappointed kids. So know when the start and end time is for your town and neighborhood's trick-or-treat.
Ask Your Parents Before Eating Candy
Of course every kid wants to indulge in as much candy as possible, but they might need a clear limit before they end up with a belly ache. Not only can too many sweets lead to tooth decay or cavities, but it can also cause constipation or other stomach issues.
Don't Eat Treats with Opened Wrappers or Homemade Goodies from Strangers
Having an adult examine all treats is a must! While we would like to assume that everyone loves our kids as much we do, it unfortunately is not the case. I know it is rare for someone to tamper with things they shouldn't. But you also can never be to cautious. Numerous health experts, and even the FDA recommends avoiding anything that has an open wrapper. And definitely avoiding homemade treats – especially if your child has any food allergies! Checking out your kids goodies only takes a few moments. And it can provide the perfect opportunity to congratulate them on their impressive stash! But these few extra minutes can help ensure that your child and their treats are safe to enjoy.
Trick Or Treat Safely Printable
We hope you found these tips helpful! As a quick reminder we created a free printable on how to trick or treat safely. Print it out and share with your family and friends. Trick or treating can be safe and fun when you are prepared! Scroll back up to get your free printable!
---
Trick or Treating is supposed to be an enjoyable experience for the whole family. However, the weather, tired kids, or high expectations can ruin that experience. But there is a solution! Watch Shari's video for her advice on how to ensure that your next Trick-or-Treat experience is a success!
For more on this topic, check out the full Fall Fun collection
---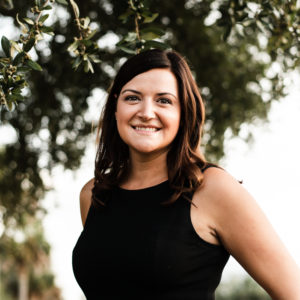 Co-Owner: Karissa Tunis
Karissa Tunis is the co-author of Parenting while Working from Home, co-owner of AdoreThemParenting.com, and co-owner of the family event company Milestone Family Expos. Through these ventures she has been able to share inspiring, heartfelt insight with large audiences both within local communities and across the country. As a work-from-home mom of four children, Karissa understands the need for family-focused organization and time management. She consistently provides insight into child behavior that has helped fellow parents achieve their goals of calmer, happier homes. Karissa also makes it a priority to soak in all of the southern specialties that Charleston, South Carolina, has to offer with her husband and their children.
Contact: Karissa@AdoreThem.com
---