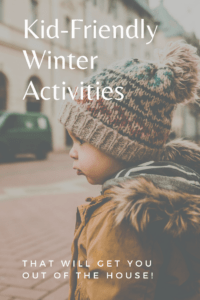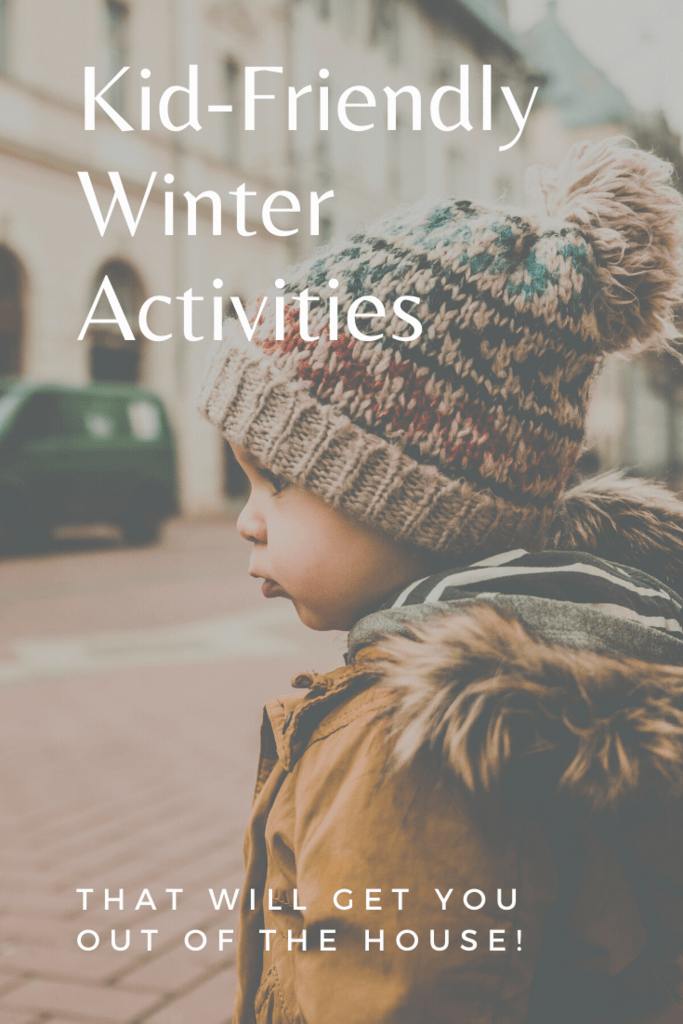 Leaving the house isn't always an option if you are sick or snowed in. BUT when you can leave the house, you need a few affordable options! Here are some of my go-to kid-friendly winter activities when we are going stir-crazy and need to spend a few hours outside of the house. They are options that take less effort than a full day trip, and many of them are free (or at least pretty affordable!).
---
For more on this topic, check out the full Winter Activities collection
---
Kid-Friendly Winter Activities
Arcades
We have a few different kid-friendly arcades near our house. My favorite ones are the ones where you don't need tokens, coins, or tickets – you simply get a card to swipe for games, and the tickets automatically load back onto the card. Many of the arcades are empty during the day, which means that you can have a fun little outing with your young kids without worrying about the normal chaos of an arcade.
Libraries
Libraries are AMAZING and oftentimes under-utilized. There are so many libraries within an hour driving distance from our house and each one has something slightly different to offer. Most libraries have amazing kid play areas with touchscreen computers, board games, blocks, legos, puzzles, kitchen sets, and of course… books. Make it a point to check out libraries other than your local library and see what you can discover! My guess is that they each offer something a little different, and some fabulous kid-friendly activities
Pet Stores
We have an incredible pet store near us. There are lizards, snakes, turtles, fish, hamsters, bunnies, cats, birds, and more! It is like a mini zoo when we go there to visit and see all of the animals. Pro Tip: If your child realllllyyyy wants to go home with an animal, you can buy a couple goldfish ("feeder fish") for about a dollar.
Book Stores
Big book stores like Barnes & Noble offer fun activities – story times, special events, & even a kid play area. Smaller, neighborhood books stores are also really fun to explore & often offer unique family activities as well!
Mall Walking
This one is a really great activity if you have a baby (it gets a little trickier as the kids get older and want to walk around too). Strap the baby to your chest, or push them in their stroller, and get a little exercise with a favorite drink in hand 🙂
Free Trial Classes
Many local businesses offer free trial classes for kid activities. Find local places that offer music, gymnastics, dance, karate classes, etc.; and then see if they offer the first class for free. Just be aware that your child might fall in love with it & beg for you to sign them up 😉
Children's Museums
Some children's museums are huge, busy, and overwhelming. But thankfully, some of them are not. Our local children's museum is small and manageable; and it has very affordable year-long membership rates. It is a nice option to have when we need to get out of the house for a few hours without feeling like we need to stay there all day to make it worthwhile.
Fast Food Play Areas
I am certainly not above fast food play areas over the winter months. McDonald's, Burger King, and Chick-Fil-A are always big hits with my kids. They get to run around, play, and I can sip a coffee and use their free wifi.
Bounce House Places
We have a place near us that is basically a giant warehouse filled with various bounce houses. There are also Sky Zone trampoline parks in many areas. Either of these options are great for getting out allllll of that cooped up energy. Most of them also offer special bounce times for younger children so that they don't get smushed by bigger kids.
YMCAs & Rec Centers
YMCAs & Rec Centers are often under-utilized facilities in the community. You could buy a day pass and go swimming. Or you could attend their special events, classes, and open gyms. Check your local locations to see what they have to offer.
For more on this topic, check out the full Winter Activities collection
---