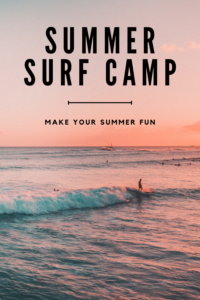 With the summer on the way, there is no better time to look for something to help your children have fun during the summer holiday. Summer camps are a great way to give your child an opportunity to let go of the pressures of school and get some well-needed rest. Continue reading below to learn more about summer camps and summer surf camp!
---
For more on this topic, check out the full Summer Safety & Activities collection
---
Summer Camps
Many different types of camps offer a variety of activities, including sports, arts, music, science, and technology. Summer camps also provide a safe place for children to explore their interests and skills in a structured, supervised setting. Most importantly, they offer opportunities for personal growth, including leadership development, socialization, and physical activity.
[Read: 5 Ideas for Free Family Fun]
Summer Surf Camps
Some parents choose summer surf camps to allow their children to learn about surf culture while spending time in nature. Surf camps are different from other camps because they focus on surfing as the main activity. They also provide special surf lessons for children who don't know how to catch waves yet.
A summer surf camp is an excellent way for children to get out of the house and explore their passions in a safe and controlled environment. It also offers them opportunities to learn about themselves and others, which can help them develop socially, emotionally, intellectually, and physically.
Letting your child join a summer surf camp is not just about getting them to learn how to surf. It's also about exposing them to new experiences and teaching them discipline and independence.
Summer Camp Conclusion
If you're looking for a summer activity that will give your child the opportunity to do something they love, then a summer surf camp may be just what you need.

Infographic Design By Summer Surf Camps
For more on this topic, check out the full Summer Safety & Activities collection
---