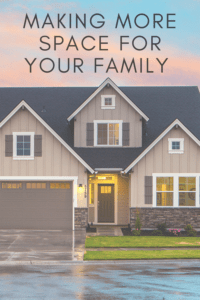 We all know it's important to spend quality time together as a family.  But when your home is short on space, it can be a problem.  So, how do you maximize the space you have? Here are some tips and tricks you can use to make the most of your home, and create more space for your family.
---
For more on this topic, check out the full Family Home collection
---
Add Room Without Extending
There are multiple ways you can do this.  From attic to garage conversions, there's usually a way to make better use of the space you already have.
If your garage is currently being used for storing junk, have a good clear out so you can see what the space is like.  Can it be used as an extra room for the family to use?  Garages that are integral or attached to the house are ripe for conversion.  For the cost of a garage conversion you could gain a new playroom or a den for the children.  Or you could open up the space from the garage to your existing living area, creating a large open plan room for the family to use together.
An attic is another space that can be converted for family use.  You could add another bedroom, which is great if your kids are currently sharing and need their own space.  Alternatively, it could become a playroom. Or even an en-suite bedroom for the extended family to use when visiting.
[Read: 3 Ways to Make Your House Feel Bigger]
Reconfiguring Space to Meet Your Needs
This is another step you could take to make your family home function better for you.  Chances are you bought your home before the kids arrived. And as you've all grown, the rooms that once worked well, now seem a bit cramped.
Modern family life can be busy with parents and children in separate rooms, cooking, playing and studying.  However, this means that families are often apart and not able to spend time together.  This is one reason why open plan living is so popular.  It allows all of these activities to be done in the same space.
So, if you're finding there's not enough time for the family to spend together, it might be worth looking at open plan living in your home.  It will require taking out some interior walls, so you will need to hire professionals to do the work.  If this isn't possible in your home, you could think about widening doorways to help give a sense of connection throughout the house.
Get Creative
Another common problem in family homes is not having enough bathrooms.  This often leads to leaving the house late and in a rush, and no end of arguments.  Think about whether you can utilize a bit of space in your home to add a compact shower room.  Perhaps there's room under the stairs?  Or maybe you can take some space from a bedroom?
As your family grows, your needs will evolve. But with a little creativity, we are confident you will be able to find the right solution for your family home!
[Read: Simple Changes for a Bedroom Makeover]
For more on this topic, check out the full Family Home collection
---