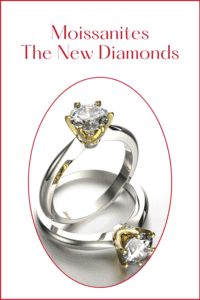 Surprisingly, you wake up one morning to realize that there's a new kid on the block – Moissanite. Wait? What? What about diamonds? You ask. In truth, there is always a contender out there waiting to be unveiled, and this time, diamonds just met their match. Gone are those days when the rule of thumb in every engagement and wedding was to use a diamond engagement ring or wedding ring. This ideology has always been the norm, an unbroken tradition. But as Bob Dylan's song goes, the times they are a-changin'. Moissanite diamond rings are here to stay. There is so much to learn about these precious gemstones. Hence, without further ado, let us kindly proceed and tell you why moissanites are the new diamonds.
For more on this topic, check out the full Navigating Marriage collection
What's All the Noise About Moissanites?
Presently, many couples propose and get married using moissanite rings. What makes the gemstone unique? In terms of toughness, aesthetics, carat weight, colour, and shape, moissanite is on par with diamonds. Even beating it hands down in some of the areas listed. And yes, it is not a fake diamond or a diamond knock-off as some individuals claim. The precious mineral is a unique gemstone in its rights.
Moissanites come with double-refraction properties that make it sparkle 2.4 times more than diamonds, giving it a rainbow effect. On the other hand, its counterpart possesses single-refraction properties that produce white light. There's more. On the Mohs hardness scale rating, moissanite gemstones score 9.5. It does not pale in comparison to diamonds that score a 10-point rating. I presume that you are gradually seeing the rationale behind the high demand for this gemstone.
[Read: How to Dress Like a Mom (Not a Regular Mom, a Cool Mom)]
What About Its Cost?
Pricing is another factor that gives moissanite an edge over diamonds. Why purchase a relatively small diamond, when you could get a larger moissanite jewel for a fair price? And before you bring up the element of "value", remember the properties discussed in the previous section. So, here is the question. What value does a diamond have that is absent in a moissanite gem? Traditionally mined diamonds are expensive. But the same thing applies to moissanite. In truth, the gemstone is so rare that the only way to produce it for market consumption is via lab technology. However, this process doesn't make the moissanite jewel less valuable than its counterpart.
Also, you have no reason to worry about a moissanite gemstone ethical background, unlike the diamond. Besides, it comes in different tints, carat weights, sizes, and cuts. There is always a moissanite jewel for any reasonable budget. You could even own one if you have $400 in cash.
[Read: Saving Money]
Selecting Your First Moissanite Gemstone
Before you head to the jewel store, take some things into account. First, moissanite gemstones have different colour codes. This rating influences its quality and price, which is the same with diamonds. Starting with the Forever Brilliant®, this classification sits at the pinnacle of the moissanite colour code rating. It bears semblance to the classic diamond.
Other colour codes include D to F, which represents colourless moissanite; G to I, which represents semi-colour moissanite, and J to K. The last option is the lowest on the colour classification spectrum. Moissanite jewels in this category have yellow tints. Once you've found the ideal gemstone, purchase it and start enjoying it.
For more on this topic, check out the full Navigating Marriage collection
---