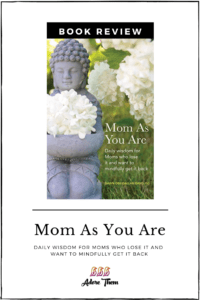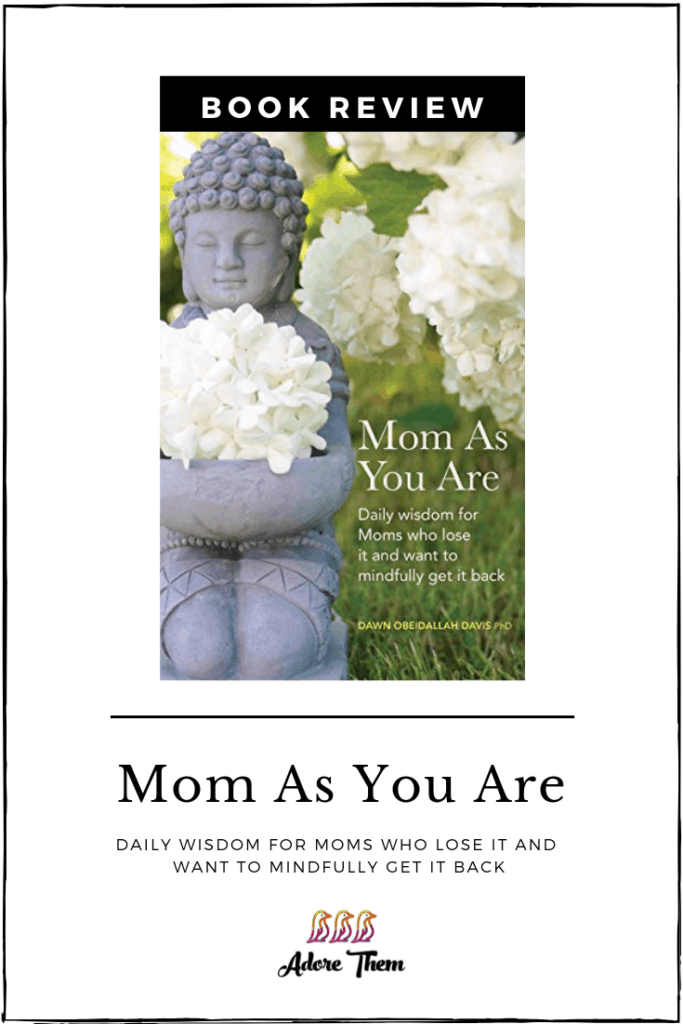 Mom As You Are Book Review: Daily wisdom for Moms who lose it and want to mindfully get it back. Important reminders to accept ourselves, as we are, in each and every moment. The good, the bad, and the ugly – we can own it all without letting it tear us down. In this book, Dawn Obeidallah Davis, PhD offers insight into a variety of important issues that we face as parents along with practical ways to mindfully work through these difficulties.
With sections such as…
Control Only What You Can
When You Don't Feel Like a Good Mom
What Are You Feeding Your Head
What Else Could This Mean?
The Trap of the Get-It-Done Attitude
Beware the Rainbow Fish
And many others
You will be sure to find insight and lessons that you can apply to your own life right away! Dawn has drawn from her own experience as a mom, a development psychologist, and a yoga instructor. Through these experiences, she is able to bring you a beautiful, centering book to help you savor the present.
---
For more on this topic, check out the full All About Moms collection
---
Mom As You Are Takeaways
One of the things that I love about books is that I can re-read them at different times of my life and gain different, or even new, insights. Books allow you to find the wisdom that you need at that particular moment. And then they wait for you to come back another time if you need something else. So while there are many helpful parts in Mom As You Are, these two sections stood out to me the most…
Get Centered: Disconnect the Wires of Your Panic Button
Even the title of this section stood out to me. We all have a panic button – or at least it feels that way, right? Something that triggers us to start that negative spiral, and something that seems just out of our control. But instead of leaving that panic button connected and feeling vulnerable to it, how can we take steps to disconnect those wires and move ourselves further away from the panic button? Because ultimately, we can't stop the world around us for tripping those triggers. But we can control how we react to them.
Dawn does a great job of giving an action step plan to work through this particular struggle…
Dawn Recommends:
When you are feeling this way, you take time to acknowledge that you are not the only one feeling this way. Many other people around the world are also feeling this way. And while this is sad in some sense to think of just how many people are also in a panicky feeling state right now; it is also somehow therapeutic. That thought alone can humble us and give us perspective. It also reminds us that while our feelings are valid, they are not unique to us and only us.
Dawn goes on to explain that what has been extremely helpful to her is inhaling deeply and imagining that she's breathing in all the panicky feelings that millions of people are feeling. Then as she exhales, she imagines sending white, healing light to all of those who are dealing with this stress. She repeats this about 10 times and describes feeling much lighter and much calmer.
The benefits of this method are outlined in the book as follows:
"Quiets the mind, releases tension from the body. Relaxes the nervous system. Connects you to other humans in a deeply compassionate way."
The Kindness Crew: Savor It, Don't Save It
This section of the book really spoke to me because it is something that I find myself struggling with on a regular basis… the urge to save things for the perfect occasion instead of just enjoying (or savoring) them as often as you'd like. I tend to fight myself internally about wearing clothes, shoes, or accessories that I love because I worry about wearing them out. I kept nice dishes away in storage for years before realizing that I would get more joy from just using them every day (even though a few would be sure to chip or even break). Sometimes, I even tend to save fun trips for the "perfect" day, which means that I have a whole list of day trips that we haven't explored because I am waiting for the perfect weather, the perfect mood, and the perfect timing.
But while I am waiting, I am missing out on enjoyment.
Dawn speaks about consistently working towards "relaxing more with what is present." And I like how she phrases that because we are not forcing ourselves to be present or savor the moment… we are simply going to try relaxing more and accepting what is present in that moment. Practicing regular meditation can be very helpful for this. Dawn shares that she likes to say, "smooth, slow, steady" while she inhales and exhales as a way to help focus your wandering thoughts throughout the five-minute meditation.
The benefits of this method are outlined in the book as follows:
"Calms the mind chatter. Improves focus, concentration, and memory. Creates a feeling of internal peace, soothes and calms the nervous system."
These two sections are only a small sample of the topics addressed in the book, but they are all written in a way for you to be able to receive some helpful insight in a quick, easy way!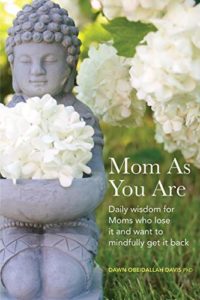 Purchase Mom As You Are
If you want to purchase Mom As You Are, simply visit our Amazon affiliate link HERE.
---
For more on this topic, check out the full All About Moms collection