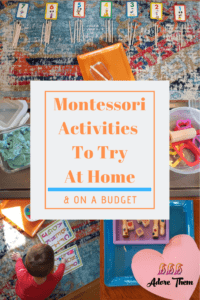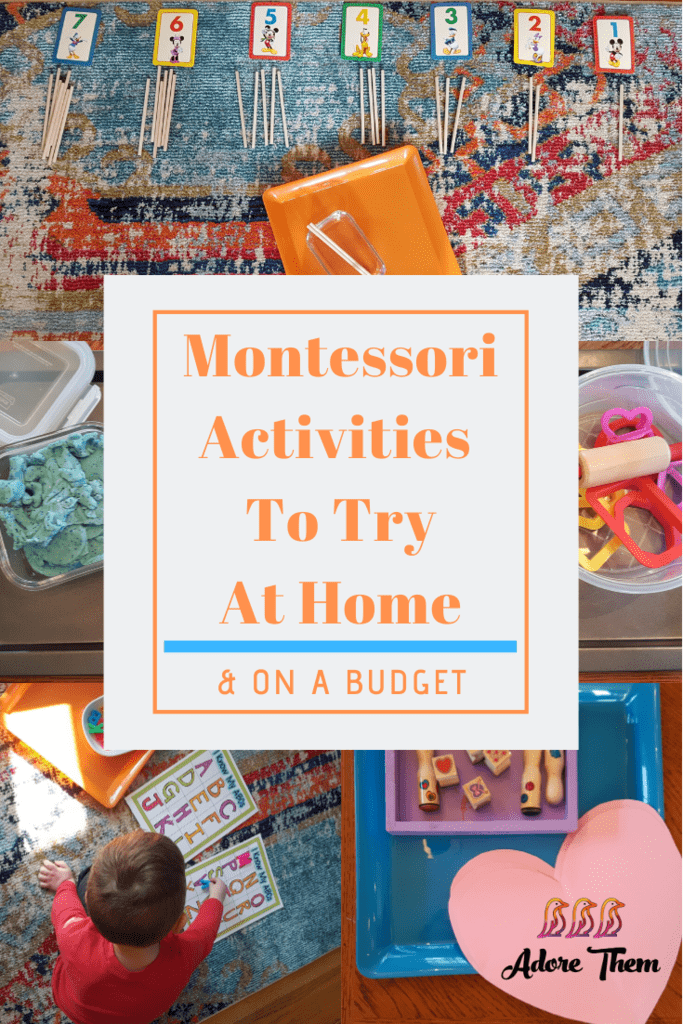 Find out how you can create your own Montessori activities to do at home on a budget! Montessori education for toddlers is a wonderful choice. In case you are not familiar with Montessori, here is a brief overview:
Over 100 years ago Maria Montessori discovered that when children were given the tools they needed, learning happened on its own. These educational methods still inspire students today throughout the world, as they can benefit from self-directed learning through hands-on experiences. This leads to the development of fine and gross motor skills, along with many other wonderful achievements. While some schools may offer their own customization, the overall approach is always the same. All Montessori classrooms host five learning areas: practical life, sensorial, language, math, and cultures/science.
---
Check out our Montessori shopping list and photo inspiration at the end of this article
This article is written by Katie Strohecker
For more on this topic, check out the full All About Toddlers collection
This post contains affiliate links
---
Montessori Learning
lthough sending your child to a Montessori school is the best option, it is not the only option! With the rise of stay-at-home or work-from-home moms, it is not always in the budget, or feasible to send your toddler out of the home for preschool. But what is so great about Montessori, is that you can easily replicate these valuable lessons right in your very own home!
Included in this article is a collection of activities that you can put together for your child to enjoy! You can find most of the necessary items at thrift stores, the Dollar Tree, at craft stores like Michaels, Amazon, or look for free printables (like the one in this article) online. Some activities you will need to create or set-up yourself, but I promise…it is simple!
Toddler Readiness
One other thing to keep in mind is toddler readiness.  In other words, some toddlers are ready to learn certain tasks/skills, while others are developmentally unready. Avoid introducing a task or activity that will frustrate your child. Each child learns and grows at his/her own pace. It is our job as parents to foster and provide experiences that will encourage their growth both mentally and physically.
---
Note: Many of these activities listed below satisfy multiple areas of the Montessori classroom (example – playdough is sensorial, but can also be language or math depending what activity is being completed)
---
Montessori Activities To Do At Home for Practical Life Learning
Zipping/buttoning/snapping
Find old shirts at thrift store (or in your closet) with buttons or snaps and cut them to fit in an embroidery hoop ($1.89 at Michaels).
You can also practice zipping coats, jackets, or bags/purses.
Food Prep
You can purchase toddler-safe peeler & knife like this. Great examples are:
Husking corn
Peeling bananas
Slicing bananas
Peeling cucumbers
Peeling hard-boiled eggs
Grinding peppercorns
Clipping ends off green beans with scissors
Peeling a tangerine
Popping pea pods
Juicing an orange
Sweeping/dusting/washing/scrubbing
Scrubbing potatoes
Sweeping the floor-make a square on the floor with tape for child to sweep dirt
Washing rocks, animals, baby doll, toy cars
Dusting furniture
Window washing with spray bottle and squeegee
Cutting
Place a ball of yarn in one glass jar and poke a hole in the lid-child will pull yarn and clip pieces with scissors.
Practice cutting paper. Then allow them to put the pieces in a bag or envelope – cutting is hard work!
Lacing
Make your own lacing cards with shoelaces and card-stock.
Pouring/Scooping
Pouring water into a bowl is great practice! And scooping items from one bowl to another (buttons, beans, beads, etc) by using measuring spoons of various sizes will help enhance their hand-eye coordination.
Pinching/squeezing/twisting/screwing
Moving pom poms or cotton balls with tweezers from one dish to another, or into an ice cube tray
Moving water from bowl to bowl by soaking and squeezing a sponge out
Twisting lids on/off various containers from your kitchen
Screwing a screw into a wood block (make or purchase here)
Twisting a nut/bolt onto a screw (purchase here)
Use eyedropper with colored water on coffee filters
Squeeze syringe with colored water onto cotton balls
Clipping clothespins on a rope or side of a bowl
Folding
Such as folding towels or washcloths.
Gluing
Cut pieces of paper, wrapping paper, or tissue paper and allow child to glue onto construction paper.
Self-care
Other Great Activities
Wrapping a wooden spool with yarn (purchase at Michaels)
Stamping
Setting the table: Create a mat with outlines for each item
Use an old coffee can or pretzel tub and cut a slit/hole in the lid large enough for child to drop in pom poms or plastic rings
Hammer golf tees into clay
---
Montessori Activities to Do at Home for Sensorial Learning
Pairing
Color strips (use from a paint store and cut apart)
Socks
Patterns (use scrapbook paper and velcro)
Colors (use construction paper and household objects)
Sorting
Parts of a flower (label cups with "leaves, stems, petals")
Animals (land, water, air)
Shapes
Color sticks (color or paint popsicles sticks and match with plastic cups labeled with color)
Discriminating
Trace everyday toys on notecards to match
Matching letter magnets on cookie tray
Same/Different: Use note cards cut in half and put same and different stickers on each card (2 stickers per card) and offer 2 sorting bowls
Window bag
Tape a clear ziplock bag onto a window and fill with hair gel, shaving cream, water/oil/food coloring, or water beads.
Felt activities
Parts of my face (cut from felt).
Playdough
Create homemade playdough and add in spices, essential oils or glitter to engage more senses
Touch/feel books (Purchase here)
Painting
Add different items into paint such as glitter, salt, sand, shaving cream, etc. for texture
Bubble wrap painting
Paint with flowers, potatoes, apples, toilet brush, cookie cutters, feet, fingers, dryer balls, toilet paper tubes squeezed into shapes
Rubbing
Place paper over a leaf and rub with crayon
Hot glue shape outlines on card-stock and then put paper over and rub with crayon (also can be done with letters or numbers)
Scarves
Movement to music
Sort by color
Sensory bin
Fill with oatmeal, flour, snow, rice, corn, dry cereal, sand, colored water, confetti, shredded crinkle paper, feathers, etc. and provide scoops, blocks, animals, etc. to interact with in the materials.
Magnet tiles
Hold up to eyes and see different colors through them
Build
---
Montessori Activities to Do At Home for Learning Language
Pre-reading activities
Size classifying: use objects from around the house such as a small, medium, and large bowl
Story sequencing cards (first-next-last)
Nomenclature cards (labeling)
Sandpaper/Felt letters
Write letters on sand paper and have child trace with finger and make sound
Cut letters out of felt and glue on notecards
Letter/Sound work (advanced)
Provide letter cards and objects/toys from around the house that match beginning sounds
Books with labels/vocabulary
Writing letters on chalkboards with chalk
---
Montessori Activities To Do At Home for Learning Math
Stacking
Blocks
Construction paper bars of varying lengths
Stacking puzzles (purchase here)
Peg board
Counting
Match Q-tips with numbered jars
Match wooden sticks or popsicle sticks with number cards
Sectioned container with numbers and beans
Tactile numbers
Write numbers on sandpaper and child traces with finger
Writing numbers on chalkboard with chalk
Shapes 2D/3D
Puzzles
Solids
Shape match cards (trace shapes on notecards and provide needed shapes in bowl)
One-to-One correspondence
Stamp finger prints to match numbers
Dab paint with clothespin/cotton ball to match numbers
---
Montessori Activities to Do At Home for Learning Cultures/Science
Geography
Zoology
Labeling animals (ocean, farm, wild, insects, etc.)
Classifying animals (advanced)

Movement (fly, swim, walk, hop, slither, etc)
Body covering (shell, fur, scales, feathers, etc)
Botany
Flower arranging (allow child to use fresh or fake flowers and a vase)
Planting/growing seeds (purchase kit here)
Watering plants with spray bottle or watering can
Parts of a plant (felt activity)
Calendar
Science
Nature tray with magnifying glass (Include leaves, twigs, flowers, pinecones, nests, feathers, dead bugs, shells etc.)
Life cycles of butterfly, frog, pumpkin, chicken, plant (printables and puzzles)
Sink/float (use bin filled with water and various objects to see density)
Color mixing (using eyedropper/food coloring/cotton balls)
Weather (clouds, rainbows, rain, sunshine, snow)

Paint clouds using shaving cream and Elmer's glue

Nature collage (find items outside and glue on a paper)
Magnets & metal household objects (Purchase here)
Seasons song (Learn it here)
Feelings song (Learn it here)
Parts of the Body song (Learn it here)
Grow butterflies (Purchase here)
Books
*Art & Music are other components incorporated daily*
---
Below is a free printable that you can take advantage of when shopping for your own Montessori supplies. Most of these items can be found at the Dollar Store, or at other local discount shops.
Click on the image to view the full-size PDF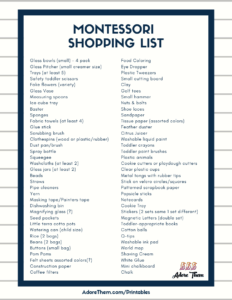 ---
Enjoy these photo examples of Montessori Activities that you can do at home with your toddler!
A great resource for free printable Montessori activities is themontessorifamily.com. They have compiled a list of the ten best websites for FREE Montessori materials. This is a great time-saver as we all know the internet is endless and time-consuming to browse!
For more on this topic, check out the full All About Toddlers collection
---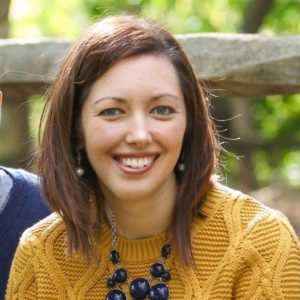 Featured Contributor: Katie Strohecker
Katie Strohecker lives in Lancaster, PA with her husband and two children. She is a former teacher, turned work-from-home mom with a background in event planning. She is also the co-owner of Milestone Family Expos, which strives to showcase the newest and best parenting, baby, and child-related products/services through two of the largest annual expo shows in the Central PA area.
---