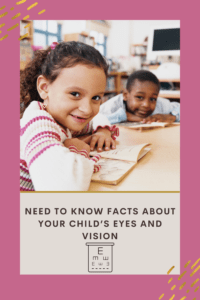 It is unlikely that you think too much about your child's vision unless necessary. Many parents notice that there is something wrong with their child's eyes, but are unsure of what to do about it or what it could be. For example, are you familiar with Chalazion? Do you know what it looks like, what causes it, and how you should treat it? You should be looking out for your child's eye health as much as you are anything else relating to their wellbeing. So here is some advice on how you can get familiar with their child's eye development, and how to face the common issues that may crop up as they get older.
---
For more on this topic, check out the full Staying Healthy collection
---
Babies Eye Health
Whilst a newborn baby can see, they are still forming those important connections between the retina and the brain. Their central vision is still developing during the first few months of their life, and you can monitor this by looking out for how they are moving and focusing their eyes. You should notice that they soon start to focus on objects in front of them. Although it is normal at this time for their eyes to appear crossed, or to wander a little bit as they are still learning how to coordinate and how their eyes can work together. At the age of three months old, babies should have much better control over their eyes. Or if they are still very uncoordinated, or wandering much more than they should, you should consult with your pediatrician and get them to take a look.
Three-dimensional vision develops at around five months old. This contributes to their hand-eye coordination and depth perception. So, you can monitor their progress by seeing how well they can reach for objects and how well they can determine how far the object is from them.
The color of your babies' eyes may change in the first nine months of their life. However they should settle down at the nine-month mark. There can still be some slight changes in color or shade up until the age of three. But nothing as significant as you will see in the first year.
Toddlers Eye Health
The toddler stage is when your child is most likely to show signs of strabismus. So watch for any misalignment of the eyes or one eye that look straight on whilst the other one wanders. Measles is the leading cause of childhood blindness and the best way to combat this is to get your child vaccinated.
Children Eye Health
As your child gets older and you are starting to think about sending them to school. This is also when you should look out for signs of near or farsightedness. Spending lots of time in front of a screen can contribute to the development of nearsightedness and can cause digital eye strain. It is important for both you and your children to follow the 20-20-20 rule: for every 20 minutes spent looking at a screen look away and spend 20 seconds focusing on something at least 20 feet away.
For more on this topic, check out the full Staying Healthy collection
---