Day in and day out, we talk to our kids about how they can improve, what they need to work on, and how to go about doing that. We are, hopefully, offering a lot of praise and encouragement along the way as well! But how often are we asking our children for feedback on how we are doing as parents? Printing out copies of the parent report card below is a great way to start this process! It will allow you to see things through your children's eyes and assess areas where you could use some improvement.
---
For more on this topic, check out the full Child Behavior collection
---
A Few Pointers for the Parent Report Card
Before you hand over this exercise to your children there are a few important points to keep in mind…
Create a No-Fear Environment
In order for this to be a positive and helpful exercise, your child needs to feel like they have the ability to share their feelings without consequence or without the fear of hurting your feelings. It is important for them to know that you love them no matter what, and that parents have things that they need to work on to!
It's About the Child's Perspective
This parent report card gives you insight into your child's perspective. It may not seem factually accurate. It may not match your perception of the situation. BUT… it is their perception of the situation, which is very important in and of itself.
When your child gives the report card back to you, it is very important not to get defensive. You don't want to start offering a defense of how you do spend a ton of time with them even though they gave you a "D" in that area. This opportunity to bond with your children and improve your relationship will have the opposite effect if you start telling them why their assessment is wrong.
Build on Your Strengths
Don't forget to take notice of the areas where your child graded you very highly! All of us have our strengths and weaknesses. You may struggle to get them to eat well-balanced meals, but you may be fantastic at helping with homework. Take those strengths and continue to build on them as well.
Ask for Feedback
Take their feedback and ask questions about it. Maybe you spend a lot of time together, but they feel like they need more time with your full attention. Maybe you are a good role model overall, but your child is remembering that one time that you lost your cool and threw a toy across the room into the toy box. Maybe you value their opinion highly, but you are not vocalizing that as much as you could be so that they truly feel validated and heard. Your children's feedback is a starting point to further conversation – it is never a black and white issue.
Take the time to talk things over with a friend or partner as well. If something your child says is hurtful to you, talk it out with a trusted adult – not your child. As parents, we try so hard to be everything for our children; and it is hard to hear that we might be falling short in an area since that is our biggest fear.
Most Important Advice for the Parent Report Card …
This parent report card is meant to be a fun, positive, and bonding experience for your family! So let it be just as simple as that 🙂
---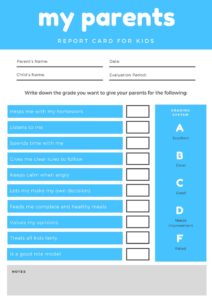 ---
For more on this topic, check out the full Child Behavior collection