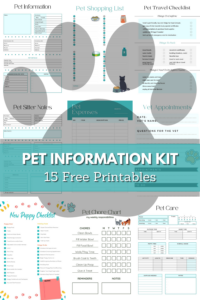 Pet Information Kit – Free Pet Printables for Your Family
Pets quickly become additional members of our families. So it's no wonder that we prioritize their needs just as we do our own children! But there is so much more to caring for a pet than just giving them food and water; it involves playtime, grooming, training, and so much more! That is why we put together this free pet information kit. Whether you just adopted a new pet, or you have loved your fur baby for years, these free printables can help! Now all of your important pet information will be organized and in one convenient spot, making it easy to share details with anyone else involved in their care
Are you getting ready to travel with your pet for the first time and don't know what to pack? Or are you ready to leave them home with a pet sitter for the first time? Perhaps your children want to (or should) get more involved with the daily tasks your pet requires. Either way, we have you covered with these free pet printables. Below you will find an important pet info sheet, vet appointment notes, pet sitter instructions, what to pack – pet travel list, vaccine tracker, a pet responsibility chart, a new pet supply list, and so much more!
While we can't snuggle your pet in person, we can help you be prepared for almost everything that comes along with caring for your dearly loved furry family member. Best of luck and enjoy that special bond!
---
Created by Karissa Tunis
For more on this topic, check out the full Family Pet collection
---
Free Pet Printables
What's included in this pet information kit?
In this free download, you'll find a variety of resources to help your family care for you pet!





There is an important pet information sheet to keep up to date records for your pet. The pet sitter notes will help ensure great care of your pet while you're gone. Included is a pet care form that can help you figure out what your pet might need. Fill out a pet profile that outlines the basics of caring for your family pet. Use the pet travel checklist before you leave for your next trip.
Fill out pet shopping lists so that you don't forget anything at the pet store. Keep track of important medical care for your family pet with the vet appointment tracker, pet vaccine tracker, and pet medicine tracker. Stay on budget with the pet expenses worksheet. Encourage independence and help your children care for their pet with the pet chore chart for kids. Make sure your pet is getting the nutrition they need with the pet feeding schedule. And if you're bringing a brand new pet home to the family, be sure to use the new puppy checklist and new kitty checklist.
*Scroll back up to the email form above to gain access to all of these great free pet printables!
For more on this topic, check out the full Family Pet collection
---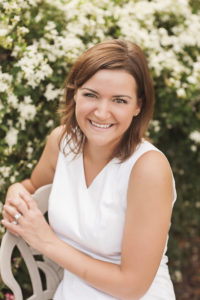 Co-Owner: Karissa Tunis
Karissa Tunis is the co-owner of both the parenting website Adore Them and the family event company Milestone Family Expos. Through these ventures she is able to share inspiring, heartfelt insight with large audiences within local communities and across the country! As a work-from-home mom of four children, Karissa understands the need for family-focused organization and time management. She consistently provides insight into child behavior that has helped fellow parents achieve their goals of calmer, happier homes. Karissa also makes it a priority to soak in all of the southern specialties that Charleston, South Carolina, has to offer with her husband and their children.
Contact: Karissa@AdoreThem.com
---