We put together this inspirational Tomorrow Quote printable as a simple way to show someone that you are thinking of them. Or print, frame, and hang as a positive reminder for yourself.
Enter your email below to gain instant access to this free printable
Order it as a nice print from the site of your choice
Pick up a frame the next time you're at the store
Give to a friend in need 🙂
---
Tomorrow Quote
For more on this topic, check out the full Tough Times collection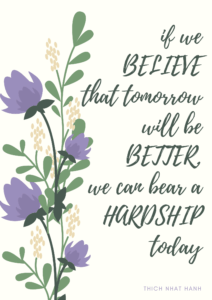 ---
TOUGH TIMES
We often struggle with knowing what to do, or even what to say, when a loved one is going through a tough time. And when it is our own family facing those struggles, we often feel alone and secluded.
But hen we are faced with struggles, it often gives us an opportunity to "reset." Oftentimes, without even realizing it, we dial back to the basics. What we are left with is what truly counts. It forces us to shift our focus on to what actually matters most. To simplify the chaos, and be present. Learn some of life's valuable (and not always pleasant) lessons. And then, eventually, move forward in a new positive way.
Our goal with this collection is to bring you personal stories that let you know that you are not alone, as well as resources to help others who may need some extra loving support! Take advantage of articles, conversation starters, a video, recipe, DIY and more – to get you, or your loved one, through this difficult time! And the best part is that all of these resources are FREE! So check out Adore Them's Tough Times collection today!
And for more on this topic, check out the full Tough Times collection
---