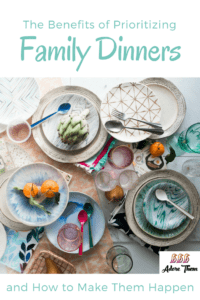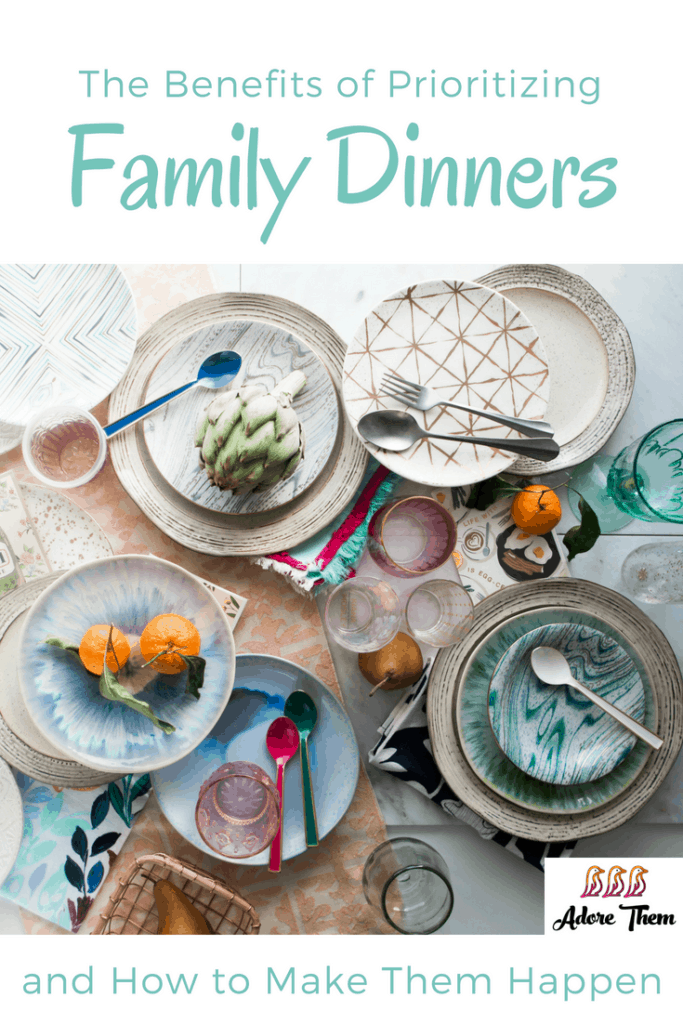 In our house, meal time is family time. We make it a point to all eat a family dinner together most nights of the week. Sometimes this may mean that we eat early at 4:45, or some nights closer to 8 pm. But for us, we would rather be more lenient with our dinner schedule, and make the time we share together the priority.
---
This article is written by Karissa Tunis and sponsored by Dream Dinners
For more on this topic, check out the full Work Life Balance collection
---
A few years ago circumstances forced us to dial our lives back to the basics. We were very limited for an extended amount of time, and it has truly reshaped us as we have moved forward. As we are slowly getting back into our new normal routines, the new-found piece of wisdom that I am bringing along with me is that sometimes less really is more. Simple is much easier than chaos and complicated. And family time is too precious to ever give up! We have traded in a lot of our activities for more play time together, and have found dozens of ways to simplify our lives.
We never know what tomorrow will bring. Our relationships can not be bought. And you can never make up for lost time. So…. before it goes any longer, or life gets any fuller, I would encourage you to start making your family dinner time a priority.
I agree that you could schedule family time, anytime. However, making this priority around food – especially the dinner hour – truly has it's benefits!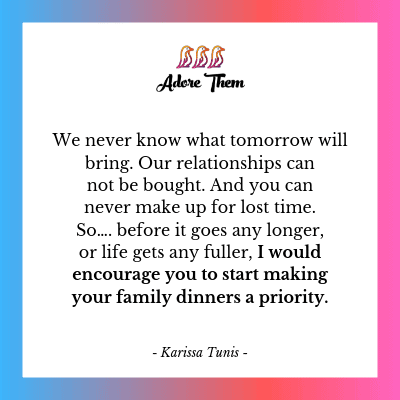 Meal-Time Benefits
1.  Eating on the go is sometimes necessary. But when you can sit down and really enjoy your meal, it is actually better for your overall health!
2.  When eating at home, you can take the time to explore new foods. And if you have a picky eater, trying new things in their home environment will help to put them more at ease.
3.   Eating out is fun, but it can get expensive. Eating at home will allow you to stick within your monthly food budget.
4.  Restaurants tend to serve in larger portions, which adds to extra unwanted calories. By making the food yourself, you can keep portions in check and those unwanted pounds away.
5.  Yes drive-throughs and quick meals are convenient, but they are also unhealthy. Preparing dinner at home allows you to control the ingredients that will end up fueling your child's body.
6.  Spending any meal together with your family is great! But what I love about family dinner time is that this allows you to discuss what happened throughout everyone's day. If you make breakfast a priority, the day hasn't happened yet, and yesterday now seems much further in the past. However, of course if this is the only time that suits your family – take what you can get and enjoy it! If you need any help getting started, Adore Them creates a new Family Conversation Starter every week. Take advantage of these free printables, and explore new topics for your family to discuss.
Family Dinner Benefits
1.  By sitting down to eat together, it forces everyone to sit in the same room within close proximity for an extended amount of time. This is a much nicer atmosphere than the minivan or the soccer bleachers!
2.  Numerous studies have proven that by spending family dinners together, kids are more than 3x likely to stay out of trouble!
3.  Researchers have also found that eating dinner with your family may actually relieve stress! I'm not saying you will begin living a stress-free life, but ending your day with the ones you love definitely has its benefits!
4.  When you have more consistency in your life, you find more balance. By making dinner time a priority, you may need to let go of some other commitments – but in this case, that is not a bad thing!
5.  To go along with the point prior, when you know you have family dinner every night, it does make it easier to plan. Maybe consider dividing the cooking responsibilities and having each family member contribute in the kitchen a different night. Or get creative – Taco Tuesday, Pizza & Game Night Friday, and so on…..
And, reason #6 – the most important reason for family dinners – the communication with those seated at your table! Your family will be so much closer, as you will be much more involved in each other's lives. You will know what each other is going through. Their achievements, their challenges, and it will allow you to be there for one another when needed most!
The Hard Part
Like any habit, starting and staying consistent is the hardest part! The first step is committing to making family dinners a priority. Otherwise, it will quickly slip down the to-do list. Family dinners shouldn't just happen when the stars align… you have to make the effort to make them happen regularly.
But once you have committed to making family dinners a priority, you often move on to the part that trips families up the most… What about the food?!
Getting dinner on the table often feels daunting because there are so many steps involved:
Decide which meals you want to make.
Figure out what ingredients you need to make those meals.
Search for those ingredients at the grocery store.
Put those groceries away once you get home.
Remember that you bought those ingredients and use them before they go bad.
Figure out how much of each thing you need to use (and how you might be able to use the leftovers).
Dig the recipe back out from wherever you found it (A website? Pinterest? A friend?).
And then… finally… cook the entire meal!
It's no wonder that many families don't get a real family dinner on the table every night, which is exactly why Dream Dinners was created.
My Experience with Dream Dinners
As part of our partnership with Dream Dinners, I got to go try it out for myself first-hand; and I am excited to share more information about the process with you!
Pick Your Dream Dinner Meals
Each month Dream Dinners puts out a new menu with 17 different meal options. You are able to view descriptions, customer ratings, and nutrition info for these meals to help make your decision. You can also choose how many servings you would like for each meal (3 or 6 servings). Dream Dinners lays out the meal pricing options clearly to help in your decision too!
While you are picking your meals, you will also choose your location and your session date. This is a fun opportunity to coordinate with friends who are also looking for some simplified family dinner options. It is so calming to know that one hour a month is dedicated to assembling your family dinners, and then you really don't have to think about it from there!
Assemble Your Family Dinner Meals
Dream Dinners has freezer meals down to a science! You will be able to assemble (and customize) an entire month of meals in only one hour! You don't have to go grocery shopping, and you don't have to do any prep work. It's all laid out beautifully and simply for you to be able to assemble your meal at the assigned station. They have thought through the whole process, right down to including your recipe card in your freezer meal bag so that you can grab the whole assembled kit and just start cooking! Oh… and the best part? No clean up!
While you are there to assemble your meals, you can also choose to add sides, desserts, and other delicious options. These sides and sweets also work great in the freezer so that you can grab them now and store them until you need them.
Cook Your Family Dinner
Once you have a freezer stocked with delicious meals, family dinners will become much easier! Move a few of the meal options to the refrigerator at the beginning of the week, and they will be waiting for you when 5:00pm rolls around, and you need to get dinner on the table quickly.
Picture how quickly things will go without having to dig for ingredients, measure them out, or prepare anything in that moment. You just have to follow the simple instructions on the recipe card, and your family will be eating together in no time!
Added Perks
Dream Dinners doesn't just have to be for you and your family. Many people use this service to prepare meals for friends or family who may be in need of some meals. You, your friends, and family can chip in to provide a month's worth of freezer meals for someone who just had a baby, surgery, or otherwise needs a helping hand.
There are no commitments required, which means that you can get creative with how you order. Maybe you want to order more this month, but then wait a month and a half before going back in to assemble more meals. Maybe you have a family dinner coming up, and you want to get extra servings for that special event. Or maybe you simply want to try things out without the added pressure of a long-term commitment. Regardless, Dream Dinners makes it easy to do what best for you and your family.
And finally, there is an extra service that Dream Dinners provides that is pretty amazing… The "Made for You" service is where you can simply pay a $20 fee to have Dream Dinners assemble your meals for you. This means that literally all you have to do is select your meals, pick them up, and then cook them when the time comes! It doesn't get much easier than that!
Make Family Dinners Happen!
Our hope is that with this inspiration, information, and resources, you will be able to start making family dinners a more regular occurrence in your home! And once you create that habit, you will enjoy the benefits from it for years and years to come 🙂
For more on this topic, check out the full Work Life Balance collection
---
A big "Thank You" to Dream Dinners for making this content possible!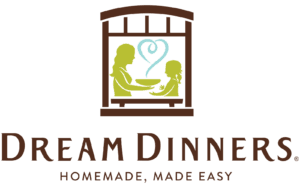 Dream Dinners is a unique company founded on a mission of bringing families together around the dinner table. They provide everything you need to assemble great dinners to enjoy as you relax and talk about the events of the day. They offer freedom from the hassles surrounding the planning and preparation of meals night after night. And, they give friends and family an opportunity to come together in a fun-filled setting to assemble their Dream Dinners in a very short time just once a month (most make their meals in under an hour).
Website | Facebook | Pinterest | Instagram | Twitter
---