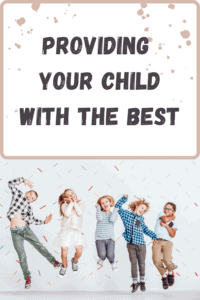 When you have children, your world begins to revolve around them. You will do anything you can to support them and provide them with everything they could want or need. This is just part of being a parent. However, nobody actually ever tells you how to give your child the best upbringing possible. Of course, this will cover various areas. You will need to provide for your child not only physically and financially, but emotionally too. Here are just a few suggestions that should help you to reach this goal and provide your child with the best!
---
For more on this topic, check out the Parenting Advice collections
---
Providing for Them Financially
All children need to be cared for financially. It costs money to raise a child and, while you don't have to be rich, you will have to provide some sort of income to provide them with shelter, warmth, food, clothing and everything else they need for a good quality of life. There are countless ways you can go about this. You can work an employed position with employee benefits and guaranteed hours. You can freelance, giving yourself more freedom over your working hours and days off. You can set up your own business, focusing on product development, marketing, Customer Education and more to take full control over your career. Whatever you choose, make sure it's something that still allows you to dedicate time and attention to your little ones too.
[Read: Work Life Balance]
Supporting Them Emotionally
You need to make sure that you care for your kids emotionally too. Forming a strong bond and ensuring that they know you're always there for them is extremely important. You can do this in a number of ways. Make sure your children can confide in you. Don't shout at them. Encourage their interests and support them in what they want to do. Remember that different kids are going to like different things and these things might not always align with your personal interests either. Spend quality time together. This will help to build and strengthen your relationship with them.
[Read: Child Behavior]
Providing a Good Education
Remember that education is hugely important to any child's upbringing and future prospects. The better an education your child has, the more opportunities that will be open to them later in life. Whether they want to take on apprenticeship, head straight into the workforce or continue into higher education, having a good education will give them a choice. Sadly, not all schools have the same facilities or quality of teaching. So, take a look at different schools in your area and determine which will best suit your child's needs. You can look at teaching standards, and average grades and exam results for insight. You can also read other parent's reviews and recommendations for further help deciding.
[Read: Education Options]
These are just a few areas to focus on when it comes to providing your child with the best upbringing you can. Sure, they may feel broad, but they're good starting points to work from.
For more on this topic, check out the Parenting Advice collections
---