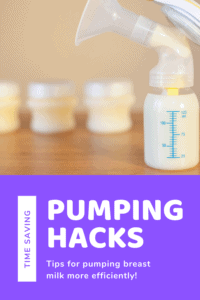 Pumping sucks… but it doesn't have to! I am here to share my favorite time saving pumping hacks for pumping breast milk efficiently.
For many families, pumping is an unavoidable activity. You may return to work outside the home, you're working to increase your milk supply, or baby has special feeding needs. However, it's no surprise that pumping can feel like a chore. But there are ways to make your pumping routine a little easier on everyone.
---
This article is written by Michelle Stulberger
For more on this topic, check out the full Pregnancy Through Postpartum collection
---
Hands-Free Pumping Hack
Look Mom, no hands!  Did you know about pumping bras?  Depending on the style they may be bustiers that go over your regular bra or a nursing/pumping bra combo.  Either way, going hands-free during your pumping sessions lets you multitask – for work OR play.
Refrigerator Pumping Hack
Keep it cool.  When you're done pumping, go ahead and put ALL of your pump pieces in the cooler/refrigerator in between.  This eliminates the time needed for washing after each pumping session.  (Note: if you are pumping for a preemie/NICU baby or a baby with special medical needs, check with your pediatrician first!)  Always make sure to sterilize pieces at the end of the day.
Minimize Cleaning Time when Pumping
Wipe out!  If keeping your pieces cold between sessions isn't ideal, consider using pump wipes that will clean between uses without the tedious trips to the sink. It's a simple pumping hack that will save you time.
Store Extra Breast Pump Pieces
Be prepared.  Store extra pieces at work/in your car in case of a forgotten or broken piece.  Backups are handy when you reach the end of your commute and realize one of those little membranes is ripped!
Make Breast Pumping Relaxing
Relax.  Consider putting on some music or soothing background noise.  There are studies that show that listening to music can increase your release of oxytocin – and therefore increase your supply.
Reward Yourself for Pumping Breast Milk Efficiently
Reward yourself!  You're working hard to provide the best nutrition for your baby and you're doing great!  Think of a reward system to keep yourself going – whether it's a Hershey kiss when you're done or a new book to read only during pumping sessions.
For more on this topic, check out the full Pregnancy Through Postpartum collection
---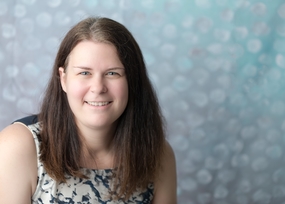 Featured Contributor: Michelle Stulberger
Michelle is the Director of Business Operations at littlebeam. littlebeam Nursing Pillow is the perfect way to get comfortable during breastfeeding. This easily portable pillow has a unique body hugging shape that doesn't need straps or velcro. Developed by a lactation consultant, littlebeam can be used in any position. Plus, this compact, firm pillow has a 100% cotton, machine-washable cover. littlebeam is proud to support ALL families, no matter their feeding choices.
---