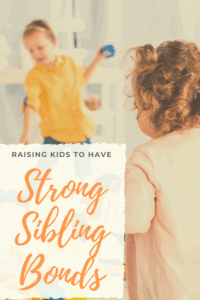 Having three kids is a lot of work. It's a lot of laundry. A lot of school paperwork. And there are a lot of toys to clean up. However, it is also three times the fun …. or so I always try to remind myself 😉 Three kids within four years was a big commitment, and it has taken a lot of patience! But, I learned early on that if I can encourage these little people to get along, than my life will be much much easier! My goal is to raise my kids to have strong sibling bonds both now AND in the future.
---
This article is written by Karissa Tunis
For more on this topic, check out the full Siblings collection
---
Raising Kids to Have Strong Sibling Bonds
While I know that my three children love each other very much, sometimes it takes a little extra encouragement and guidance to make it all run smoothly. We still on a daily basis need to be reminded of why we love our brother or sister. But my hope is that over time it will stick.
I tell them that friends are important. Some friends will come and go throughout their life. However, your family will always be here. No matter what you do, your siblings will always be your siblings. And that is why it is so very important that we respect and love one another.
Each of my children are very different. But, what they do have in common (among many wonderful things), is stubbornness (which they get from their father). High emotion (from me, their mother). And a lot of strong-will (maybe from both parents). Someday I hope they will run the world, or at least be very successful in whatever they set their minds to do. But, for now, these traits can sometimes make parenting, and getting along with their siblings, a bit of a challenge.
The key I'm learning with these traits is to structure and direct. I cannot, nor do I wish to, change them. What I want to do is try and direct that energy into a positive direction. I try to allow plenty of space for them to run around together, and I have filled their playroom with lots of toys that allow for creative play. When they can build or accomplish a big project (like building a bunch of Lego sets or creating a village), they enjoy partnering up and working to bring their ideas to life.
Providing Options Through Play
Play is so important! Kids can learn a lot of wonderful life lessons if you just provide them the space and creative tools needed. Find out why we traded activities for more playtime at home, and what kind of benefits this has provided for our family.
And to go along with that, I have also challenged myself to look for both boy and girl toys that they can play with together; but without feeling like they always have to pick one gender. Although, just for the record – I am completely fine with my boys playing dolls with their older sister who they absolutely adore! And I am totally fine with my daughter joining her brothers in their play. But what I mean is that if you look hard enough, you can often find toys for both.
Favorite Things to Play With
Our boys have a firehouse next to their sister's Barbie house. And they have superheroes the same size as her Barbies. Sometimes they just get out one of these to play with. But it is so sweet to see them set up both, and have everyone visit each other in their different homes.
Another toy they love are my old Polly Pockets. The set up their own little village, and the boy's collection of matchbox cars provides the perfect transportation for Polly and her friends.
Our daughter loves to play with small toy animals. Her brother's love building. Together they all work at building the zoo with Lincoln Logs and dump trucks; and then find a home for each cute little animal.
Together they make it all work, and together they all have a lot of fun!
Helping Younger Siblings
I also try to put an emphasis on the older ones looking out for, and helping, the younger ones. I believe that the older child loves the added responsibility. And the younger one loves to be doted on and given that extra attention. It's a win-win for sibling bonds.
I honestly don't know how I instilled the importance of sibling bonds so well, but I am amazed with how often these children do really value this advice. They might not always follow it to a "T", but more times than not, they stick together whether at home or in public.
When I take them to an indoor play park I always instruct everyone to stay together. I tell the older two to take turns leading and bringing up the end. This way the youngest never gets lost or pushed around by any other kids, because he is always in the middle. Even when at other family or friend's homes you can often find my three kids playing together. We have even been at festivals where the older kids will choose sitting with their baby brother on a ride instead of sitting with one of their friends. And for me, it's worth those daily reminders and lectures that make these moments so worth while!
Sibling Bonds Are Important
My children's sibling bonds are so incredibly special. I have these early years to try to cement that bond before it will be much harder to form, and I take this task very seriously! I am making it my mission to see that they learn how to be playmates and best friends; but also to fight fair and respect each other's differences. Maybe because I have seen sibling fall-outs close to me, this has become so incredibly personal. But whatever the reason(s), I want my children to be close, even as adult siblings.
Not every moment is pure bliss in our house. But we have all worked, and will continue to work, to make it all as perfect as possible for these special three!
For more on this topic, check out the full Siblings collection
---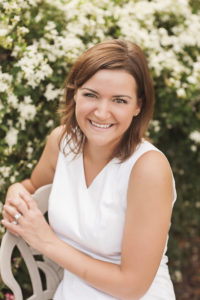 Co-Owner: Karissa Tunis
Karissa Tunis is the co-owner of both the parenting website Adore Them and the family event company Milestone Family Expos. Through these ventures she is able to share inspiring, heartfelt insight with large audiences within local communities and across the country! Her knack for all-things-organization allows her to balance content creation, brand partnerships, and event planning without losing sight of what she wants for her own family. Despite her busy schedule, Karissa also makes it a priority to spend quality time with her husband and three children. You will often find her volunteering at her children's schools, cheering them on from the soccer sidelines, or enjoying the great sites of Charleston, SC with her family.
Contact: Karissa@AdoreThem.com
---