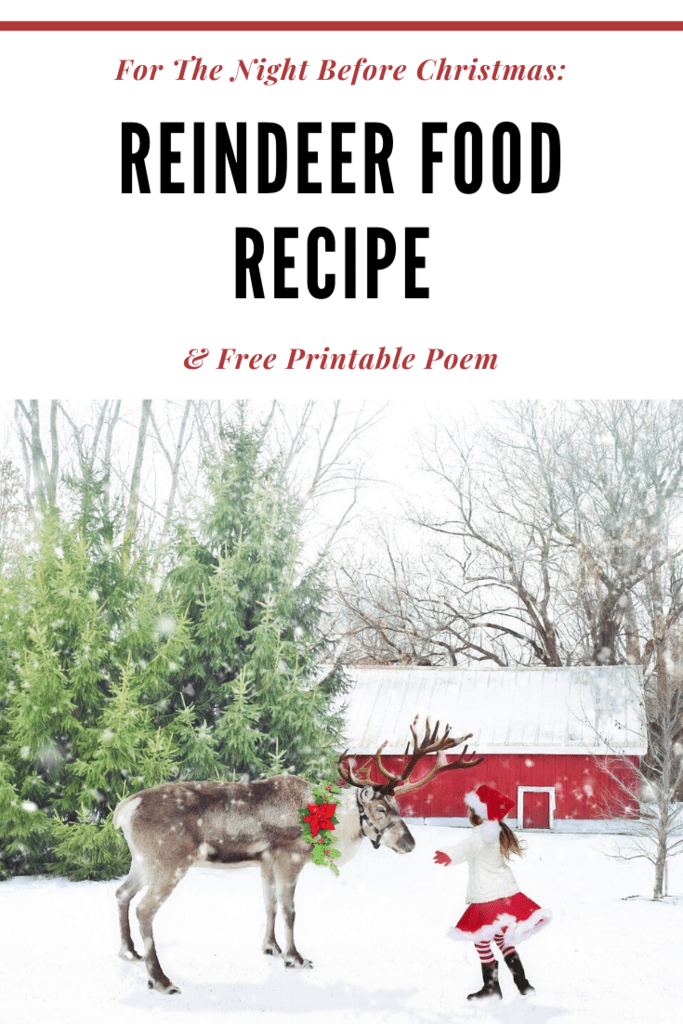 Our family loves celebrating Christmas! We enjoy opening a door of our advent calendar every morning. We like writing letters to Santa. Sipping warm cocoa. Decorating the house. Searching for the elf on the shelf. Baking cookies, and so much more! But one thing we are always sure to do, is mix up some Reindeer food, read the special poem, and sprinkle it in the yard on Christmas Eve. Because this magical recipe will help ensure that Santa's sleigh finds it way to our house 🙂 Below is our favorite Reindeer Food Recipe, along with a free printable poem. Enjoy!
---
This article is written by Karissa Tunis
For more on this topic, check out the full Happy Holidays collection
---
How to Make Reindeer Food
Some years we enjoy making this at home together as a family. And other years, I offer to go into school and help each of my children make it with all of their classmates. It is always a huge hit! What I love is that it is less messy than decorating cookies or gingerbread houses, but still offers something fun for the kids to take home and show their parents.
If you decide to make this at school, or with a group of kids, I suggest pouring the ingredients into large separate bowls. Have the kids form a line, and walk around the table (almost like a buffet), adding a scoop of each item to their goody bag. At the end of the line, have a parent or teacher make sure each bag is sealed, and staple the poem to the top. Now their parents will know exactly what to do with this fun reindeer food!
Reindeer Food Recipe
Each child will need one goody bag to store their mixture. What goes in it is up to you, or each little chef. But my favorites are:
1 cup of Oatmeal
1 cup of Birdseed
A few dashes of colored sprinkles
A few dashes of glitter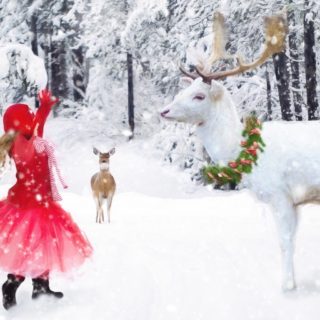 Reindeer Food Recipe
A fun recipe for kids to mix up and sprinkle on their lawn on Christmas Eve. Help guide Santa's Reindeer to your house!
Ingredients
1

cup

Oatmeal

1

cup

Birdseed

Colored Sprinkles

Glitter
Instructions
Grab a goody bag and fill it with the ingredients above.

Sprinkle on your lawn on Christmas Eve night to help guide Santa's Reindeer to your house. Enjoy!
---
Free Reindeer Poem Printable
Grab some cardstock, print this out, and staple it to your goody bags. Read it again on Christmas Eve night before you sprinkle your Reindeer Food on your lawn.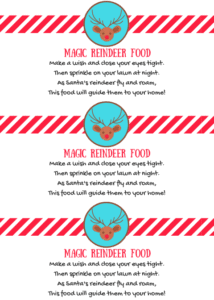 ---
For more on this topic, check out the full Happy Holidays collection
---