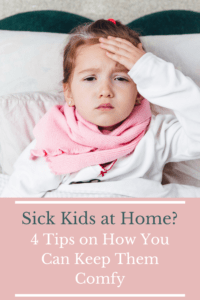 As a parent, nothing could be more heartbreaking than seeing your child get sick. Whether it is a simple run-of-the-mill cold or the flu, it can be hard on you. However, you cannot just wave a magic wand and have their signs and symptoms vanish. But the good news is that you can do some things to help them feel better and more comfortable. Here are four relevant ways you can ensure that your kid has an easy time healing. Using the following tips, you can take care for your sick kids at home without feeling overwhelmed, and you will be able to boost your kid's spirit.
---
For more on this topic, check out the full Staying Healthy collection
---
Keep Them Hydrated
Young children need to always stay hydrated, whether sick or not. Typically, young children who are not feeling well will have little urge to eat or drink; hence they are more likely to get dehydrated than ill adults. However, it will be best if you give them fluids to drink throughout the day. 
Additionally, you can incorporate electrolyte solutions, popsicles, or broth, which might feel soothing to a kid experiencing a sore throat. They will hydrate the child as well. Also, if your child is super dehydrated and is old enough, you might want to introduce IV Therapy in their treatment to hydrate them and help boost their immunity.
Soothe the Symptoms
Experts have proven grandma's idea of chicken soup to be suitable for soothing various symptoms of diseases. This soup has essential vitamins and fluids that help improve your kid's immune system. However, if your kid is allergic to chicken, do not worry because you can use various plant based options instead to achieve the same results.
Another natural option is honey. Not only is it convenient for kids over the age of 1 experiencing sore throats and coughs, but it also tastes delicious. However, please note that you should not give infants honey because it can make them vulnerable to infantile botulism. This is because their digestive systems have not fully developed yet.
You can also use herbal tea with some lemon and a drop of honey to help soothe and keep your little one hydrated.
Help Them Rest
Resting is vital, especially for sick kids, and crucial for various minor inflictions and viral illnesses. Unfortunately, it might prove challenging to rest when ill due to lack of comfort, but this shouldn't be a huge hindrance.
Also, many active children might have a hard time lying down and letting their bodies relax. If that's the case, you might consider setting your kid up in a comfy chair or on the couch with some warm blankets while you play some slow music on the radio.
You can allow your child to play educational games on a tablet while lying in bed. You might also consider using an electric reader to provide some relaxation.
Give Emotional Support
Your child might feel scared or sad about their symptoms when sick. Providing emotional support and cuddling attention to your kid can help them feel secure and confident. However, even if you are extremely worried about their condition, try to avoid showing it because your kid will be able to read your emotions.
To avoid scaring your child, you might take a break to get your kid a drink or focus your attention towards giving a back rub instead. It will also help if you reassure your kid that he or she will be fine. This will help them feel better.
Caring For Your Sick Kids At Home
The truth is, taking care of a sick kid can be a tiring and overwhelming experience. Ergo, take it easy, cut yourself some slack and focus on giving your child the best comfort possible. The given tips will help you overcome the challenging time and shorten your kid's illness duration.
For more on this topic, check out the full Staying Healthy collection
---